CST will update this page regularly with the latest security advice and important messages to our community.
For the most up-to-date and frequent updates, we encourage you to follow CST on our social media channels.
---
CST urges our community to be calm and resilient against antisemitic hatred.
On Saturday 7 October, Hamas terrorists committed the worst antisemitic atrocity since the Holocaust. Our community is in shock and grief at the horrific crimes and loss of life.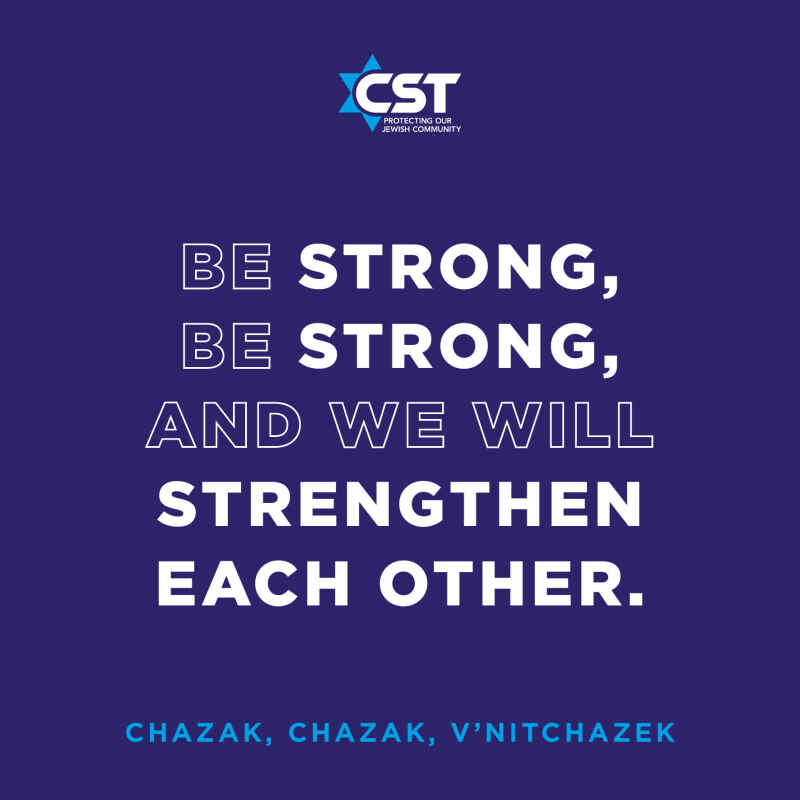 In Britain, CST has seen a serious increase in antisemitism against Jewish people and property. This is what happens when Israel is attacked or is at war. It happens because of Jew-hatred and for no other reason. CST's mission is to stand against this hatred, to protect our community and its way of life.
We are working in close partnership with police, government and all of our communal organisations, doing everything that we can to secure the physical and mental well-being of British Jews.
At this time, we urge our community to be calm and resilient. Be vigilant, keep up to date with our latest security advice, and report antisemitism to police and CST.
If you witness anything suspicious, please report this to police on 999 IMMEDIATELY and then CST. If you experience antisemitism, please report to police on 999 (if urgent) / 101 (non-urgent) and then CST.
CST's 24-hour National Emergency Number is 0800 032 3263 – please put this number in your contacts so it is available if you need it.
---
---
Security reminders
CST continues to ask members of the community and security personnel to:
Keep gates and doors closed at all times and when open ensure they are guarded, so they can be closed quickly


Be alert for suspicious people and activities including parked cars and unattended items


Engage with and challenge (if it is safe to do so) and report suspicious people


Avoid congregating outside communal buildings and events: please disperse quickly after leaving


Prevent 'tailgating' – someone following close behind and attempting to gain access to the building when gates or doors are opened


Refresh your team's knowledge of your emergency procedures, ensuring they are clear on what to do when locking down or evacuating
---
Antisemitic incidents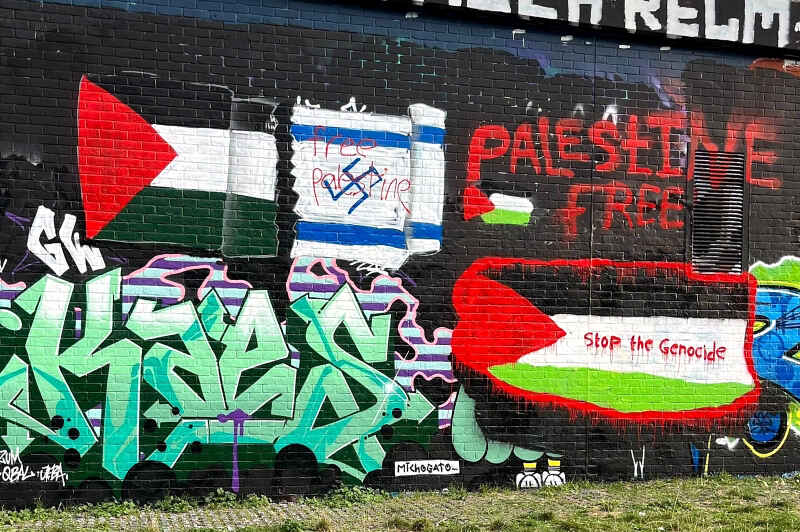 Since the Hamas terror attacks on Israel on 7 October 2023, CST has recorded an unprecedented number of antisemitic incidents across the UK. We are posting an updated detailed overview of the latest figures on our blog every Tuesday and Friday afternoon.
These totals are provisional and will almost certainly increase further as we receive more delayed reports of incidents covering this period, and while we continue to verify and log all the reports that we have currently received.
---
Briefing for parents of children in non-Jewish schools
31 October 2023
---
Jewish Community Briefing
15 October 2023
---
Briefing for parents of children in Jewish schools
An online briefing aimed at parents supporting their children. 
---
CST statement on Hamas - 'Day of Rage'
12 October 2023
CST has received numerous messages regarding a Hamas call for protests and demonstrations this Friday. The call by a Hamas leader is genuine, but contrary to what many have said, it is mainly directed towards Muslims in Arab countries and it does not include a call to violence against Jews in Britain.
Calls such as this by leaders of Hamas, Hizbollah and numerous other groups are not at all unusual. They come at times of civil unrest, conflict or war and it is often hard to discern what material difference they make to the situation.
Of course any escalation in the Middle East can lead to increased antisemitism. In that context, it is possible that the Hamas call will lead to yet more antisemitism: but, the call itself is not sufficient cause for British Jews to hide away in fear this Friday.
We must also note that propaganda, spread via social media, is integral to modern warfare. This can be seen in the Ukraine war and it is happening now in the Israel-Hamas war.

It occurred on Tuesday with a fake story about Hamas atrocities being spread on TikTok, Meta and elsewhere. This happened despite the fact that we all knew Hamas had already circulated its atrocities for all to see, so as to best spread fear amongst Jews.

Thank you for cooperating with our security efforts, including the need to please be resilient.
---
Jewish schools
8 October 2023
Many parents have asked CST about security measures for our children at Jewish schools.
We understand your concerns. They underpin all of our work, undertaken in partnership with each school, each guarding company, police and government.
We have together worked hard over many years, so that Jewish schools have strong security measures, due to the constant threat of terrorism and antisemitism. That security is a long term commitment and the need for it is most obvious at a time like this.
This security includes the constant advice of CST to schools, our assistance for security infrastructure and equipment; and our managing of the government grant that contributes £15m per year towards (non CST) commercial security guards to work at every Jewish school.
All of this is done in partnership with the schools, their head teachers and governors.
The terrorist atrocities in Israel and the seemingly inevitable war ahead, makes this a very difficult time for all of us, especially those with family and friends in Israel.
Here in Britain, we know from past experience that there will be a sharp rise in antisemitism.
Because of that, we have spent the weekend in detailed conversations with the Home Secretary, the Security Minister and numerous senior police officers throughout the UK.
The operational planning, cooperation and coordination will continue throughout this coming week and for as long as is necessary, with schools a strong focus of our joint efforts.
CST's work is dedicated to enabling our community to lead the Jewish life of its choice. Schools are always at the centre of that effort, now more than ever.
We greatly appreciate your support and participation in this effort.
---
CST official statement 
CST is already seeing incidents of racist antisemitism against Jewish people and property in response to the awful terror attack in Israel.
This disgraceful and cowardly abuse strips bare the deep hatred and extremism that is faced by both Jews and Israelis.
CST and our many partners will continue doing all in our power to protect British Jews.
These attempts to intimidate will not stop our community from leading its way of life. We thank the police, the government and other leading political figures for the strong support that they have shown.
---
CST contact details 
For security advice and guidance, or to report an incident, please contact CST:
National Emergency Number (24-hour) 0800 032 3263
London & Southern Regions 020 8457 9999
Manchester & Northern Regions 0161 792 6666
In an emergency always call the police on 999, then call CST