CST Blog
Joshua Bonehill-Paine found guilty of inciting racial hatred
16 December 2015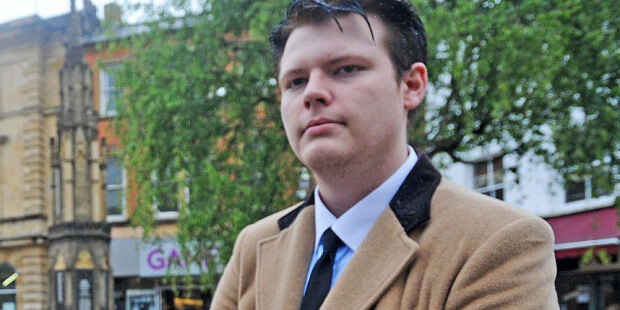 Joshua Bonehill-Paine was today found guilty of inciting racial hatred after he published antisemitic material online. In court on Monday 14 December, he was described as an "extremist" who expressed "virulently racist views in respect to the Jewish community".
Prosecution lawyer Mark Weekes stated the post on Bonehill's website was:
"An encouragement to attend a demonstration which was planned for July 4 in Golders Green in north London. The event was referred to as an anti-Jewification event which was to liberate Golders Green as part of a summer of hate. Within that article were two posters which attendees were encouraged to print off. They were threatening and offensive."
The Prosecutor stated that the antisemitic images included in the post:
"Trivialises and mocks the death of millions of Jews during the Third Reich…the lightning bolt in the 'O' of Golders Green is believed to be a reference to the SS (Nazi Secret Police) logo. To super-impose that on an area with a large Jewish population is incitement."
Bonehill-Paine published the post on his website and the court heard that computer analysis discovered numerous versions of the flyer on his laptop.
Bonehill denied incitement to racial hatred and stated that "I do not believe I have committed any crimes, as what I have done falls within the remit of free speech." He claimed that the post and accompanying images from the anti-Jewification event were an expression of his "dark sense of humour", Court News UK reported. He continued on to say that Jewish people in Golders Green would also find the flyer funny.
Prosecutor Mark Weekes disagreed and stated that "the flyer is clearly and deliberately insulting to the Jewish community, the community most readily associated with the gas chambers of the holocaust".
Mark Gardner, CST's Director of Communications responded to the conviction:
"CST is proud to have played its part in the arrest of antisemitic provocateur, Joshua Bonehill-Paine, who was today found guilty of incitement to racial hatred. Sentencing will be passed tomorrow."
CST passed Bonehill-Paine's antisemitic material to our Police and Government contacts and his arrest followed the next day. We do not wish to post the offending filth on CST Blog, but it may be seen here within the Jewish Chronicle's original coverage of the arrest.
Bonehill-Paine will be sentenced on Thursday 16 December.
Read More