CST Blog
CST welcomes the publication of the Government Review into the Muslim Brotherhood
17 December 2015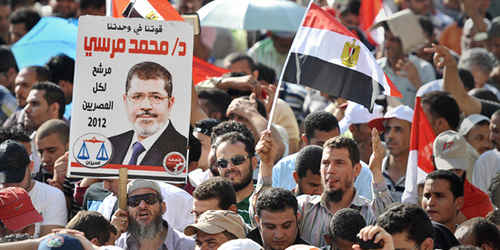 CST welcomes the publication of the Government Review into the Muslim Brotherhood. The review explains how the Brotherhood's opposition to terrorism is partial and tactical, whilst its overall ideology and activities are ultimately at odds with UK values.
This marks an important moment in official UK recognition of what Islamism means, especially in relation to its negative influence on the integration of British Muslims into UK society.
CST submitted evidence to the Review. We noted the close relationship between Hamas and the Brotherhood and the malign impact of this on UK Jewish-Muslim relations. This included, for example, the influence of the Muslim Association of Britain in the decision of the Muslim Council of Britain to boycott Holocaust memorial ceremonies prior to 2008.
Importantly, the Review mentions the role of the Brotherhood in anti-Jewish violence in Egypt during the 1940s. It notes that "Senior members of the Muslim Brotherhood routinely use virulent, anti-Semitic language". It describes the close relationship between the Brotherhood and Hamas and recognises that Brotherhood supporters, including in the UK, express support for terrorism by Hamas in Israel. All of these points were made by CST in our submission to the Review and we are gratified to see them incorporated into the government's conclusions.
The Review explains how the Brotherhood went quietly about its business in the UK, before changing tack in the 1990s. It repeatedly notes the importance of the Muslim Association of Britain (MAB) in this, but also implies that the larger, more diverse, Muslim Council of Britain was under its influence, saying that the MAB "played an important role in establishing and then running the Muslim Council of Britain (MCB)"
Regrettably, the Report does not mention the MAB's primary role within the Stop The War Coalition: the glue in the alliance between far left and Islamist politics for much of the 2000s, premised upon hatred of Israel and opposition to western military intervention in the Middle East. Today, that merger is fractured, due in part to differences over the Syrian civil war. (For detail on the Brotherhood / MAB / Stop The War / far left alliance, see here by CST's Dave Rich.)
The Review also notes that the Brotherhood's claims to be a positive influence in British society are not convincing:
"In their written submission to the review MAB stated that it supported social integration and encouraged young people to be active and responsible citizens. There is some evidence that MAB have tried to do so in specific areas of the country. But as of July 2014 neither MAB nor other organisations related to the Muslim Brotherhood had clearly and publicly promoted a vision of Muslims living in this country as integrated British citizens; indeed, in the course of the preparation of this review MAB accepted that their teaching material has not been updated to reflect their claimed objectives. Literature in the Muslim Brotherhood movement in this country continues to reflect some of the concerns of the foundational Muslim Brotherhood ideology, notably that western society is inherently hostile to Muslim faith and interests and that Muslims must respond by maintaining their distance and autonomy. The UK based chairman of Interpal has written openly in support of the death penalty for homosexuality and stoning to death of married men and women found guilty of adultery."
The last section of the Review, prior to the "Conclusions" section, drily notes:
"3MAB (like the MCB) have consistently opposed programmes by successive Governments to prevent terrorism."
The "Conclusions" then continue, noting the Brotherhood remains "secretive" and influences students, charities and others. It notes that previous political engagement with the Brotherhood for the common goal of opposing al-Qaeda "did not take account of Muslim Brotherhood support for a proscribed terrorist group and its views about terrorism which, in reality, were quite different from our own". Finally, it ends with this vitally important point:
"aspects of Muslim Brotherhood ideology and tactics, in this country and overseas, are contrary to our values and have been contrary to our national interests and our national security."
Read More