CST Blog
CST Antisemitic Incidents Report 2015 published today
4 February 2016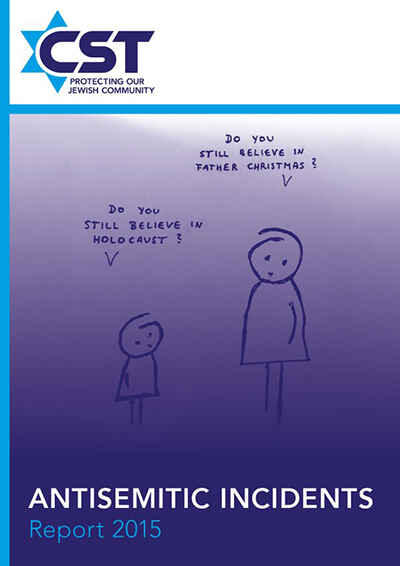 CST's Antisemitic Incidents Report 2015, published today, shows that last year saw the third-highest annual total of antisemitic hate incidents in the UK.
CST recorded 924 antisemitic incidents nationwide during 2015. This was a 22 per cent fall from 2014's record high of 1,179 incidents, which had been caused by antisemitic reactions to the conflict in Israel and Gaza during July 2014 (316 incidents) and August 2014 (228 incidents).
The second-highest annual total of 931 incidents came in 2009, also a year when there was a major conflict in Israel and Gaza. In contrast, there was no similar 'trigger event' in 2015 to explain the relatively high annual total. There were 535 antisemitic incidents recorded by CST in 2013, 650 in 2012 and 609 in 2011. CST has recorded antisemitic incidents in the UK since 1984. 
The highest monthly totals recorded by CST in 2015 were in January (109 incidents) and February (88 incidents). This may suggest that a higher proportion of incidents were reported to CST and / or Police during those months, as a result of increased concern in the Jewish community following fatal terrorist attacks against Jews in France (9 January) and Denmark (15 February). However, the monthly incident totals recorded by CST remained relatively high throughout 2015 and few incidents included references to terrorism. This may either indicate that the true number of antisemitic incidents taking place has remained high compared to the years prior to 2014; or that a higher proportion of incidents is being reported to CST and to the Police than in previous years; or it may be due to a combination of these and other reasons.
A further 686 reports were received by CST, but were not deemed to be antisemitic and are not included in this total.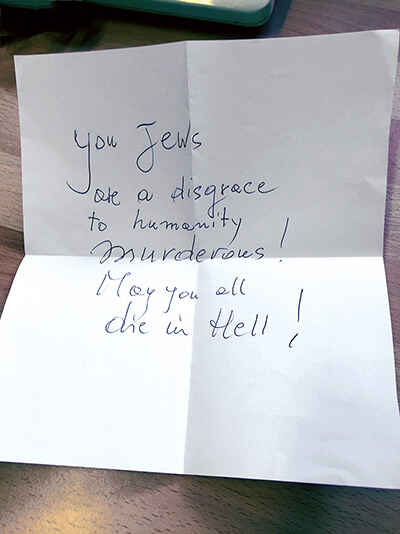 The 924 recorded antisemitic incidents included 86 violent antisemitic assaults, an increase of 6 per cent from 2014 and the highest number of violent incidents since 2011. This is the only antisemitic incident category that increased in 2015. Four of these violent incidents were classified by CST as 'Extreme Violence', meaning they involved potential grievous bodily harm (GBH) or threat to life.
There were 65 incidents of Damage & Desecration of Jewish property in 2015; 685 incidents of Abusive Behaviour, including verbal abuse, antisemitic graffiti, antisemitic abuse via social media and one-off cases of hate mail; 76 direct antisemitic threats; and 12 cases of mass-mailed antisemitic leaflets or emails. All of these decreased from the 2014 totals.
 The most common single type of incident in 2015 involved verbal abuse randomly directed at visibly Jewish people in public. In 354 incidents, the victims were Jewish people, male or female, attacked or abused while going about their daily business in public places. In at least 161 of these incidents, the victims were visibly Jewish, usually due to their religious or traditional clothing, school uniform or jewellery bearing Jewish symbols.
Three-quarters of the 924 antisemitic incidents were recorded in Greater London and Greater Manchester, the two largest Jewish communities in the UK. There were 472 antisemitic incidents recorded in Greater London (compared to 592 in 2014) and 226 incidents in Greater Manchester (309 in 2014). Beyond these two centres, CST recorded 226 antisemitic incidents in 82 locations around the UK, including 34 antisemitic incidents in Leeds, 29 in Hertfordshire (of which 18 were in Borehamwood), 13 in Liverpool, 11 in Birmingham and 6 in Bradford.
CST recorded 159 antisemitic incidents that involved the use of social media to transmit antisemitic threats or abuse, which represents 17 per cent of the overall total of 924 incidents. For comparison, 234 incidents involving social media were recorded in 2014. Incidents involving the use of social media are only recorded by CST if they have been reported by a member of the public who fulfils the role of a victim or witness; if the comment shows evidence of antisemitic content, motivation or targeting; and if the offender is based in the United Kingdom or has directly targeted a UK-based victim.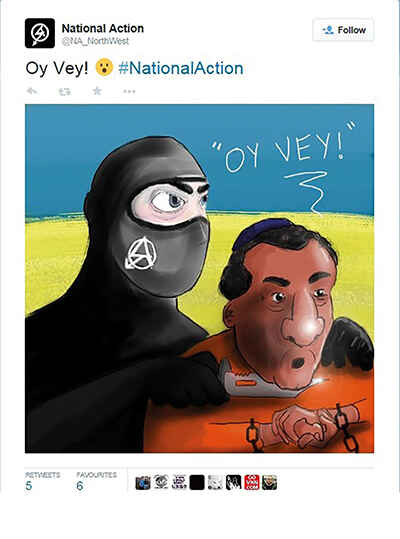 CST Chief Executive David Delew said:
"The fall in antisemitic incidents is welcome and expected although the reduction is less than we had hoped for. We welcome the possibility that more people are reporting incidents to CST and the Police, but the number of antisemitic incidents remains unacceptably high. The Jewish community has a right to expect antisemitism to be opposed wherever it occurs. It should have no place in our society."
Home Secretary Theresa May said:
"We must challenge antisemitism wherever we find it - just as we must challenge all forms of ethnic and religious hatred and combat extremism. This Government is working closely with the Jewish community and law enforcement to ensure that we understand the nature of trends in hate crime, and to work together to find solutions. I am grateful for the work of the Community Security Trust in collecting and publishing this data and providing security for communities. While a fall in antisemitic incidents should be welcomed, there are still too many cases of this type of hate crime. We also know that these types of crimes are often underreported. We must give victims the confidence to coming forward to report these terrible acts."
Shadow Home Secretary Andy Burnham said:
"We must be ever-vigilant about antisemitism and all forms of extremism. That is why I welcome this important report by the Community Security Trust and applaud them for the work that they do. Whilst it is good to see a fall in antisemitism since the record high in 2014, there is absolutely no room for complacency: this is still the 3rd worse year on record. Antisemitism is repugnant, unacceptable and scars our society. I would urge anyone who experiences hate crime of any kind to report it to the police. The CST does vital work securing the security of the Jewish community. But more needs to be done. The rise in all forms of extremism requires political as well as community action. We need to understand the roots of the prejudice and hatred that fuels extremism and work with communities to tackle it at source."
Communities Secretary Greg Clark said:
"Antisemitism and hate crimes of any sort are completely unacceptable in our society, which is why Britain has some of the strongest laws to protect people from violence and bigotry. Today's figures show a fall in antisemitic incidents this year, but one incident is still too many and we will be working with the Community Security Trust and others to see what more we can do. I would also urge anyone that witnesses a hate crime to report it so we can tackle this behaviour head-on."
John Mann MP, Chair, All-Party Parliamentary Group Against Antisemitism, said:
"Whilst I welcome the lower number of incidents and indications of a greater willingness to report instances of antisemitism, the level of antisemitism in the UK is still a major cause for concern. The APPG against Antisemitism will continue to work on a cross-party basis alongside partners like the CST to challenge antisemitism wherever it persists. The forthcoming Berlin conference on antisemitism will bring together Parliamentarians from around the world to share best practice and form working groups to ensure that antisemitism is tackled effectively and decisively."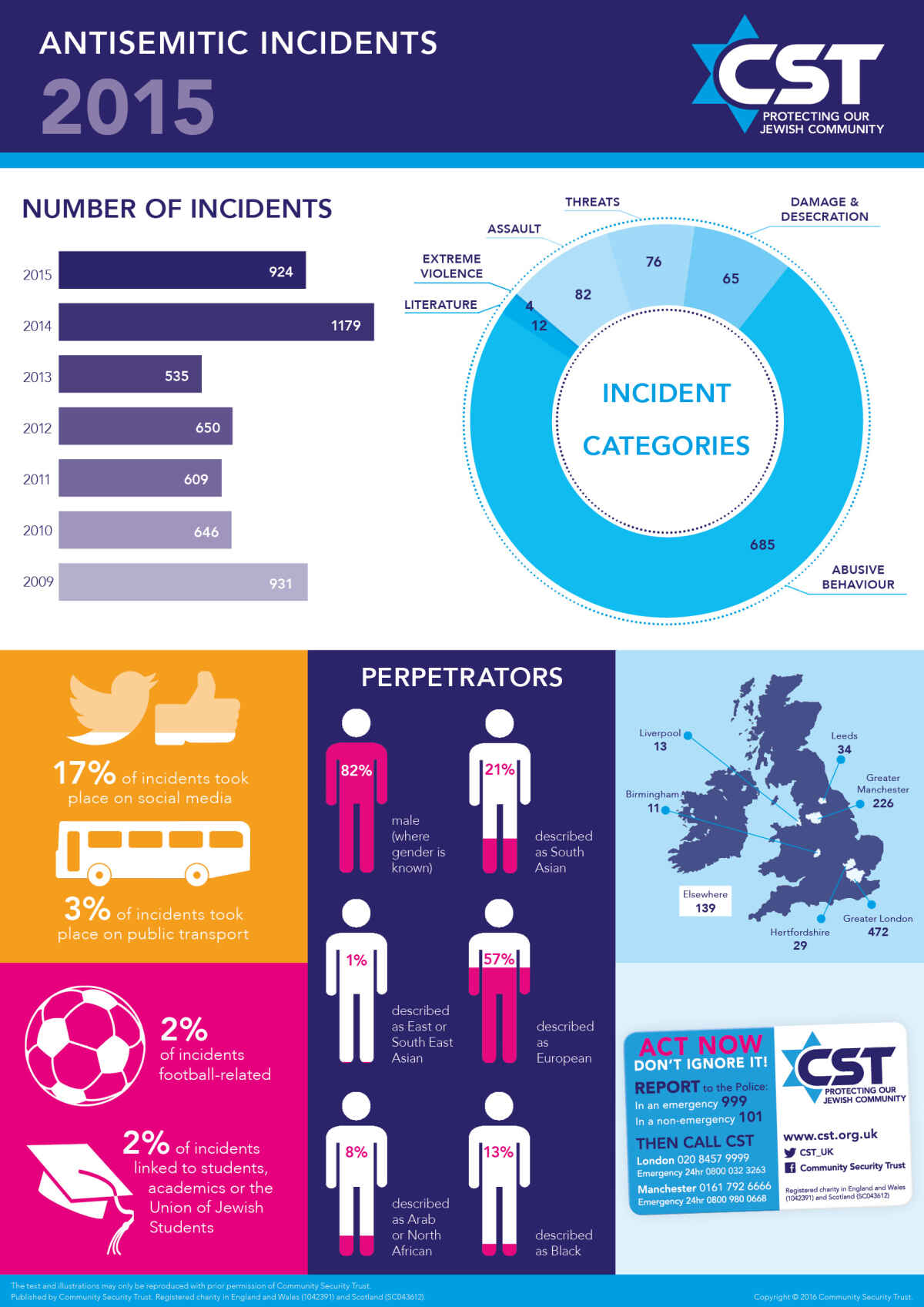 Read More