CST Blog
CST represents the Jewish community in tackling abuse online
19 July 2016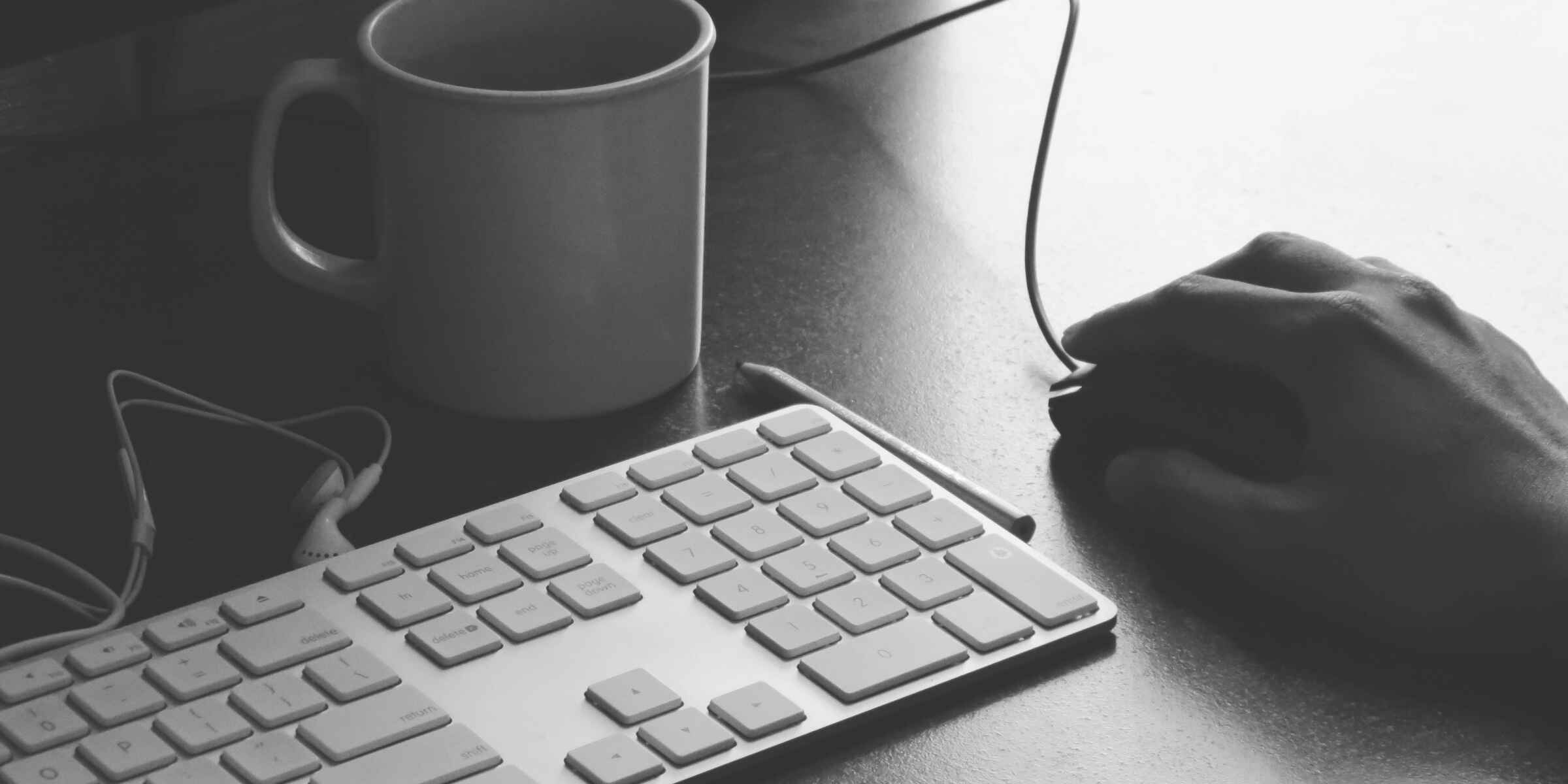 Following the launch of the initiative Reclaim The Internet in May 2016, the campaign hosted its first conference yesterday at the Trade Union Congress Building in London. CST is proud to support this, and is happy to lend our expertise to the campaign. The initiative, spearheaded by former shadow Home Secretary Yvette Cooper MP, aims to raise awareness and tackle online abuse. The project was initially established to tackle misogyny online, and has since widened its scope to include the battle to end antisemitic, anti-Muslim, anti-LGBTQ+ and bullying rhetoric across the internet.
CST's Public Affairs and External Relations lead, Jonny Newton, addressed attendees as part of a panel including journalist and newsreader Charlene White, Sam Smethers of Fawcett, Jemma Levene of Hope Not Hate, Stella Creasy MP and Yvette Cooper MP. CST was the only Jewish group on the day to represent the case to tackle antisemitic abuse on social media. Jonny commented on concerns that the internet is often seen as an anonymous vehicle for transmitting abuse and many perpetrators feel safe form prosecution. He stressed that antisemitism online and on social media, unlike in the case of offline hate crimes, doesn't just affect the victim and those in the vicinity of the incident. It has the capacity to impact the wider Jewish community. Jonny described the language used by antisemites and those using antisemitism on social media, including: Holocaust denial, threats, conspiracy theories and dehumanising rhetoric. 
Crucially, CST has been at the forefront of supporting victims of antisemitic abuse on social media, and Jonny highlighted the cases of targeted abuse against Luciana Berger MP and Ruth Smeeth MP. Luciana was originally targeted online in November 2014 by a member of the far-right neo-Nazi group National Action. The perpetrator was jailed, and a secondary campaign initiated by neo-Nazis in America mobilised to attack her again, predominantly via Twitter. CST assisted Luciana in both these cases. Unfortunately, she has continued to be the target of online antisemites and CST is providing ongoing support for the Liverpool Wavertree MP. Additionally, CST has supported several Jewish students when they have been the target of online hate campaigns following activism on campus.
Jonny finished his contribution by recommending that the Police set up a dedicated unit to tackle online hate crime, which could improve coordination between the Police, the Crown Prosecution Service and Social media platforms. Furthermore, he called for better social media training for Police so they understand how the platforms work, and how to tackle the issue of abuse on the various platforms. Additionally, he commented on the continued desire for social media companies to improve their processes and get it right when deciding what is – and is not – considered abuse on social media.
Other speakers on at the conference included the General Secretary of NASUWT Chris Keates, Global Head of Safety at Facebook Antigone Davis, Legal Advisor to the Director of Public Prosecutions Neil Moore QC, Stonewall Chief Executive Ruth Hunt, Public Policy and Government Relations Manager of Google Katie O'Donovan, Maria Miller MP, Jo Swinson, Jess Phillips MP and Tasmina Ahmed-Sheikh MP. Discussions focused on when threats and harassment become a crime, how social media platforms can be safe spaces, employers' and institutions' responsibility when dealing with social media abuse and what the next steps are in tackling hate crimes online.
Yvette Cooper, in a piece for the Huffington Post in the run up to the conference, set out her recommendations for the future:
"We need much more action in schools and among young people to tackle bullying online, and prevent abuse in the next generation - including compulsory online safety and sex and relationship education in all our schools. We need stronger action from the police and prosecutors when laws are broken. Too often officers investigating abuse don't even know how the social media platforms work - new training, new guidance and a full review of the law are all needed. And we need action from social media platforms and publishers that goes beyond the code they have recently signed with the EU Commission - including more investment in safety, more transparency about the scale of the problem, and more protection particularly against organised and repeated abuse.

And every one of us needs to stop being a bystander. Time to start reporting, speaking out, standing up for others who are being targeted. They say evil triumphs when good people do nothing. Time for all of us to do something to stand up for decency, civility and respect for other human beings. Tim Berners-Lee said when he invented the world wide web, 'this is for everyone'. Let's make sure it stays so."
During the conference yesterday, the hashtag #ReclaimTheInternet began to be trolled by those opposing the curbing of hate speech on social media. CST was not spared abuse by trolls who felt it was the right time to begin spewing Holocaust denial and antisemitism. This only proved the need to tackle online hate crimes and proved the worth of the campaign to #ReclaimTheInternet. Here are some examples of antisemitic tweets received by CST yesterday in response to our participation in the conference: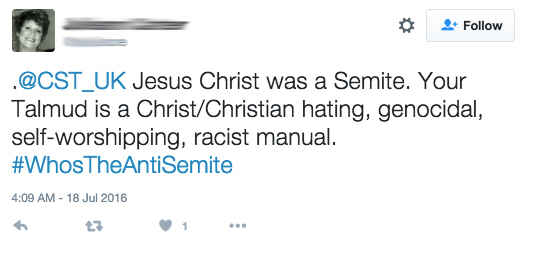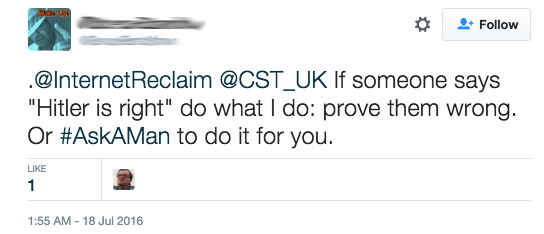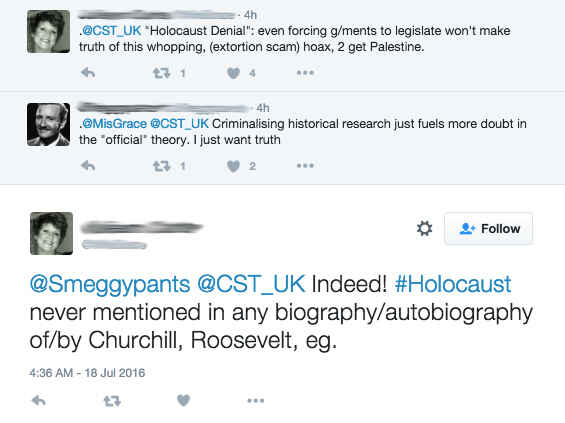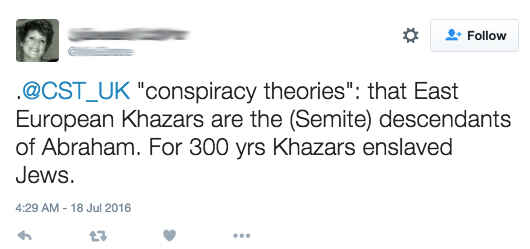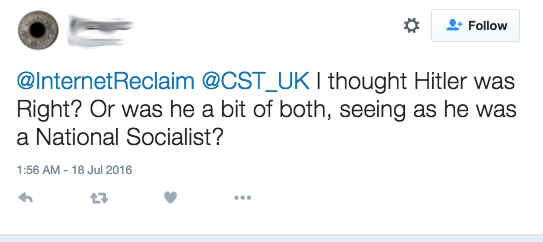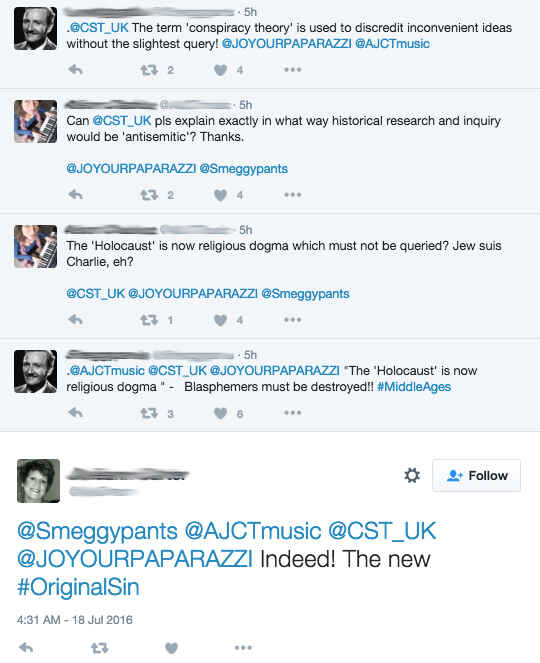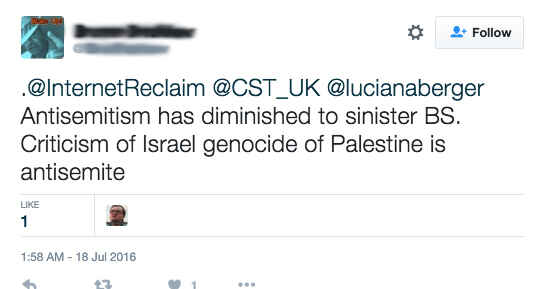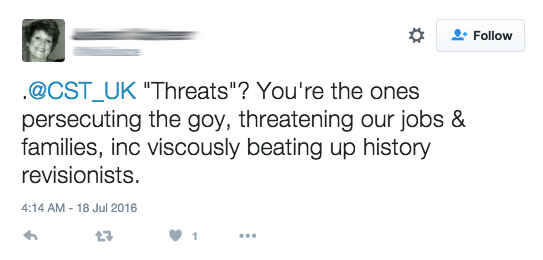 Read More