CST Blog
CST Antisemitic Incidents Report January - June 2016 published today
4 August 2016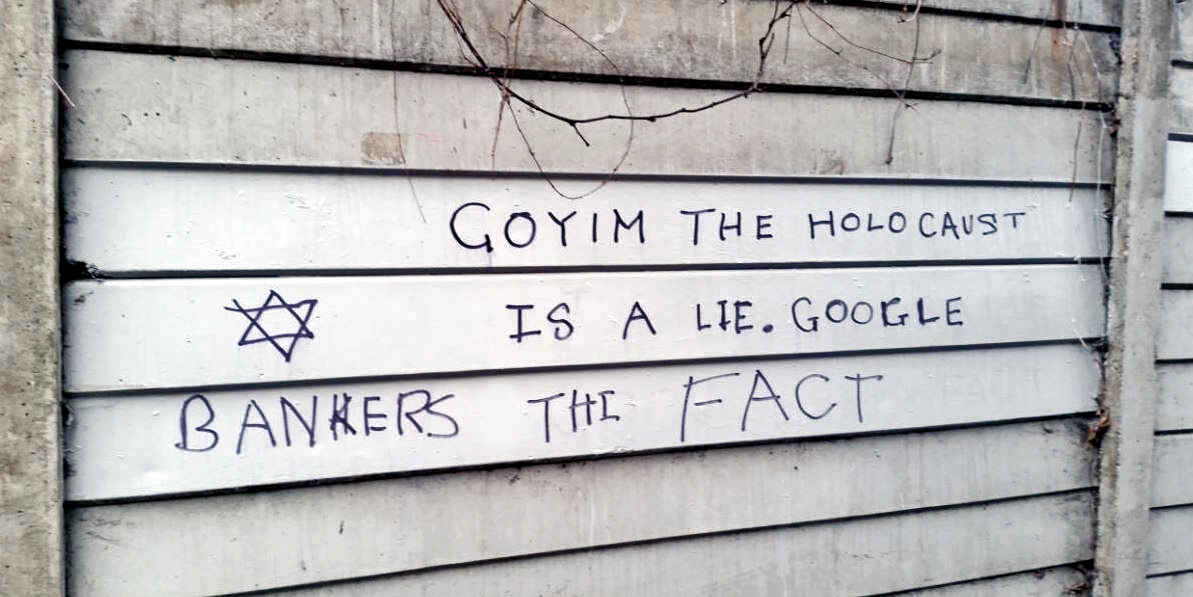 The first six months of 2016 saw an 11 per cent increase in antisemitic hate incidents recorded in the UK compared to the same period in 2015, according to CST's Antisemitic Incident Report January-June 2016, published today.
CST recorded 557 antisemitic incidents nationwide during the first half of 2016, compared to 500 antisemitic incidents during the first six months of 2015. This total of 557 incidents is the second-highest CST has ever recorded in the January-June period of any year. The highest total for the first half of any year came in 2009, when 629 antisemitic incidents were recorded due to antisemitic reactions to the conflict in Israel and Gaza in January 2009. CST has recorded antisemitic incidents since 1984.
A further 364 reports were received by CST between January and June 2016, but were not deemed to be antisemitic and are not included in this total.
There is no obvious single cause for the increase in recorded antisemitic incidents, most of which came in April, May and June, when CST recorded 99, 125 and 112 incidents respectively. The 125 antisemitic incidents recorded in May 2016 was the fourth-highest monthly total ever recorded by CST, and the 112 incidents recorded in June was the sixth-highest monthly total ever recorded. This was a period when antisemitism, racism and extremism were reported and discussed prominently in the national media and in public debate.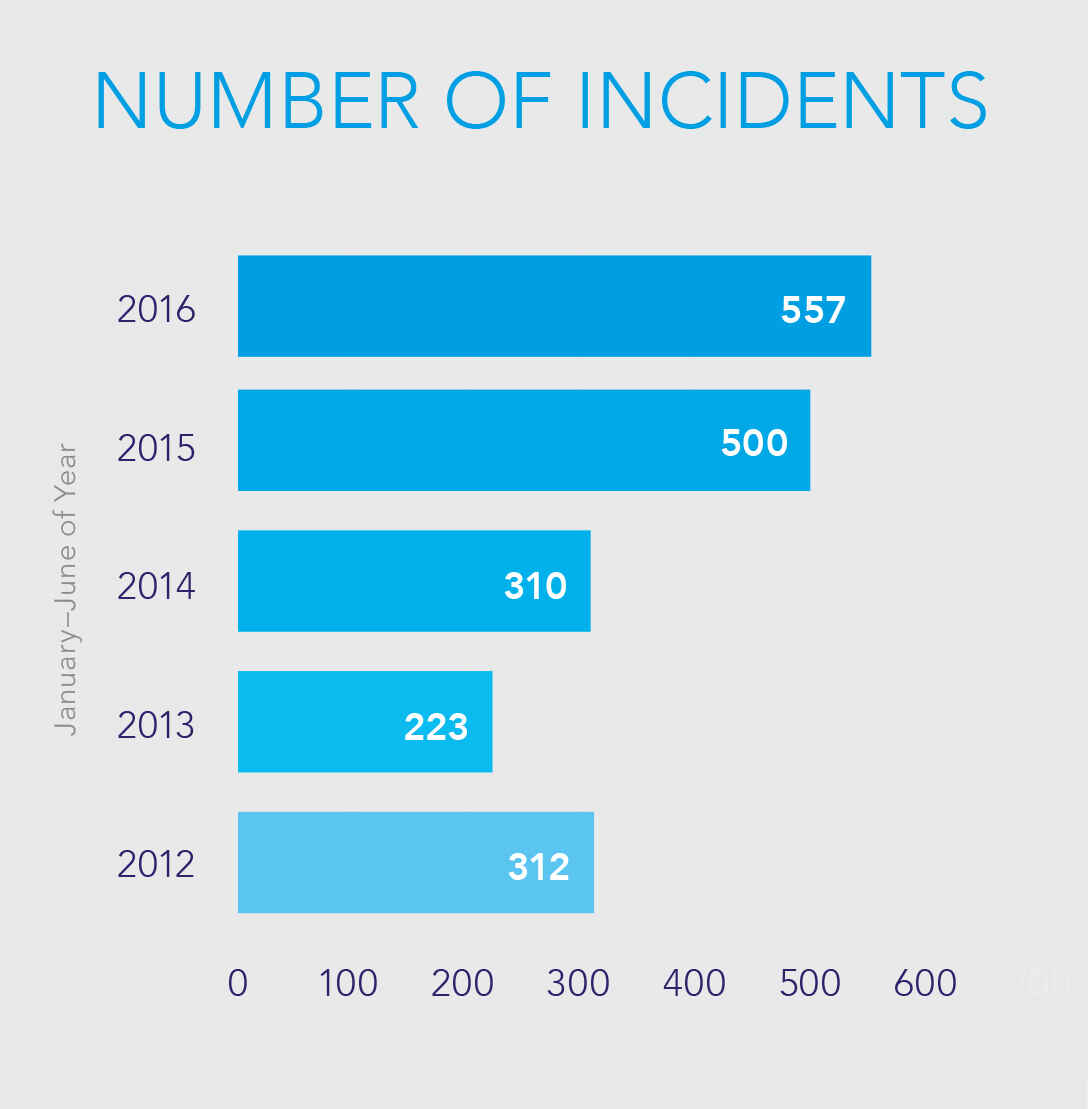 The long term trend shows that the number of antisemitic incidents has remained at a relatively high level since the summer of 2014, when the UK saw a large spike in antisemitic incidents in relation to the conflict in Israel and Gaza that year. Since then, average monthly antisemitic incident totals have ranged between 80 and 100 antisemitic incidents per month, whereas in the two years before that summer they ranged between 40 and 60 incidents per month.
Social media has become an essential tool for coordinated campaigns of antisemitic harassment, abuse and threats directed at Jewish politicians, student activists and other individuals, often using content generated centrally on neo-Nazi websites. CST recorded 133 antisemitic incidents that involved social media in the first six months of 2016, comprising 24 per cent of the overall total of 557 incidents. This was an increase on the 89 incidents involving social media that CST recorded in the first six months of 2015 (18 per cent of the total for the first half of that year). These totals are only indicative and in some ways understate the scale of the problem: targeted campaigns directed at individual victims usually involve dozens of social media accounts sending hundreds or even thousands of tweets, images or posts within a concentrated timespan.
Incidents involving the use of social media are only recorded by CST if they have been reported by a member of the public who is a victim or witness; if the comment shows evidence of antisemitic content, motivation or targeting; and if the offender is based in the United Kingdom or has directly targeted a UK-based victim.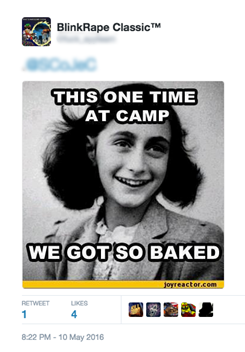 The 557 recorded antisemitic incidents included 41 violent antisemitic assaults, a 13 per cent fall from the first half of 2015. None of these violent incidents were classified by CST as 'Extreme Violence', which would mean they involved potential grievous bodily harm (GBH) or threat to life.
There were 32 incidents of Damage & Desecration of Jewish property in the first six months of 2016; 431 incidents of Abusive Behaviour, including verbal abuse, antisemitic graffiti, antisemitic abuse via social media and one-off cases of hate mail; 43 direct antisemitic threats; and 10 cases of mass-mailed antisemitic leaflets or emails.
The most common single type of incident in the first six months of 2016 involved verbal abuse randomly directed at visibly Jewish people in public. In 195 incidents, the victims were Jewish people, male or female, attacked or abused while going about their daily business in public places. In at least 87 of these incidents, the victims were visibly Jewish, usually due to their religious or traditional clothing, school uniform or jewellery bearing Jewish symbols.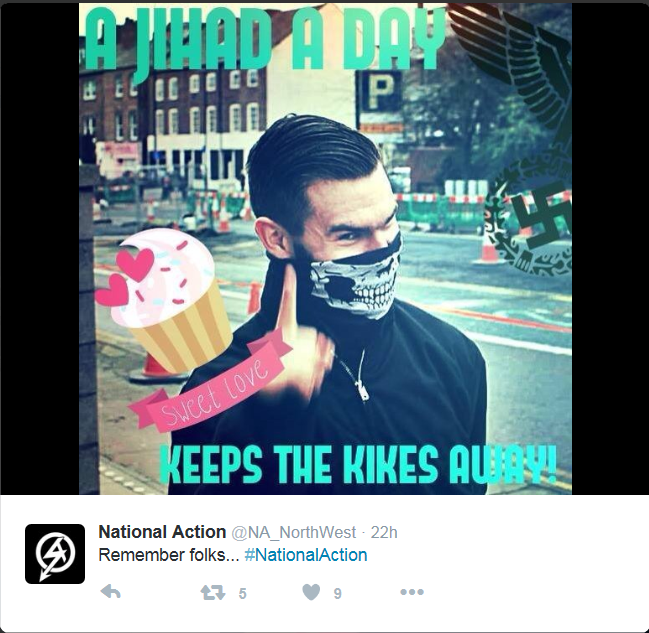 Over three-quarters of the 557 antisemitic incidents were recorded in Greater London and Greater Manchester, the two largest Jewish communities in the UK. However, these two cities saw opposing trends during this period. CST recorded 379 antisemitic incidents in Greater London, a rise of 62 per cent from the same period in 2015, but in Greater Manchester CST recorded 62 antisemitic incidents, a fall of 54 per cent. Beyond these two centres, CST recorded 116 antisemitic incidents in 52 locations around the UK, including 18 in Hertfordshire ten in Leeds, six in Liverpool and five in Brighton & Hove.
The full report can be downloaded here.
CST Chief Executive David Delew said:
This rise in reported antisemitism comes at a time when division, intolerance and prejudice appear to be deepening within our society. Reversing this worrying trend requires real leadership from all political parties, and for the social media companies to take their share of the responsibility.
Home Secretary Amber Rudd MP said:
I condemn the deplorable rise in antisemitic hate incidents in the first half of this year and will continue to work with law enforcement partners and with the Jewish community to ensure their safety and security. It is vital that every community which contributes to making us Great Britain has the protection it needs. This is why the Government is providing £13.4 million of funding for security measures at Jewish sites and why last week I published our Hate Crime Action Plan, setting out a series of measures to prevent vile attacks such as these.
Communities Secretary Sajid Javid MP said:
There can be no excuses for antisemitism or any other form of racism or prejudice. Crimes must always be reported, and the law enforced, but we also want to create an environment that prevents hate crime from happening in the first place. That is why were are investing £1m in new projects, to help prevent hate crime on the ground and stamp out prejudice and discrimination wherever it occurs."
Shadow Home Secretary Andy Burnham MP said:
There are worrying increases in incidents of antisemitic behaviour as many forms of hate crime rise across the country too. However, while we can't be complacent, I welcome the fall in reports in the Greater Manchester area. Labour will always lead the way in tackling any form of hatred or prejudice but we are being hampered in that fight by a small number who are not welcome in our party. In the days after the EU referendum, when hate crime began to soar, I forced Ministers to answer for it in the House of Commons. I will continue to work with the Community Security Trust and others to be ever-vigilant about antisemitism and all forms of extremism. It is repugnant, unacceptable and scars our society. I will take action to make sure people are safe and urge anyone who experiences hate crime of any kind to report it to the police.
All-Party Parliamentary Group Against Antisemitism Chair John Mann MP said:
This is a worrying rise in incidents set against a backdrop of increasing hate crime across the country. The message should go out to everyone that we will not stand for antisemitism, perpetrators of hate crimes against Jews will be caught and prosecuted and the bystanders must be educated. Britain should expect better than this. Now that the Chakrabarti inquiry into antisemitism has concluded I want to see decisive action. I think all parties should adopt the recommendations of her report and that anyone using the word Zionism as a term of abuse should be immediately expelled from the Labour party and indeed all other parties.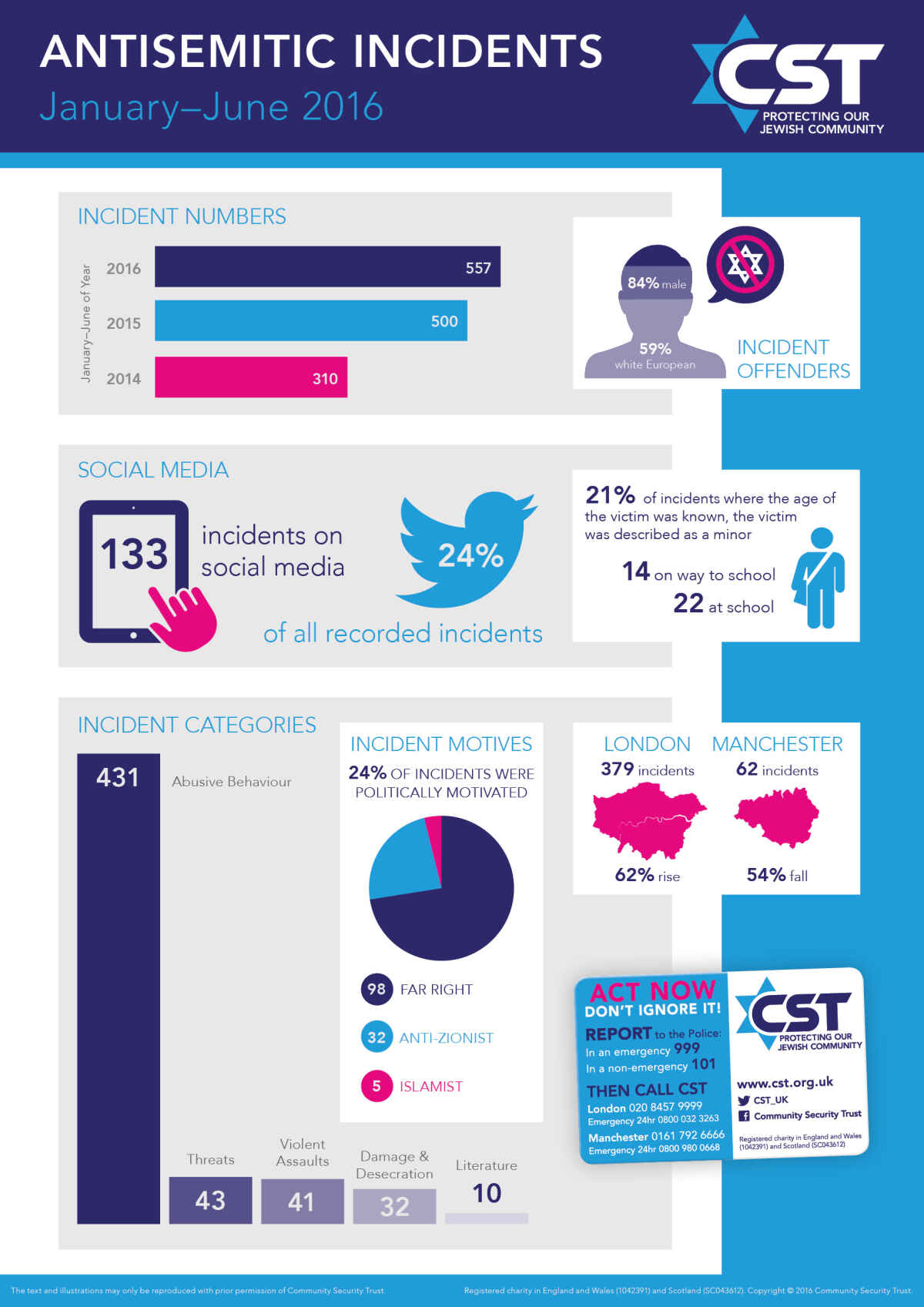 Read More