CST Blog
Home Affairs Select Committee antisemitism report praises work of CST
19 October 2016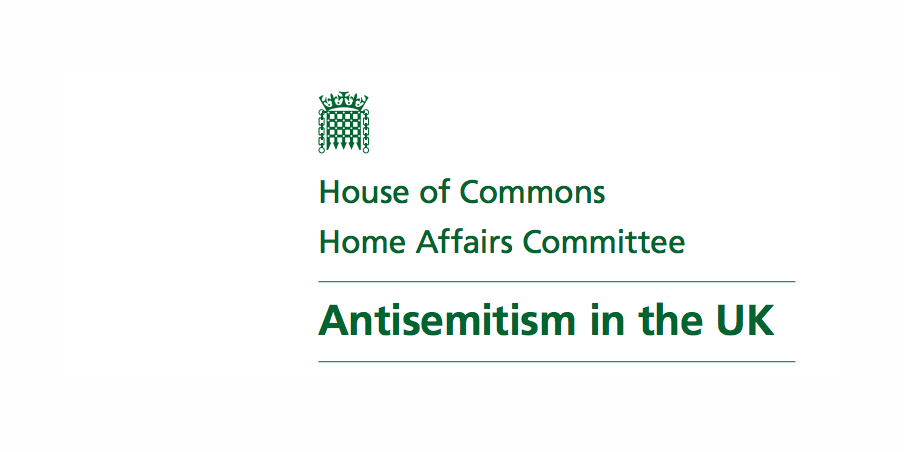 On Sunday the Home Affairs Select Committee released a report into antisemitism in the UK, following months of investigations, including sessions with the Committee where representatives from CST, the Jewish Leadership Council and the Board of Deputies gave evidence.
CST's work to protect the British Jewish community and CST's work in tackling antisemitism features throughout the report. For example, CST's antisemitic incident figures from the first six months of 2015 and 2016 were cited, pointing out the rise of 11% nationally. Additionally, the Committee's report stresses the importance of security funding granted by the Government to the Jewish community, administered by CST. Furthermore, CST's annual reports are the sole reports into antisemitism in the UK recognised by the Government, and several of CST's antisemitic discourse publications are included in the Home Affairs Select Committee's report, particularly examining what can be defined as antisemitism. The Committee further thanked CST for protecting the Jewish community in Britain:
"We express our gratitude to Community Security Trust for the impressive and professional work that they do to keep British people safe. It is appalling that such stringent measures are necessary to ensure the safety of British Jewish people, and it is right that funding for that security should come predominantly from the Government: the safety of any British community should never be reliant on the generosity of individuals within that community. We recommend that this funding stream continues on an annual basis, rather than being dependent on a Government Minister making an announcement at CST's annual dinner. The Government should also be responsive to any requests for increased resources arising from any ongoing increase in antisemitism."
The Committee calls on social media companies to do more to tackle antisemitic hate speech on their platforms. In particular, the Committee highlights Twitter stating that it is "deplorable" that Twitter has become an "inert host for vast swathes of antisemitic hate speech and abuse".
The report also charges Jeremy Corbyn with not having tackled antisemitism within Labour, including a failure to recognise that anti-racism campaigners can be antisemitic. Further criticisms are directed at the Shami Chakrabarti report into antisemitism, the President of the National Union of Students, Malia Bouattia; and social media companies that are hosting antisemitism. 
The report makes a serious investigation on the important subject of antisemitism. CST thanks the Committee for its serious investigation of antisemitism and hopes that its conclusions will be acted upon. This problem has become increasingly acute in recent years and it is vital that British Jews do not end up questioning their futures as is now sadly the case in mainland Europe.
Read More