CST Blog
Terrorism conviction for "HITLER You Were Right!" demonstrator
26 September 2017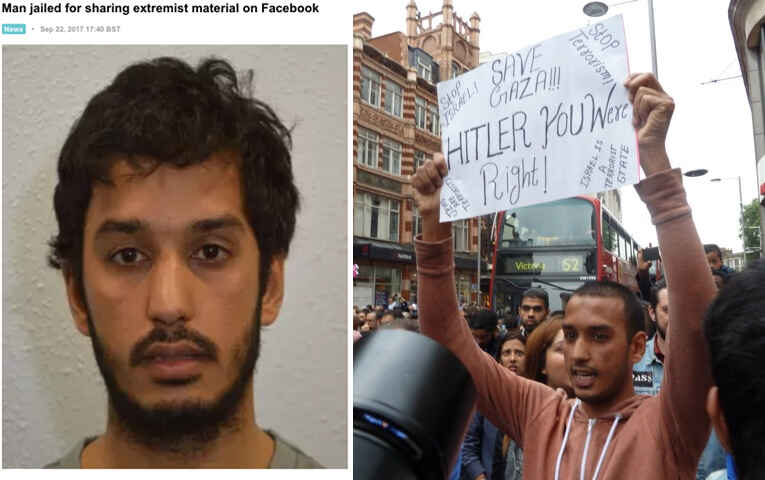 On 11 July 2014, Hussain Yusuf was photographed holding a sign saying "HITLER You were Right!". On 22 September 2017, Hussain was found guilty at Kingston Crown Court on three terrorism charges: and was sentenced to six and a half years imprisonment.
It is a textbook case study in how antisemitic attitudes may denote further extremist and terrorist inclinations.   
The "HITLER You Were Right!" photograph was taken on a large anti-Israel demonstration in central London, during Israel's conflict with Hamas in the summer of 2014. At this time, antisemitic incident levels more than trebled, to an unprecedented scale. This included widespread trending of "Hitler was right" on social media. The photograph of Hussain featured on the front cover of the Sunday Times and in many other features on that summer's surge of antisemitism, including CST's Antisemitic Discourse Report, 2014.
In November 2015, Police were alerted to extremist Islamic State material on Yusuf's Facebook accounts. He was investigated by the Metropolitan Police's Counter Terrorism Command, before being arrested in July 2016.   
The Metropolitan Police stated: 
"Hussain was convicted of three terrorism offences;

- Collection of information which may be useful to someone who commits or prepares acts of terrorism (contrary to section 58 of the Terrorism Act 2000);

- Encouragement of terrorism (contrary to s.1 TACT 2006); and

- Dissemination of terrorist publications (contrary to s.2 TACT 2006)."
Commander Dean Haydon, from the Metropolitan Police's Counter Terrorism Command said:
"Yousef was sharing content, images and videos of the terrorist activities of Daesh [Islamic State] through his various Facebook accounts and trying to get others to support their evil and hateful ideology.

"This case was brought to our attention thanks to members of the public reporting it to us and I continue to urge anyone who see terrorist or extremist material online to ACT and report it via the online reporting tool."
Read More