CST Blog
Albion Beatnik: Holocaust Denial and antisemitism in your local indie bookshop
27 February 2018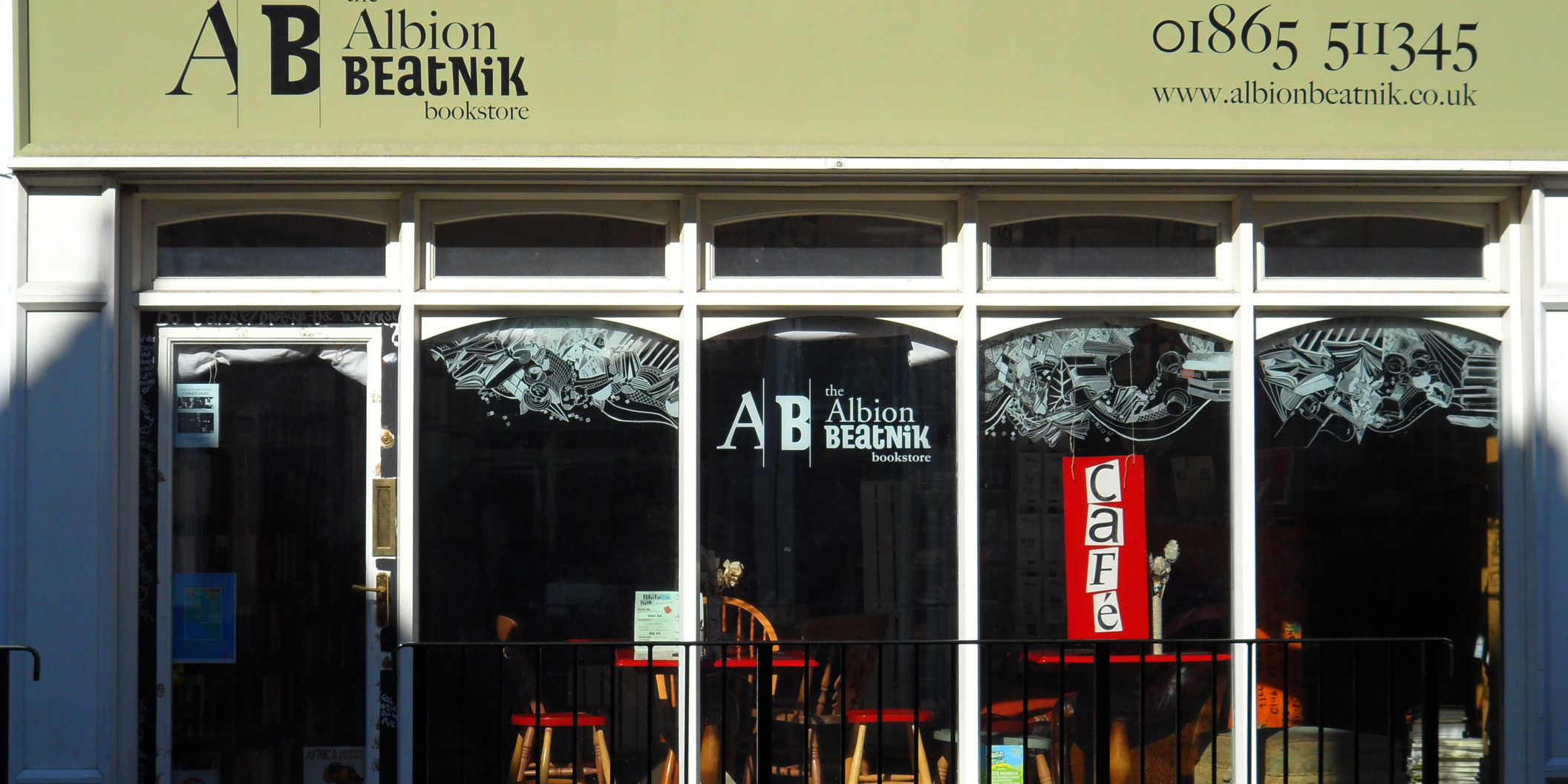 In Oxford, there's an independent bookshop called Albion Beatnik. This quirky bookshop was cited in 2011 as the best bookshop in Oxford in The Sunday Times and The Guardian went even further in 2013 saying:
"The Albion Beatnik is the perfect illustration of everything that needs to be said about independent shops in the digital age. Yes, it is a great bookshop. But it is so much more. And that is what makes it both deserve, and achieve, its success."  
However, Albion Beatnik is happy to play host to people who they know are peddlers of Holocaust Denial, Jew hatred and other conspiracy theories. They have hosted such notorious figures as Gilad Atzmon and Nick Kollerstrom and sell David Irving's books in their history section. When informed on Twitter that Gilad Atzmon was a well-known antisemite they doubled down on their support for him. As a point of fact, Atzmon promoted his latest book Being in Time (described by CST as "a profoundly antisemitic work") there last June and several other times in 2017. Albion Beatnik also blogged about Atzmon's book The Wandering Who in 2015. This is the book that was labelled by CST as being "quite probably the most antisemitic book published in this country in recent years." 
Nick Kollerstrom, who was an academic until he decided that the Holocaust never happened in 2008, spoke there twice in 2017. He also spoke there in June 2015 to promote his book in an event titled "A History that Dare not Speak its Name" this is how Albion Beatnik publicised that event;
"This Tuesday, 9th June at 7:30pm, Nicholas Kollerstrom will be talking in the Albion Beatnik. Nicholas was an honorary research fellow in the history and philosophy of science at University College London. He lost his academic post when his fellowship was withdrawn in 2008 after he published on the web a synthesis of the four chemical samples that had been conducted at Auschwitz (one sample had been instigated by the camp's museum curators). The culmination was a book published last year, Breaking the Spell: The Holocaust. Nicholas will talk about the hostile reception his writing has received, and he will discuss also his book."
Moving on from Kollerstrom, customers at the shop will find displayed in Albion Beatnik's history section books by the Holocaust denier David Irving. This is a man who has been imprisoned in Vienna for Holocaust denial. Since no publishers appear to be selling Irving's work and he seemingly has no UK distributor, it is curious as to how and why Albion Beatnik have his books. Might Atzmon and Kollerstrom not be the only dodgy visitors to this oh so quaint bookshop? Irving's books are sold alongside works by the historian Richard Evans as if giving equal weight to the man who lies and the historian (Evans) who has the knowledge, morality and academic skill to debunk those lies. When David Irving sued Penguin books and the noted academic Deborah Lipstadt for libel he was named as an antisemite by the judge, Mr Justice Charles Gray, in his final ruling who ruled that:
"Irving has for his own ideological reasons persistently and deliberately misrepresented and manipulated historical evidence; that for the same reasons he has portrayed Hitler in an unwarrantedly favourable light, principally in relation to his attitude towards and responsibility for the treatment of the Jews; that he is an active Holocaust denier; that he is anti-semitic and racist and that he associates with right wing extremists who promote neo-Nazism."
So if you're in Oxford perhaps it's better to walk past a little indie bookshop and make for the nearest branch of a mainstream chain. It might not be as idyllic a place to connect with literature but there is much less chance of hearing an antisemitic speaker or finding one of their books on the shelf.
Update: 
The Albion Beatnik bookshop closed its doors in January of this year. In a further addendum to this sad tale the comments below the line in the Oxford Mail article reporting the closure offer a clue as to the legacy of the place: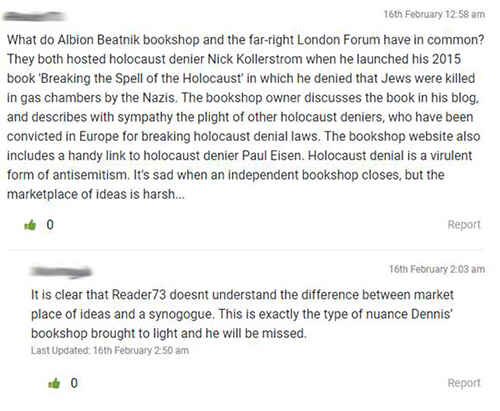 Read More