CST Blog
Finsbury Park attack anniversary: why as Jews we should stand against all forms of intolerance
19 June 2018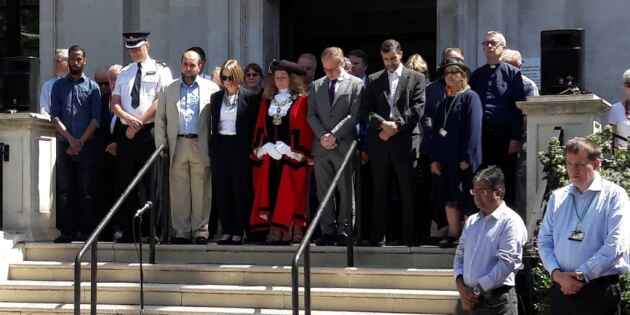 Today marks the anniversary of the Finsbury Park terrorist attack in London. Eight members of the Muslim community, who were gathered near to a mosque during Ramadan, were injured by a van driven by Darren Osborne, a far right sympathiser. One man, Makram Ali, was struck and later died at the scene. This horrific attack, perpetrated by an anti-Muslim terrorist, serves as a reminder of what bigotry, hatred and prejudice can lead to. As a Jewish community, we should stand against all forms of hatred against any minority communities.
Darren Osborne, the attacker, had previously shown signs of hatred against Muslims and was allegedly a "heavy consumer of internet propaganda from Tommy Robinson, the founder of the English Defence League and material from Britain First, another extremist hate group." During his trial, prosecutors read out messages where Osborne had said, "all Muslims are terrorists". Osborne had also allegedly said, "I'm going to kill Muslims, your family are going to be Muslims, they're all terrorists and I'm going to take it into my own hands."
Osborne was sentenced to life imprisonment in February 2018 at Woolwich Crown Court after being found guilty of murder and attempted murder. 
Makram Ali, who was killed by Osborne, was described as a "quiet, gentle man" who "spent his whole life without any enemies". Ali, who came to the United Kingdom from Bangladesh aged 10, was survived by his wife, four daughters, two sons and two grandchildren.
The Jewish community in Europe has unfortunately faced several attacks in recent years by those espousing antisemitic hatred, including the 2012 attack in Toulouse which left four dead, the 2014 shooting at the Jewish Museum in Brussels which left four dead, and the antisemitic murder of Dan Uzan in Copenhagen in 2015, who was shot whilst protecting his Jewish community. CST and the Jewish community, therefore, knows the pain and anguish an attack on a community can cause. The attack on Finsbury Park mosque is no different. 
CST has always strived to foster relations across minority communities to reduce prejudice and bigotry. This work includes CST sharing its expertise in security and tackling hate crime to help other communities in the United Kingdom. In 2012, CST assisted with the creation and launch of Tell MAMA, a project of Faith Matters to tackle anti-Muslim hatred in the UK. CST also supports National Hate Crime Awareness Week, which takes place annually. Following the terrorist attack in Finsbury Park CST worked with the Metropolitan Police to provide security advice for mosques and earlier this year, CST worked with Faith Associates to deliver security guidance to Mosque managers, Imams, trustees and community volunteers in the run-up to Ramadan. CST has previously given security advice to Hindu, Sikh, Christian and Muslim communities in different parts of the UK. In 2013, CST's work to help other communities was praised at an International Conference, reflecting the importance of the work we do to help reduce hate crime against all communities and to support them in their security efforts.
CST has long warned of the dangers of far-right extremism. CST's origins are in Jewish anti-fascism and we will continue our work supporting others in their efforts to combat fascism, hatred and anti-Muslim prejudice. An attack on any minority community is an attack against communal cohesion and society at large, and as Jews, we must not tolerate it.
[Image: Islington Council]
Read More