CST Blog
Hidden Hate: what Google searches tell us about antisemitism today
11 January 2019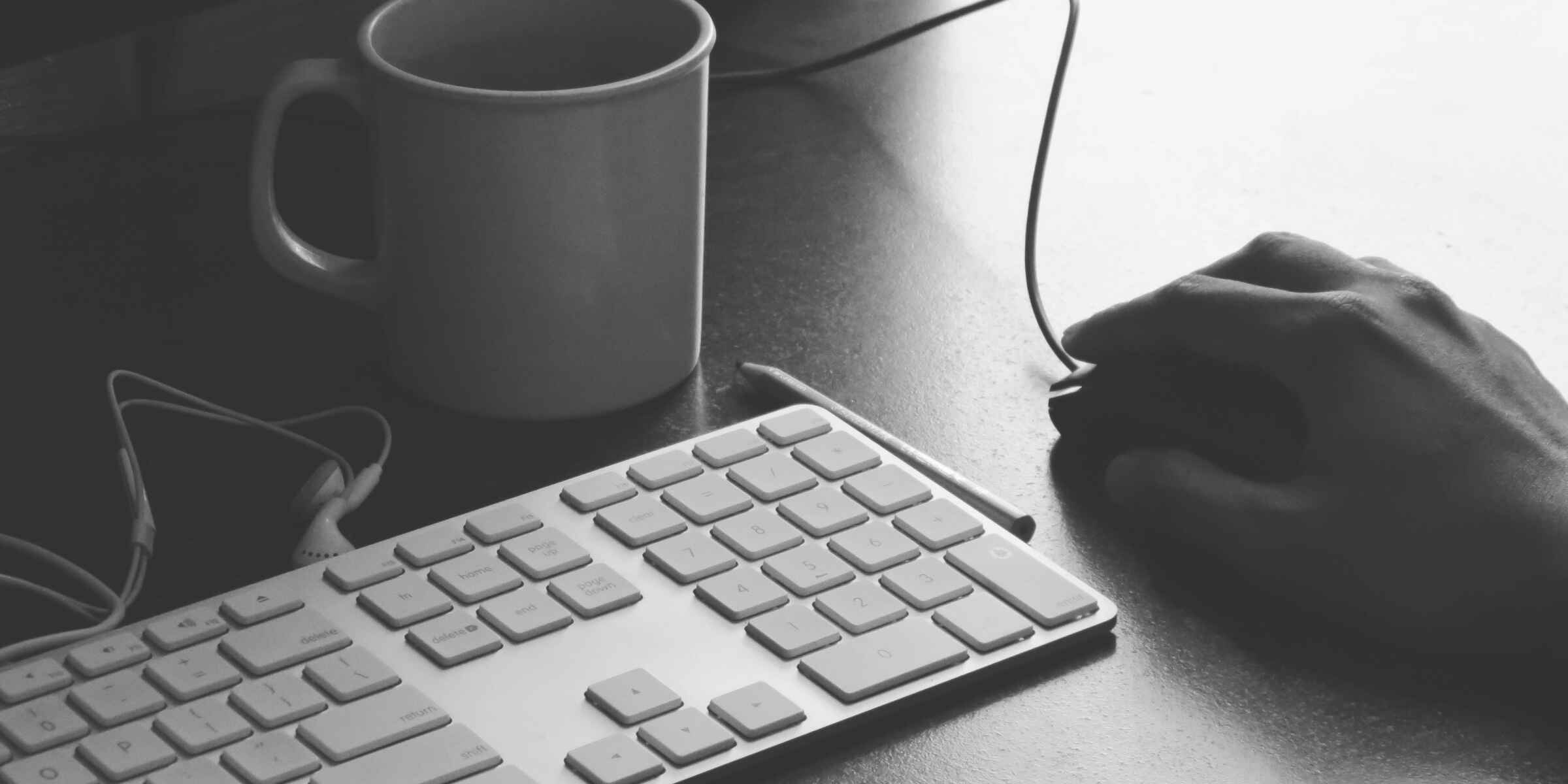 What can the internet tell us about antisemitism in the United Kingdom? Today , CST and the Antisemitism Policy Trust publish a new report, called Hidden Hate: What Google searches tell us about antisemitism today, that uses Google search data from 2004 to 2018 to show what people in the UK are searching for in relation to Jews, Zionism and the Holocaust, and what this tells us about antisemitic attitudes in Britain today. The report is authored by Seth Stephens-Davidowitz, who wrote the acclaimed 2017 book Everybody Lies: What the Internet Can Tell Us About Who We Really Are. The report also uses data from the complete archive of the far right website Stormfront, which has been used as a discussion board by neo-Nazis across the world for over 20 years.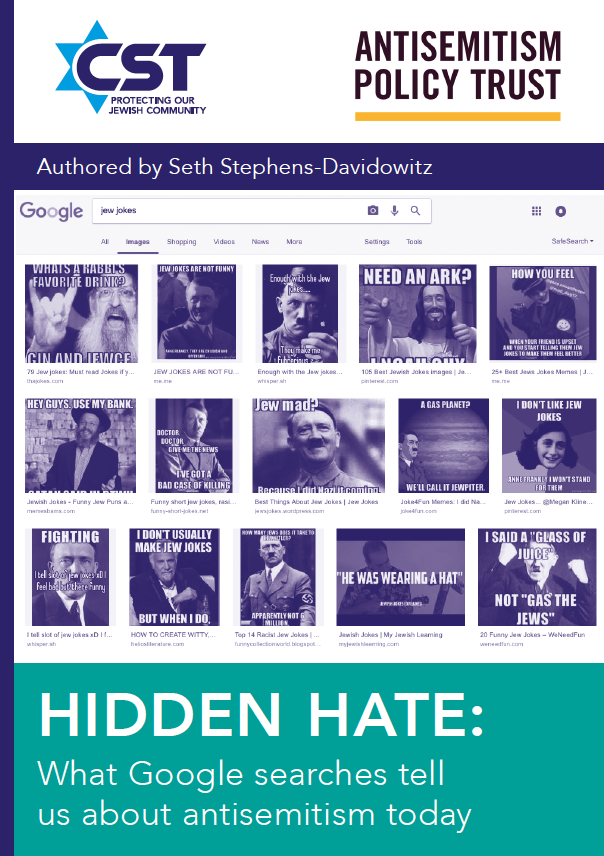 It has been shown that people are remarkably honest when they search for information online. Their Google searches and queries reveal interests, prejudices and hatreds that they might keep hidden from friends, family members, neighbours, surveys and even from themselves. They have been shown to share their health secrets, sexual preferences, and hostility towards other groups. This ground-breaking report uses this data for the first time to reveal the antisemitism in Google searches in the UK.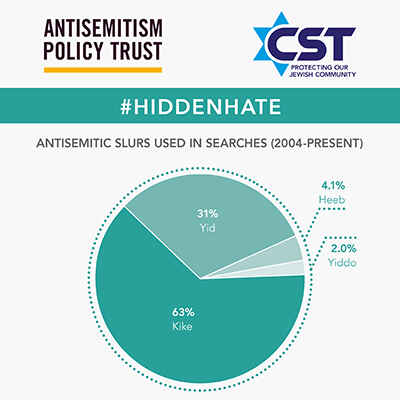 Hidden Hate shows: 
An average of 170,000 Google searches with antisemitic content are made per year in the United Kingdom. Approximately 10 per cent of these searches involve violent language or intentions.
The top negative stereotypes searched for in relation to Jews are that they are "evil" and "racist." When Google removed "Are Jews evil?" from its auto-complete function in December 2016 (following a series of articles on the Guardian/Observer website), approximately ten per cent fewer people searched for "Are Jews evil?" than had done so in the previous year. This shows that prior to that change, Google had been leading people to make antisemitic searches who otherwise would not have done so.
The most common antisemitic Google searches in the UK are for jokes mocking Jews. There is a direct correlation between these searches and those mocking other minorities: someone who searches for "Jew jokes" is 100 times more likely to also search for "n****r jokes." Overall, Google searches with the word "Jewish" tend not to be antisemitic; searches with "Jew" tend to be antisemitic.
There are more Google searches in the UK into the Rothschild banking family than for top Jewish celebrities such as David Baddiel or Tracy-Ann Oberman. Almost all of these searches are looking for conspiracy theories related to the alleged Rothschild domination of the world (a common antisemitic conspiracy theory), and there has been a 39 per cent increase in Rothschild-related searches in the past three years. Moreover, in months when searches for information on the Rothschild family increase, other antisemitic searches also increase in number.
There was a 79 per cent rise in antisemitic Google searches in April 2018, most of which occurred on the day after Jewish community representatives met Labour Party leader Jeremy Corbyn.
Sometimes even positive media coverage of Jews, Israel or the Holocaust can lead to an increase in antisemitic searches: Google searches for "Holocaust hoax" are roughly 30 per cent above average on Holocaust Memorial Day (27th January) each year, and antisemitic searches increased by 30 per cent in the days following Israel's victory in the 2018 Eurovision Song Contest.
The United Kingdom ranks third in the world for searches about Zionism, behind only Israel and Lebanon. Searches for Zionism are 29 per cent higher in the United Kingdom than in the United States. "Hitler Zionism" is the fourth most popular search about Zionism in the United Kingdom. Searches related to Zionism rose 25-fold in April 2016, shortly after former Mayor of London Ken Livingstone was suspended by the Labour Party for claiming that Hitler "was supporting Zionism."
Antisemitic searches are higher in Wales than in any other part of the United Kingdom, and antisemitic searches are just as high in cities that mostly vote Labour as they are in cities that mostly vote Conservative.
There are more searches in Google for "Luciana Berger Jew" than for "Luciana Berger policy", "Luciana Berger votes" or "Luciana Berger Brexit." Looking specifically at the far right website Stormfront reveals the connection between antisemitism and misogyny: the two Jewish parliamentarians with the most mentions on Stormfront are Margaret Hodge and Luciana Berger, and in the history of Stormfront, there have been 14 per cent more mentions of female Jewish MPs than male Jewish MPs, even though UK male Jewish celebrities are mentioned more than UK female Jewish celebrities on the site. Overall, there are more than 9,000 threads on the far right Stormfront website related to feminism, 60 per cent of which also mention Jews.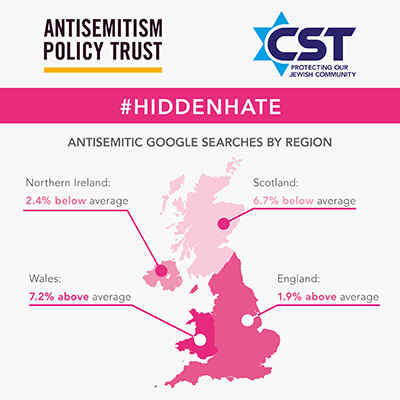 A copy of Hidden Hate can be downloaded.
Read More