CST Blog
CST submits evidence to Home Affairs Committee inquiry into hate crime
22 January 2019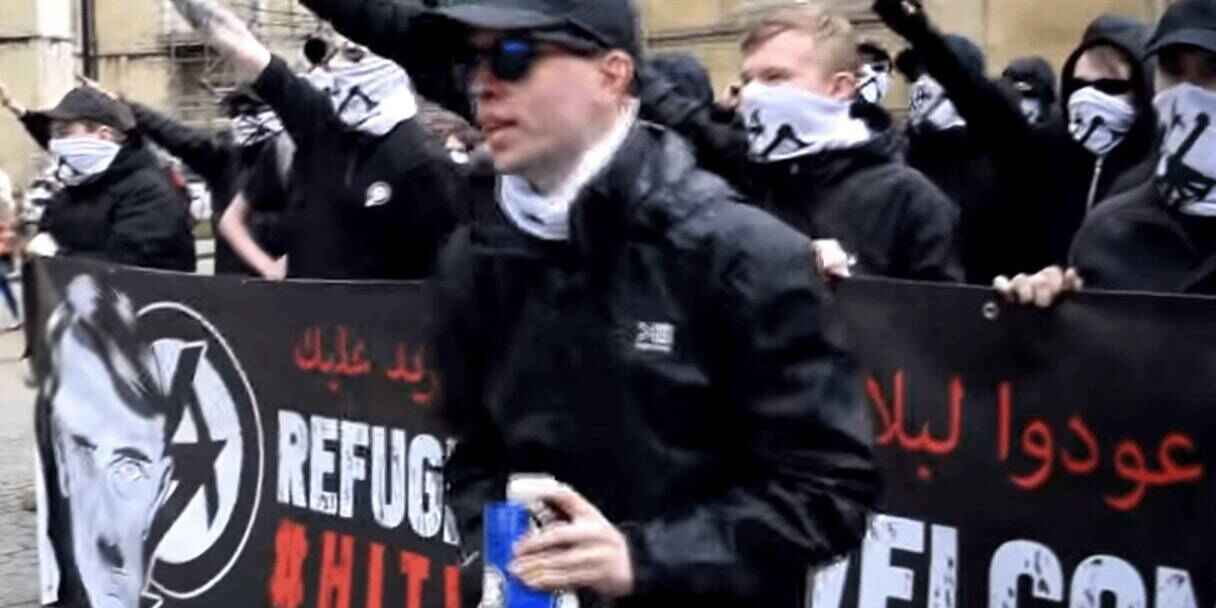 CST has submitted written evidence specifically examining the far right in the UK, for the Home Affairs Committee inquiry into hate crime and its violent consequences. You can read the full submission from CST on the Parliament website, and you can find out more about the inquiry into Hate Crime and its violent consequences on the inquiry's landing page. 
Written evidence submitted by Community Security Trust: 
THE FAR RIGHT IN THE UK
Summary
The far right in the UK is not a uniform movement and consists of various strands. They range from hardline pro-Nazi, expressly antisemitic groups, to more active mainly anti-Muslim street movement groups and small political groupings.
Far right terrorism continues to be a considerable threat to minority communities in the UK and wider British society. 
The followers of the proscribed group National Action, and subsequent groups linked to National Action, sit at the most extreme end of current far right activity in the UK. Antisemitism and neo-Nazi ideology are demonstrably a prime driver of the group, and several members have been convicted under terrorism offences.
Extreme far right political parties in the UK have performed badly since the implosion of the British National Party (BNP) in 2010, though their appeal should not be written off, as political support for far right parties can be cyclical.
The continued growth of far right street movements in the UK can attract violent extremists. They harm community cohesion and create fear for minority communities.
The far right effectively use social media to spread antisemitic ideology and to target Jews and Judaism. Despite efforts to mitigate against this, antisemitism is still rife across all social media platforms, and more needs to be done to combat this.
Introduction
This submission is from the Community Security Trust (CST), a Jewish charity that advises and supports the UK Jewish community in matters of antisemitism, extremism and terrorism, and is recognised by Government and Police as a best practice model of a minority-community security organisation. 
This is a supplementary submission to the Home Affairs Select Committee (HASC) Inquiry into hate crime and its violent consequences, following a specific request from the committee to provide CST's insight into the current state of the far right in the UK.
CST's original submission, from August 2016, can be viewed as a link from the Inquiry's web page here.
The far right in the UK is not a uniform movement and consists of various strands. They range from hardline pro-Nazi, antisemitic groups, to more active mainly anti-Muslim street movement groups and small, political groupings. Currently, the key threat posed to the UK Jewish community, and other minority communities is a rise in the use of terrorism as a tactic by some in the UK far right. 
Far Right Terrorism
In recent years there have been two successful far right terrorist attacks in the UK. In June 2016, far right extremist Thomas Mair shot and stabbed to death Labour MP Jo Cox. In June 2017, Darren Osborne, who was influenced by online far right and anti-Muslim rhetoric, deliberately drove into a group of Muslim worshippers congregating in the street near Finsbury Park mosque in North London, killing one man and injuring twelve others.
Several trends have emerged from recent far right terrorist attacks and plots:
7.1 The mirroring of terrorist attacks more recently associated with Jihadist groups like ISIS, through the use of vehicle ramming as a tactic. Darren Osborne is not the only individual to use this tactic. Paul Moore was convicted of the attempted murder of a Somali woman, who he deliberately ran over,[5] and alleged Britain First supporter, Marek Zakrocki, who tried to run over the owner of a curry restaurant.[6]

7.2 The influence of ISIS ideology and messaging on groups like National Action (NA), as shown by evidence in the Jack Renshaw terrorism trial (see below). NA activists coined the phrase 'White Jihad' and aspired to be viewed as the far right equivalent of ISIS[7]. It highlights the symbiotic relationship between far right and jihadist extremism.

7.3 The speed of radicalisation of far right terrorists, as evidenced in the quick radicalisation of Darren Osborne.[8]

7.4 The importance of far right, anti-Muslim online influencers as part of the radicalisation process, as expressed by the Judge in the Darren Osborne case: "Your use of Twitter exposed you to racists and anti-Islamic ideology…In short, you allowed your mind to be poisoned by those who claimed to be leaders."[9]
National Action
NA are at the most extreme end of the far right spectrum in the UK. It is a pro-Nazi, antisemitic and racist group, which had about 100 activists across the UK at its height. NA was made up of young, media-savvy activists, who held protests on the streets of the UK where they expressed support for Hitler and a hatred of Jews. Over time, NA activists moved towards the use of violence and support for terrorism. Social media accounts linked to NA hailed the far right murderer of Labour MP Jo Cox as a hero. One NA activist tried to hack to death a man in his local supermarket, wrongly believing him to be Muslim, whilst shouting "white power"[10]. Another built a small pipe bomb in his bedroom[11].
In December 2016, NA was added to the UK government's list of banned terrorist groups, the first far right group to be included[12]. Since then, a number of individuals previously linked to the group have been arrested and tried on terrorism charges. Jack Renshaw, a former member of NA, admitted plotting to murder his local MP, along with a local police officer, who had investigated him for child grooming, and planned to wear a fake suicide vest and die by 'suicide by cop'.[13]
Although recent government and police action has decimated NA, some activists within this orbit remain active on the streets. They have tried to operate under new names, two of which (NS131 and Scottish Dawn) were added to the proscription list.
However, recently, a new group has emerged, System Resistance Network (SRN) which could have links to or be inspired by NA and in whose name criminal acts are undertaken.[14] CST would welcome the Government to consider extending proscription to cover SRN.
From its beginnings, it was clear that antisemitism was a driving factor in the group's ideology through its online and offline activism, including pro-Nazi, pro-Hitler and Holocaust denial imagery, language and actions. The following are some examples:
12.1 Threats to target a synagogue with a terrorist act – Evidence in the Renshaw terrorism trial indicated that an NA cell had discussed targeting a synagogue.[15]

12.2 Holocaust Denial and abuse – In the same trial, evidence surfaced of one NA defendant claiming that the Holocaust did not occur. Additionally, in May 2016, NA activists posted photographs of themselves giving Nazi salutes in the crematorium of Buchenwald concentration camp.

12.3 Antisemitic incidents - In July 2016 a NA sticker was placed on a large Menorah in the grounds of a Cheshire synagogue, a photograph of which was then posted on an official NA social media account.

In June 2015, NA activists filmed themselves defacing a Menorah positioned in Cannon Hill Park in Birmingham and then uploaded the video to Youtube. The video shows an individual spray-painting a Star of David with the caption "bankers" and "1%" onto the park gates. The person is then seen climbing the Menorah and draping a swastika flag and antisemitic posters over it. [16]

12.4 Antisemitic speeches - In 2016, Jack Renshaw made two antisemitic speeches for which he was found guilty of inciting racial hatred[17]. In one speech, Renshaw said: "You know, Hitler, he had an excuse he had lack of hindsight. We have hindsight, we see what the Jew did. We see what he did when offered mercy. And he acted as the Jew will always act, pretends to be your friend, but puts a knife in your back. So as nationalists we need to learn from the mistakes of the National Socialists, and we need to realise that, no, you do not show the Jew mercy. The Jew does not deserve any mercy. The Jew is a merchant, a deceiver, he is a Jew. He's nature's financial parasite and nature's social vermin. He needs to be eradicated...But this is an eternal, a righteous and a holy war and we need to show the Jew that this time it's for real."

12.5 Use of Social Media to attack Jews - In August 2014, Garron Helm, who was then a 21-year-old NA activist from Liverpool, was jailed for four weeks after admitting sending an antisemitic tweet to Luciana Berger, MP for Liverpool Wavertree, who is Jewish. Following Helm's arrest and imprisonment, Berger was the victim of a coordinated online attack by far right activists from the UK and America consisting of hateful antisemitic and Holocaust denial messages. Other prominent former NA activists also used social media to spread antisemitic hate.[18] 

12.6 Support for Hitler on UK Streets - In January 2016, NA activists held a flash demonstration in Newcastle city centre. They held a banner which included the words: "Refugees not welcome. Hitler was right", whilst giving Hitler salutes.[19]

In March 2015, approximately 100 people attended a 'White Man March' at Newcastle Quayside organized by NA. Nine people were arrested for public order offences including inciting racial hatred. During the event, an Israeli flag was burnt, there were Hitler salutes and shouts of "Hitler was right", "death to Israel", "f*** the Jews", "dirty Jew b*****ds", and "Jews are here illegally".
The Political Far Right
Politically, far right parties have been performing badly since the implosion of the British National Party (BNP) from around 2010. Currently, far right parties have little support, resources or active branches.
Political support for the far right can be cyclical and dependent on varying factors. The current societal uncertainty around Brexit and its aftermath could be one of those factors that pushes up support for the far right amongst those who believe that the referendum vote is being 'betrayed' by the government.
Far Right Street Movements
Around the time that the BNP's popularity began to wane, so the current wave of far right street movements began to establish themselves. The English Defence League (EDL) was established in 2009 by Stephen Lennon (also known as Tommy Robinson) after activists from a pro-jihadist group protested at the homecoming parade of British soldiers. The EDL held numerous anti-Muslim protest marches through UK cities, which sometimes ended in violence against counter-protesters, police officers or ordinary Muslims walking in the street. In 2013, Lennon left the EDL claiming it had been infiltrated by far right elements.[20] The EDL continues to hold protests, which continue to cause fear and disruption in local areas, but there are fewer with less attendance than under Lennon's leadership. 
Other far right street movement groups vie for space and publicity. Britain First, which was created by former BNP officials, established itself as an aggressive, confrontational, anti-Muslim group. This included so-called 'Christian patrols', aggressively 'invading' mosques, and holding deliberately confrontational protests. They also have close links to Polish far right and antisemitic activists, who have been banned from the UK[21]. Two Britain First leaders, Paul Golding and Jayda Fransen, have strayed into criminal behaviour and have been arrested and jailed on a number of occasions. 
As a reaction to jihadist terrorist attacks in the UK in 2017, an 'anti-extremism' street movement, similar to the EDL, was formed from various football hooligan groups calling itself the Football Lads Alliance (FLA)[22]. The FLA held two large gatherings in London in 2017 with several thousand people attending, before splintering into the Democratic FLA (DFLA).[23]
In 2018, a European far right group Generation Identity (GI) became established in the UK[24]. The group has since held a number of small activities on the streets of the UK centred on anti-Muslim and anti-immigration issues.
Other smaller far right street groups also exist and most would normally operate separately. However, over the past year a confluence of events has allowed a number of the groups to coalesce under a banner of 'freedom of speech'. These events include the four jihadist terrorist attacks in 2017, which emboldened some to actively oppose jihadist terrorism on the streets, the banning of a number of foreign far right activists from entering the UK and the banning of a number of far right activists from social media platforms, and the jailing of Stephen Lennon in May 2018 for being in contempt of court. 
Social Media
With its ability to circulate race hate restricted by legislation, the far right was one of the first sectors to exploit the Internet and the worldwide web in order to circumvent national jurisdiction and propagate its message. This continues today, with the far right using a variety of social media platforms for communication, propaganda and incitement. This includes the specific targeting of Jews and many others; the spread of extremist material to wider audiences than ever before; and the ability to organise locally, nationally and internationally, without the need to physically gather in one place.
CST recognises the efforts made by leading social media platforms to ban far right individuals and groups from having an open presence; for improving and increasingly enacting their community standards; and for furthering their capacity to respond to reports of antisemitism and other behaviour which breaks their safety policies. There is, however, much more that still needs to be done.    
Antisemitism, associated antisemitic conspiracy theories and tropes, and the specific antisemitic targeting and abuse of Jewish individuals on social media by the far right (and others) is still rife. It is one of the most important factors in the spread of far right antisemitism today.
The above pertains despite CST engaging positively with social media companies (and vice versa) to affect their policies and community standards; and by CST (and others) having a trusted flagger status with the high profile social media platforms, which effectively prioritises reports of antisemitism when highlighted by CST.
Whilst CST recognises the importance of free speech and expression, social media organisations need to do more in policing their own platforms and take more responsibility for the abusive behaviour that they can engender. Ultimately, without third party regulation (as is currently the case), these organisations need to take more decisive action to create spaces that reflect the values they claim to promote.
CST notes that this problem will continue to grow and to adapt in response to measures taken to mitigate against it. In particular, if leading companies such as Facebook and Twitter fully crack down on far right use of their platforms, then the far right users will migrate elsewhere, to less reputable sites that make no particular claims to have community standards. This may prove even harder for the authorities to overcome than the current situation, but will at least cause the extremist material to exist in a relatively extreme and marginalised environment, rather than within mainstream and widely used platforms.  
CST is encouraged by Government and Police building on the MOPAC funded police online hate crime hub pilot in London, by funding and hosting a national online hub. A dedicated police unit aiming to improve the police response to online hate crime will hopefully address a hitherto knowledge and resource gap. 
October 2018
---
[1] https://www.bbc.co.uk/news/uk-43200966
[2] https://www.pressandjournal.co.uk/fp/news/aberdeenshire/1451904/banff-man-connor-ward-jailed-for-life-for-planning-terror-attacks-against-muslims/
[3] https://www.independent.co.uk/news/uk/crime/ethan-stables-trial-latest-convicted-terror-offence-neo-nazi-far-right-gay-pride-cumbria-leeds-court-a8194996.html
[4] https://www.heraldscotland.com/news/16438392.peter-morgan-jailed-for-12-years-after-being-caught-with-bomb-making-equipment/
[5] https://www.bbc.co.uk/news/uk-england-leicestershire-43553545
[6] https://www.theguardian.com/uk-news/2018/jan/12/britain-first-fan-who-drove-van-at-london-restaurant-owner-walks-free
[7] https://www.bbc.co.uk/news/uk-44622497
[8] https://www.theguardian.com/uk-news/2018/feb/01/finsbury-park-london-mosque-van-attack-darren-osborne-makram-ali
[9] https://www.bbc.co.uk/news/uk-42920929
[10] https://www.bbc.co.uk/news/uk-wales-north-east-wales-34218184
[11] https://www.bbc.co.uk/news/uk-england-south-yorkshire-44848985
[12] https://www.theguardian.com/world/2016/dec/12/neo-nazi-group-national-action-banned-by-uk-home-secretary
[13] https://www.independent.co.uk/news/uk/crime/national-action-terror-plot-labour-mp-machete-jack-renshaw-rosie-cooper-neo-nazi-a8450591.html
[14] https://www.walesonline.co.uk/news/wales-news/vandal-covered-buildings-across-newport-14901285
[15] https://cst.org.uk/news/latest-news/2018/06/14/jack-renshaw-all-jews-are-the-same-theyre-all-vermin
[16] https://www.birminghammail.co.uk/news/midlands-news/gallery/attack-jewish-shrine-cannon-hill-9427527
[17] https://www.theguardian.com/uk-news/2018/jul/18/neo-nazi-group-national-action-members-jailed
[18] https://www.bbc.co.uk/news/uk-england-leeds-44226859
[19] https://thetab.com/uk/newcastle/2016/01/24/far-right-political-activists-national-action-spotted-in-newcastle-15723
[20] https://www.bbc.co.uk/news/uk-politics-24442953
[21] https://www.theguardian.com/world/2017/feb/25/far-right-polish-priest-jacek-miedlar-detained-at-stansted-airport
[22] https://www.bbc.co.uk/bbcthree/article/e5ee9e0a-18d7-49a4-a3c2-80b6b4222058
[23] https://news.sky.com/story/menace-and-aggression-dfla-is-new-edl-11500806
Read More