CST Blog
New publication reveals link between anti-Israel and anti-Jewish sentiment
4 February 2019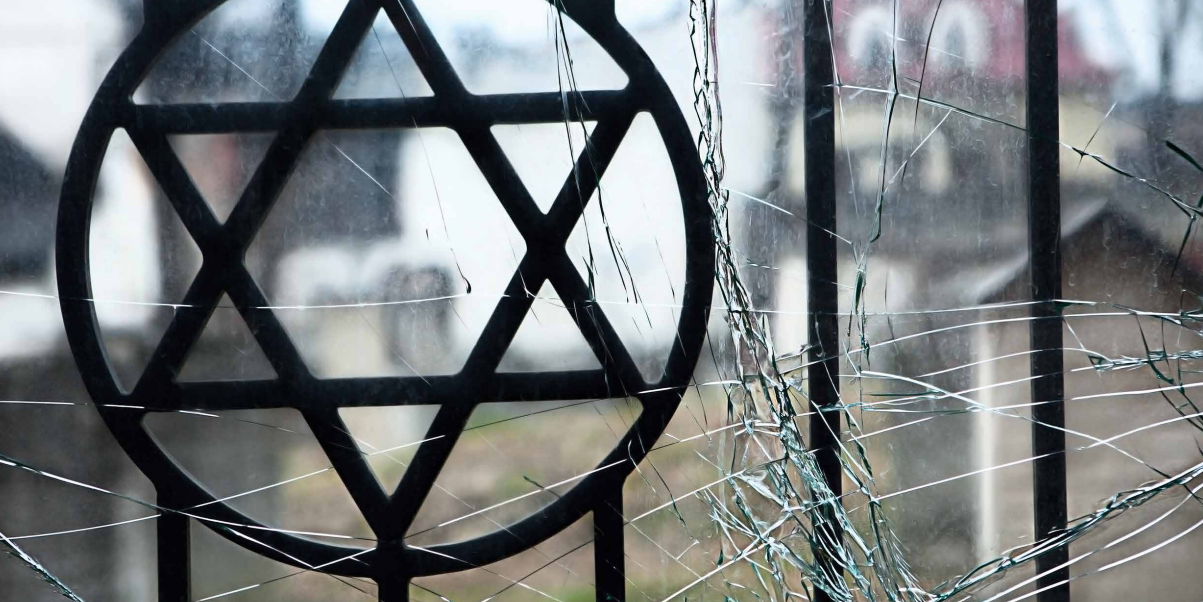 A new publication, 'The apartheid connection and calls for a boycott', released last week by the Jewish Policy Research Institute (JPR) and CST, shows empirically that there is a strong connection between extreme hostility towards Israel and traditional forms of antisemitism. The report, written by David Graham and Jonathan Boyd, is based on the 2017 study, conducted by the JPR and CST, on attitudes in Britain towards Jews and Israel.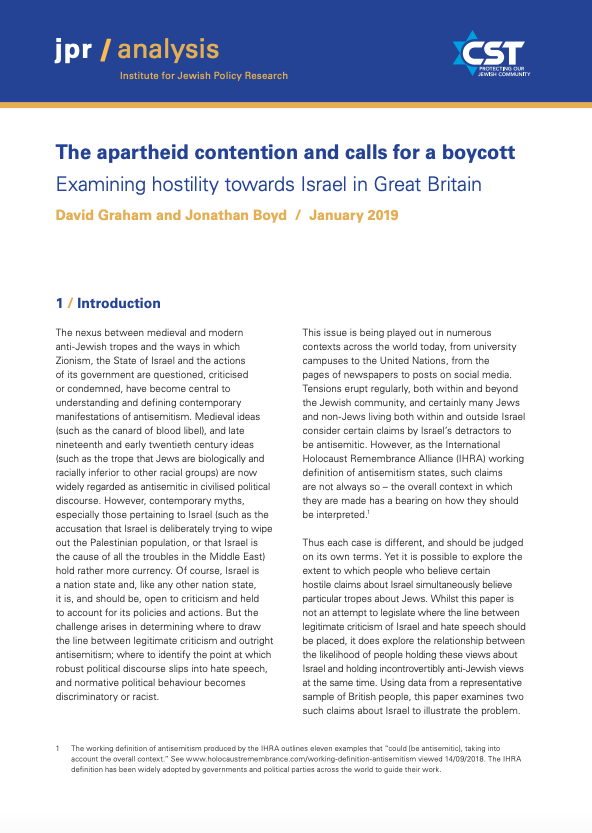 The original study, released in 2017, was carried out by Ipsos Mori between late 2016 and early 2017 and included 4,000 respondents. Amongst other questions, respondents were shown several statements about Jews and Israel, including "Jews have too much power in Britain" and "Jews get rich at others' expense" and were asked which they agreed and disagreed with. This report coined the notion of a graduated, or 'elastic' relationship, depending on how many antisemitic attitudes they held, and whether or not the belief in anti-Jewish stereotypes came with conscious hostility towards Jewish people.
This new report shows that the more anti-Jewish statements that a person agreed with the more likely they were to respond that they agree that Israel is an apartheid state and should be boycotted. The study showed that among those who agreed with five or more antisemitic statements, 58 per cent believe Israel is an apartheid state. 
Overall, the study found that British people's attitudes to Israel have little to do with a person's age, sex or education level. However, a person's ethnic, religious and political identity appears to correlate to their view on whether Israel is an apartheid state and should be boycotted. Those who identify as Scottish or Welsh nationalists were most likely to agree that Israel is an apartheid state, with 37% respondents agreeing, whilst 26% of Conservative supporters were likely to disagree with the notion.
Responding to the data, Dr Jonathan Boyd, Executive Director of the JPR, said:
"People who hold traditional anti-Jewish views – such as those relating to money, divided loyalties or nefarious uses of power – are more likely than those who do not hold such views to also endorse these two ideas about Israel… The correlation is notably smoother and stronger with the boycott contention than the apartheid one, but it can be clearly discerned in both."
CST's Head of Policy, Dr Dave Rich said:
"Intuitively, it has long appeared to be the case that extreme forms of anti-Israel activism and beliefs are associated with antisemitism. This report, following on from the ground-breaking 2017 survey, demonstrates empirically that this is the case. It is for the people involved to explain whether it is hatred of Israel that leads them to hold antisemitic views, or whether they are antisemites who treat anti-Israel activism as a socially acceptable outlet for their prejudice."
You can download a copy of 'The apartheid contention and calls for a boycott'.
Read More