CST Blog
Antisemitic Incidents Report 2018
7 February 2019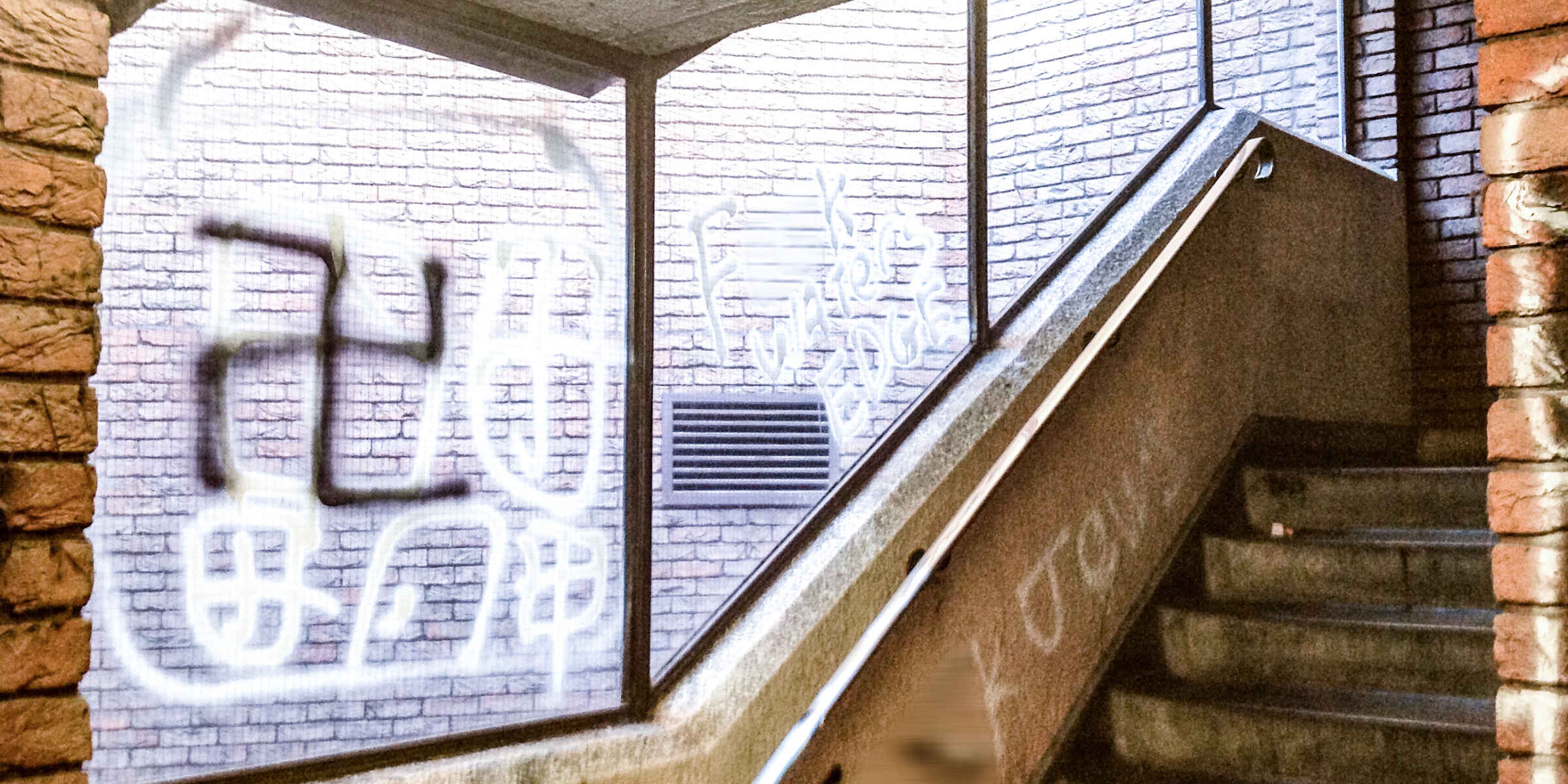 CST has today published our 2018 Antisemitic Incidents Report, which shows that CST recorded a record high total of 1,652 antisemitic incidents in the UK last year. 2018 was the third year in a row that CST has recorded a record high incident total and means the problem of rising antisemitism in our country continues to grow. You can download a copy of CST's 2018 Antisemitic Incidents Report.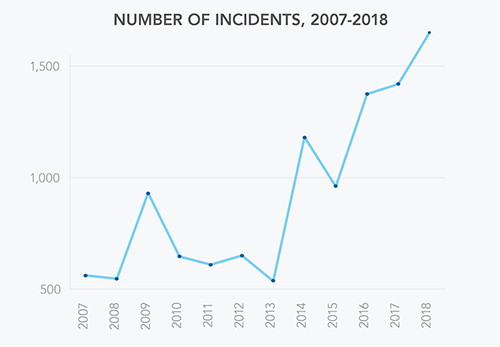 The 1,652 antisemitic incidents CST recorded in 2018 represent a 16 per cent rise from the 1,420 incidents recorded in 2017. These 1,652 incidents were spread throughout the year, with over 100 incidents recorded in every month for the first time in any calendar year; indicating that a general atmosphere of intolerance and prejudice is sustaining the high incident totals, rather than a one-off specific 'trigger' event. In addition to more general background factors, the highest monthly totals in 2018 came when the problem of antisemitism in the Labour Party was the subject of intense discussion and activity, or when violence surged temporarily on the border between Israel and Gaza; suggesting that these events, and reactions to them, also played a role in 2018's record total.
The highest monthly totals in 2018 came in May, with 182 incidents; April, with 151 incidents; August, with 150 incidents; and September, with 148 incidents. It is likely that these higher monthly totals were partly caused by reactions to political events in the UK and overseas, involving the Labour Party and violence on the border of Israel and Gaza, during those months.
CST recorded 148 antisemitic incidents in 2018 that were examples of, or took place in the immediate context of, arguments over alleged antisemitism in the Labour Party. Of these 148 incidents, 49 occurred in August, 16 in September and 15 in April. These were all months in which allegations of antisemitism in the Labour Party attracted significant media and political attention. Also in April and May, several Palestinians were killed and many injured in violence connected to protests at the border between Israel and Gaza. CST recorded 173 antisemitic incidents in 2018 that showed anti-Israel motivation alongside antisemitism, of which 47 incidents – over a quarter – occurred in April and May. In 2018 as a whole, CST recorded 84 antisemitic incidents that showed far right motivation, and 13 that showed Islamist motivation.
The 182 incidents recorded by CST in May is the highest monthly total CST has recorded since August 2014, when Israel and Hamas last fought a sustained conflict over Gaza, and is the fourth-highest monthly total CST has ever recorded.
2018 saw an increase in the number and proportion of antisemitic incidents that used political or extremist language and imagery. Forty-five per cent of the incidents recorded by CST in 2018 involved the use of extremist language or imagery alongside antisemitism, compared to 30 per cent of incidents recorded in 2017. Not all of these incidents revealed a clear, single ideological motivation: many involved the varied and confused use of different extremist motifs, drawn from a broad reservoir of antisemitic sources. Of the 1,652 antisemitic incidents recorded during 2018, 456 involved language or imagery relating to the far right or the Nazi period; 254 involved references to Israel and the Palestinians, alongside antisemitism; and 29 involved references to Islam and Muslims. In 285 incidents, more than one type of extremist discourse was used.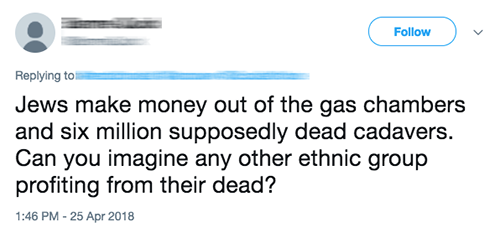 CST recorded 384 antisemitic incidents that involved social media in 2018, making up 23 per cent of the overall total of 1,652 incidents. This is an increase of 54 per cent from the 249 antisemitic incidents CST recorded involving social media in 2017, which was 18 per cent of that year's total. These numbers are indicative and understate the scale of the problem: targeted campaigns directed at individual victims often involve dozens of social media accounts sending hundreds or even thousands of tweets, images or posts within a concentrated timespan, but each campaign will be logged by CST as a single incident. Antisemitic incidents involving social media are only recorded by CST if they have been reported by either the victim or a witness; if the comment shows evidence of antisemitic content, motivation or targeting; and if the offender is based in the United Kingdom or has directly targeted a UK-based victim.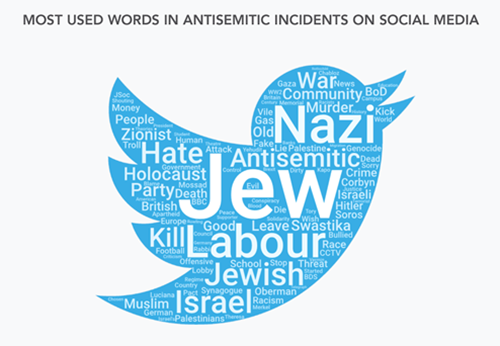 There may be a link between the extent of antisemitism on social media and the kind of politically-influenced antisemitic incidents recorded in increased numbers by CST during 2018. Of the 150 antisemitic incidents recorded in August, 49 related to the Labour Party, 69 occurred on social media and 84 involved the use of extremist language or imagery.
The most common single type of incident recorded by CST in 2018 involved verbal abuse randomly directed at visibly Jewish people in public. In 483 incidents, the victims were Jewish people, male or female, attacked or abused while going about their daily business in public places. In at least 224 incidents, the victims were visibly Jewish, usually due to their religious or traditional clothing, school uniform or jewellery bearing Jewish symbols. A total of 724 incidents involved verbal antisemitic abuse.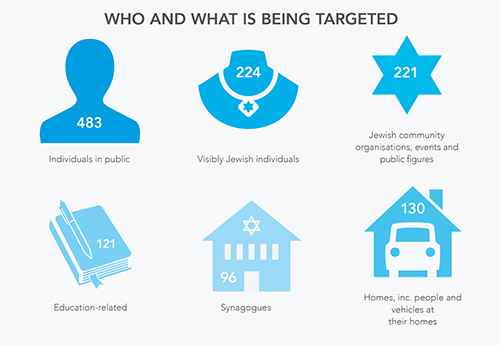 CST recorded a 17 per cent decrease in the number of violent antisemitic assaults, from 149 in 2017 to 123 in 2018. One of these violent incidents was classified by CST as 'Extreme Violence', which means it involved potential grievous bodily harm (GBH) or a threat to life. There were 78 incidents of Damage & Desecration of Jewish property in 2018; 1,300 incidents of Abusive Behaviour, including verbal abuse, antisemitic graffiti, antisemitic abuse via social media and one-off cases of hate mail; 109 direct antisemitic threats; and 42 cases of mass-mailed antisemitic leaflets or emails.
Almost three-quarters of the 1,652 antisemitic incidents were recorded in Greater London and Greater Manchester, the two largest Jewish communities in the UK. CST recorded 950 antisemitic incidents in Greater London in 2018, a rise of 21 per cent from the 784 incidents recorded in London in 2017. In Greater Manchester, CST recorded 250 antisemitic incidents, a fall of five per cent from the 264 incidents recorded there in 2017. Beyond these two centres, CST recorded 452 antisemitic incidents across the United Kingdom in 2018, compared to 386 incidents in 2017. This included 55 in Hertfordshire, 34 in Gateshead, 23 in Leeds, 19 in Liverpool, 16 in Sheffield, 12 in Glasgow and 11 in Birmingham.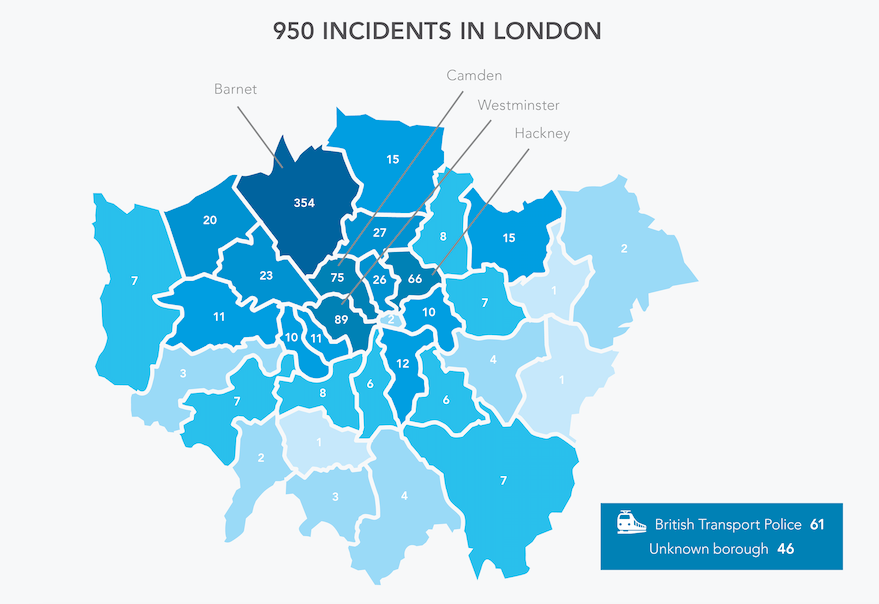 In addition to the 1,652 antisemitic incidents recorded by CST in 2018, a further 630 reports of potential incidents were received that were not deemed to be antisemitic and are not included in this total. Many of these 630 potential incidents involved suspicious activity or possible hostile reconnaissance at Jewish locations; criminal activity affecting Jewish people and buildings; and anti-Israel activity that did not include antisemitic language, motivation or targeting.
CST Chief Executive David Delew said:
"Three years of rising antisemitic incidents shows the scale of the problem facing the Jewish community. This is happening across society and across the country and it reflects deepening divides in our country and our politics. Jewish people are on the receiving end of this hatred but it must not be left to us to tackle alone."
Home Secretary the Rt Hon Sajid Javid MP said:
"All acts of antisemitism are utterly despicable and have no place in society. The Jewish community should not have to tolerate these attacks and we are doing all we can to rid society of these poisonous views. As part of our Hate Crime Action Plan we work closely with the Jewish community and soon I will be co-chairing an antisemitism roundtable to discuss how we further tackle these issues."
Communities Secretary the Rt Hon James Brokenshire MP said:
"It is completely unacceptable to see the number of antisemitic incidents continue to rise again, particularly at such an alarming rate. I am shocked and saddened that the Community Security Trust recorded over 100 incidents each month last year. Antisemitism may be felt most acutely by the Jewish community, but it is a disgrace that concerns us all. It is as important as ever to eradicate antisemitic discourse from our society and ensure that it is challenged and rooted out from wherever it is found. I am proud to support CST in their work to monitor and combat antisemitism. This Government will always stand together with the British Jewish community to keep them safe, and we will work to ensure that no one is a target for hatred because of their race or religion."
Shadow Secretary of State for Communities and Local Government Andrew Gwynne MP said:
"These statistics make for hard reading, and show that much more needs to be done to heal the deepening divides within our society and to challenge the growing confidence of those who preach hate, holocaust denial and inversion, and antisemitism. There is no place in British society, and in British politics, left or right, for antisemitic views." 
All-Party Parliamentary Group Against Antisemitism Chair John Mann MP said:
"Sadly, these figures are not surprising, indeed they are predictable. If you consider the whole antisemitic onslaught on social media as just one incident then, in fact, the problem is bigger than the incident figures suggest. It is now time for everyone in Parliament to stand up, be counted and to stand alongside CST in the fight against antisemitism."
National Policing Lead for hate crime Assistant Chief Constable Mark Hamilton said:
"We are extremely grateful for the work of our partners at the Community Security Trust, to help shine a light on the hostility suffered by many Jewish people. It can never be acceptable to abuse someone because of their ethnicity or religion, but we see that there are still far too many people who act illegally, fuelled by global events, divisions in our society or historical bigotries. Evidence from recorded crime statistics and the national crime survey suggest that more hate crime victims are willing to report crimes when they do occur and I would encourage all victims to do so, either by contacting the police direct or through CST. As CST Chief Executive David Delew says, the Jewish community must not be left to tackle antisemitism alone, this is a burden we all share and one that the police are committed to. I can assure you that we will continue to work alongside CST and our communities in the future, to improve our services to victims and help bring offenders to justice."
A copy of CST's 2018 Antisemitic Incidents Report can be downloaded.
Read More