CST Blog
Standing shoulder to shoulder against hatred in football
4 March 2019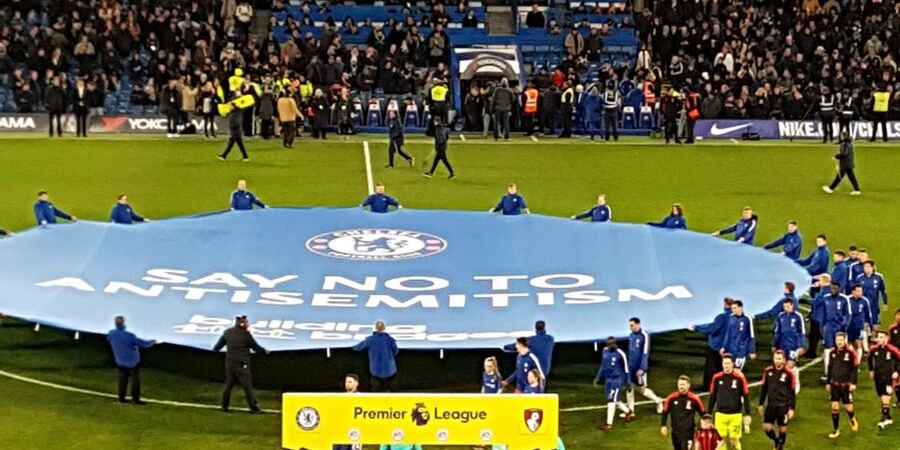 On 28 February 2019, Kick It Out, the organisation that works within football to challenge discrimination, held its 25th Anniversary dinner. This dinner was hosted and held at Chelsea Football Club and was attended by CST's National Training Manager. The National Training Manager reflects on discrimination in the game and antisemitism, and shares some thoughts:
I have been involved in CST for nearly 30 years, both as a volunteer and a full-time member of staff. During this time, there have been very few occasions when my work and hobby have combined, but the Kick It Out dinner was one. To call it a hobby is a bit of an understatement, my hobby is my obsession and it's with football, and in particular it is Chelsea that I obsess about. As a lifelong supporter, I have seen the highs, the lows and unfortunately sometimes the disgusting, whilst supporting Chelsea, which is why it's so important organisations like Kick It Out and CST exist.

At the event, I had the honour to listen to and meet Paul Canoville. Paul was the first black player to play for Chelsea in the early 1980's and scored the winning goal in the first ever game I went to as a young child. It was a Boxing Day fixture in 1981 when Chelsea was in the old second division. My father, a lifelong Chelsea fan as well, took me and my brother to the game. I remember certain parts of the day well; the size of the stadium, the atmosphere that I had never experienced, the crowd violence that took place throughout the game and the state of the pitch which resembled a beach. Like most football fans, you never forget your first game and I certainly wouldn't.

But it was a comment I made on the way home that I never even knew about until recently, which has struck me the most. When I told my father that I would be attending the Kick It Out event, he told me what I said on the way home. Apparently, I had asked him why the Chelsea fans were cheering Paul Canoville when he scored but were booing him the rest of the game. My father explained to me that it wasn't booing, it was racist monkey noises they were making. It was probably the first time I encountered and understood racism. I didn't know it then, but maybe that was the moment that started me on the mission to fight hatred that I still do today.

Living in Essex, I grew up only occasionally being able to go to Chelsea because of the distance it was from home. Plus, in those days, the crowd violence was so bad we didn't want to go. This also applied to many of my friends mostly West Ham, Arsenal and Tottenham fans. So like them, we would also support our local team from the lower divisions, Leyton Orient. But the racism didn't change there. I remember the monkey sounds, the banana skins and the racist insults at every game. Not just targeting our opponents, this was so called fans abusing their own players.

But then things started to change. In the 1990s, the Let's Kick Racism Out of Football campaign was launched, which was the forerunner to Kick It Out. Founded by Lord Ouseley and working with Professional Footballers' Association (PFA), the Premier League and the Football Association (FA), their aim was to rid the game of all forms of hatred.

And things have changed. Today, like my father did, I take my children to football, but the difference is black players are treated like everyone else. Players like Didier Drogba and N'Golo Kanté, who once would have been vilified by Chelsea fans, are now their heroes. Self-policing, which is so important, is encouraged throughout the leagues and arrests and banning orders have been given for those who breaking the law.

On the same night as the Kick It Out event, the Chelsea Foundation won the Community Project of the Year award at the London Football Awards. The award is in recognition of the work done by their Say No To Antisemitism project.

The scheme, launched in January 2018, has seen Chelsea work with a range of organisations, including CST, the Holocaust Education Trust and Kick It Out, to help raise awareness of antisemitism. In 2018, Holocaust survivor Harry Spiro visited the club's training ground to share his story with players and staff, while fans and staff have also visited Auschwitz.

But there is still work to be done. Chelsea, like other clubs, still have a tiny percentage of racist, homophobic and antisemitic fans. This season, we have seen the disgraceful scenes of a banana skin being thrown at a Premiership game, black players being abused and so-called Chelsea fans making hissing sounds against Tottenham in reference to the Nazi gas chambers of the Holocaust.

This is why it is so important that organisations like CST and Kick It Out exist and their work needs to continue. This is why I, like many others in the Jewish community and beyond, will stand shoulder to shoulder with those from minority groups, those with disabilities, those from the LGBTQI+ community and those who just may be different, to ensure everyone can enjoy the game we love, without fear of hatred, prejudice or harm.
Read More