CST Blog
Former BNP leader Nick Griffin meets with representative of terror group Hizbollah
25 March 2019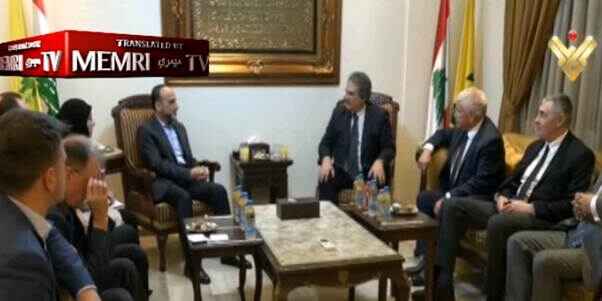 The former leader of the Far Right British National Party has been in Lebanon and has met with at least one senior member of the terrorist organisation Hizbollah.
Nick Griffin was elected to the European Parliament in 2009 for the North West of England and has a history of antisemitic discourse. In 1996 he referred to the Holocaust as "the Hoax of the Twentieth Century" while just a week ago he tweeted:
"Or maybe it's the reaction of the goyim to obsessive Judeo-centric racism, the poison that wells up from the Talmud and an over-mighty lobbying machine?"
Hizbollah was proscribed in its entirety by the Home Secretary Sajid Javid last month. Previously only the military wing of the organisation was proscribed. 
The media research institute MEMRI reported that a delegation from the Alliance for Freedom and Peace (APF), a far-right European political alliance, which includes Griffin, was in Lebanon and was "received by Hizbullah's foreign affairs chief Ammar Al-Moussawi. Members of the delegation, among them APF President and former Italian MP and MEP Roberto Fiore, German MEP and NDP MP Udo Voigt, and Belgian political activist Hervé Van Laetham, expressed support for Hizbullah and its fight against Israel, terrorism, and imperialism."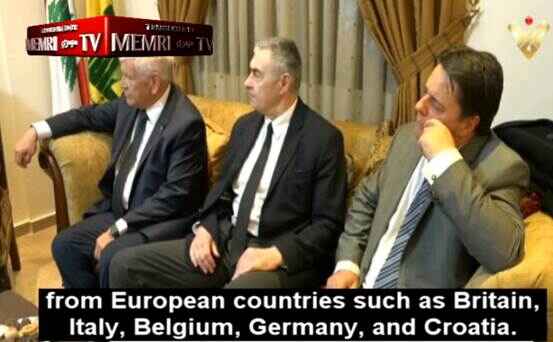 Apparently tweeting from Lebanon, Griffin blamed the Christchurch terrorist attack on "the propaganda of the Zionist/neo-con counter-jihad clowns":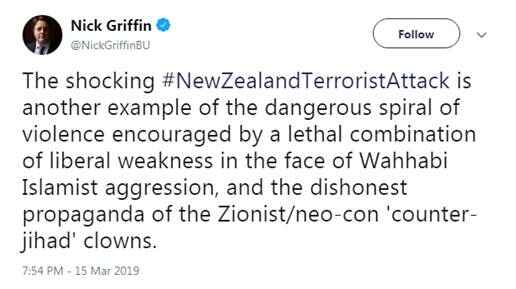 This follows the line coming from senior Iranian figures. While Iranian Majlis Speaker Ali Larijani said he was "suspicious" about the attack's motives and questioned "whether governments played a role in it", Maj-Gen Mohammad Baqeri, the Chief of Staff of the Iranian Armed Forces, blamed "the Islamophobia promoted by the US, Zionism, and Europeans in the world" for the attack while Mohsen Rezaee, Secretary of Iran's Expediency Council, blamed "intensification of Islamophobia promoted by Israel". Iran's foreign minister Javad Zarif linked Israel to the terror attack by tweeting that "Impunity in Western 'democracies' to promote bigotry leads to this: Israeli thugs enter mosque in Palestine to insult Muslims; Terrorist in NZ live stream their murder of 49 Muslims."
It is unclear whether Griffin has placed himself in danger of criminal charges after meeting with a senior figure of a proscribed terrorist organisation.
Read More