CST Blog
Antisemitic Incidents Report January-June 2019
1 August 2019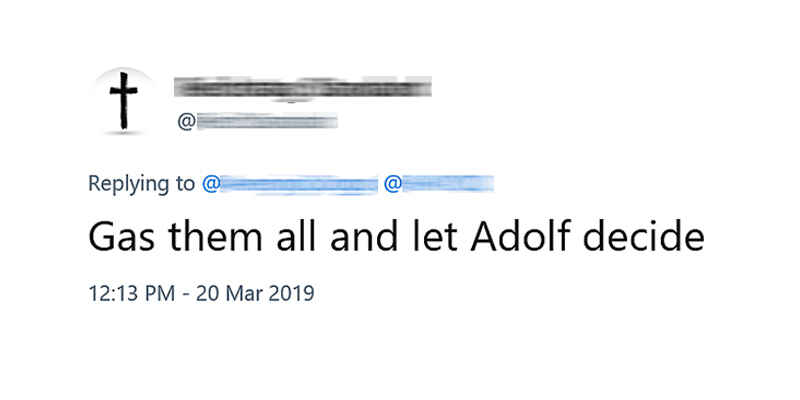 CST has today published our January-June 2019 Antisemitic Incidents Report, which shows that CST recorded a record high total of 892 antisemitic incidents in the UK in the first six months of 2019. This is the highest number of incidents CST has ever recorded in the January to June period of any year and is a ten per cent increase from the 810 incidents recorded during the same period in 2018; which was itself a record high for this six month period, and formed part of a record annual total of 1,688 antisemitic incidents for the whole of 2018. CST has recorded antisemitic incidents since 1984.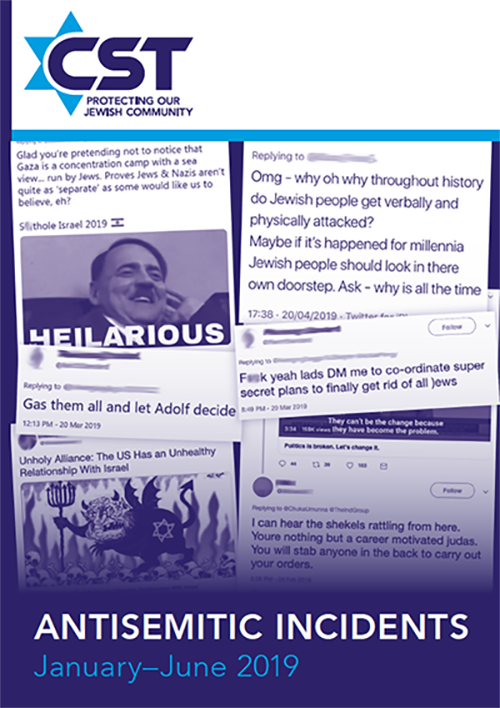 A further 270 reports of potential incidents were received by CST in the first six months of 2019, but were not deemed to be antisemitic and are not included in this total of 892 antisemitic incidents. Many of these 270 potential incidents involved suspicious activity or possible hostile reconnaissance at Jewish locations; criminal activity affecting Jewish people and buildings; and anti-Israel activity that did not include antisemitic language, motivation or targeting. 
CST recorded over 100 antisemitic incidents in every one of the six months from January to June 2019, the third consecutive year in which this has occurred. This continues a pattern in recent years of historically high monthly totals. CST has recorded more than 100 incidents in all but two months since April 2016: for comparison, CST only recorded monthly totals above 100 incidents on six occasions in the decade prior to April 2016. 
CST recorded 323 antisemitic incidents that involved social media in the first six months of 2019, comprising 36 per cent of the overall total of 892 incidents, compared to 221 incidents on social media in the first half of 2018 (27 per cent of the total). This increase of 46 per cent in the number of online incidents recorded by CST is the most obvious single factor explaining why the overall total rose by ten per cent in the first half of the year. It is difficult to assess whether this reflects an increase in the amount of antisemitism online, or more reporting of the phenomenon to CST. In any event, these totals are indicative and are likely to understate the scale of the problem: targeted campaigns directed at individual victims often involve dozens of social media accounts sending hundreds or even thousands of tweets, images or posts within a concentrated timespan, but each campaign of this type will only be recorded by CST as a single incident. Incidents involving social media are only recorded by CST if they have been reported to CST by either the victim or a witness; if the content shows evidence of antisemitic language, motivation or targeting; and if the offender is based in the United Kingdom or has directly targeted a UK-based victim.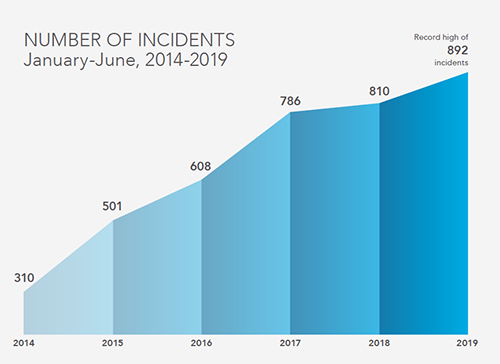 The highest monthly totals in the first half of 2019 were February and March, with 182 and 169 antisemitic incidents respectively. These are the joint-fourth and sixth highest monthly totals ever recorded by CST. They occurred when issues relating to Jews and antisemitism were prominent in news and politics due to the continuing controversy over antisemitism in the Labour Party. February saw several MPs leave the Labour Party, some of whom cited antisemitism as a prominent reason for their decision. CST recorded 25 antisemitic incidents in February and 30 in March that were examples of, or related to arguments over, alleged antisemitism in the Labour Party. These 55 Labour Party-related incidents from February and March are over half of the 100 such incidents recorded by CST during the first six months of 2019. For comparison, in the whole of 2018 CST recorded 148 antisemitic incidents that were linked to the issue of antisemitism in the Labour Party in this way.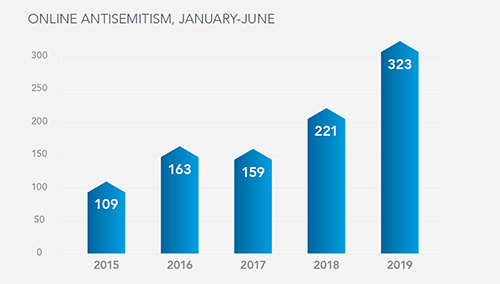 CST recorded a 37 per cent increase in the number of violent antisemitic assaults, from 62 in the first six months of 2018 to 85 in the first half of 2019. None of these violent incidents were classified by CST as 'Extreme Violence', which would mean they involved potential grievous bodily harm (GBH) or a threat to life.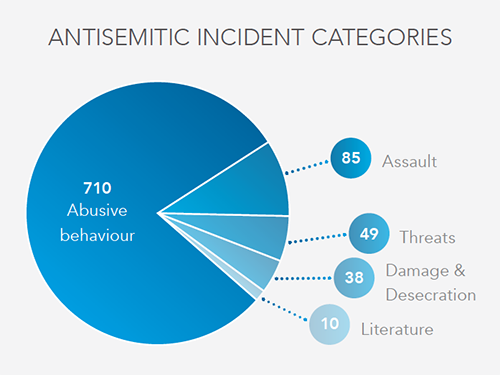 There were 38 incidents of Damage & Desecration of Jewish property in the first six months of 2019; 710 incidents of Abusive Behaviour, including verbal abuse, antisemitic graffiti, antisemitic abuse via social media and one-off cases of hate mail; 49 direct antisemitic threats; and ten cases of mass-mailed antisemitic leaflets or emails. 
Almost two thirds of the 892 antisemitic incidents were recorded in Greater London and Greater Manchester, the two largest Jewish communities in the UK. CST recorded 453 antisemitic incidents in Greater London in the first half of 2019, a fall of one per cent from the 459 incidents recorded in London in the first half of 2018. CST recorded a similar fall in antisemitic incidents in Greater Manchester, from 125 incidents in the first half of 2018 to 123 incidents this year. In contrast, CST recorded an increase in antisemitic incidents outside London and Manchester, from 226 incidents in the first half of 2018 to 316 this year. This included 43 antisemitic incidents in Hertfordshire, 34 in Merseyside, 18 in Gateshead, 15 in Leeds, 12 in Birmingham and 11 in Wales. This increase in antisemitic incidents outside London and Manchester is probably a consequence of the increase in online incidents recorded by CST, as well as reflecting CST's ongoing efforts to improve the sharing of anonymised incident reports with Police forces around the UK. CST has had a national information sharing agreement with the National Police Chiefs' Council (NPCC) since 2015.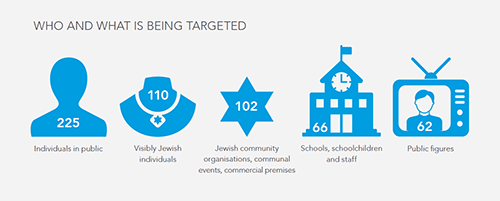 CST Chief Executive David Delew said: 
"This is the third year in a row that CST has seen an increase in reports of antisemitic incidents. The problem is spreading across the country and online, it reflects deepening divisions in our society and it is causing increasing anxiety in the Jewish community. It will take people of all communities and backgrounds standing together to turn this tide of hate around." 
National Police Chiefs' Council Lead for Hate Crime, Assistant Chief Constable Mark Hamilton said: 
"We value the work of our partners at the Community Security Trust in protecting communities, helping us to understand the nature and extent of the antisemitic hostility and for sharing their expertise with others who suffer similar abuse. It can never be acceptable to abuse someone because of their ethnicity or religion, but we see that there are still far too many in our society who are prepared to act illegally, fuelled by global events, divisions in our own society or by bigoted ideologies. The police will continue to improve our services to victims and to help bring offenders to justice. 

It is always concerning to see indicators of increased hate crime, unless we are confident that they reflect better reporting or recording. We will be working with analysts when the national crime data is released in autumn, to establish whether these increases reflect a greater incidence of hate crime or further improvements in reporting levels. Evidence from hate crime statistics and the national crime survey over the last decade suggest that more hate crime victims are willing to report crimes when they do occur. However, we cannot be complacent and a single crime is unacceptable. I would encourage every victim to report any hate crimes, either by contacting the police direct or through CST." 
A copy of CST's January-June 2019 Antisemitic Incidents Report can be downloaded.
Read More