CST Blog
Antisemitic Incidents Report 2019
6 February 2020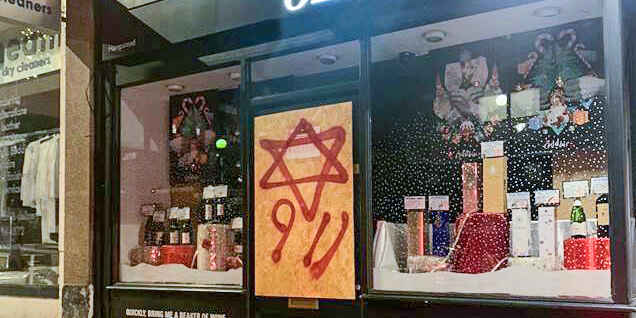 CST has today published our 2019 Antisemitic Incidents Report, which shows that CST received a record high total of 1,805 antisemitic incidents in the UK last year. 2019 was the fourth year in a row to see a record incident total and continues an ongoing trend of rising numbers of antisemitic hate incidents in this country. Download and read CST's Antisemitic Incidents Report 2019.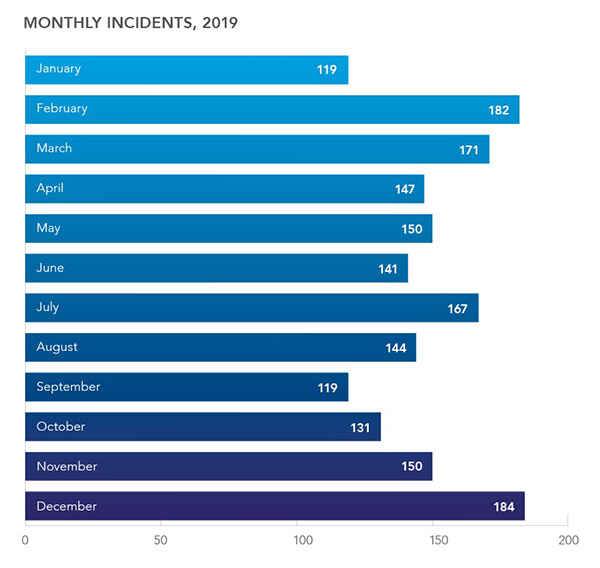 The 1,805 antisemitic incidents recorded by CST in 2019 was a seven per cent increase from the 1,690 antisemitic incidents recorded in 2018. These 1,805 incidents were spread throughout the year, with over 100 incidents recorded in every month for the second consecutive year; indicating that a general atmosphere of intolerance and prejudice is maintaining the high incident totals, rather than a one-off specific 'trigger' event. However, the highest single monthly totals in 2019 came in February and December, both months when the problem of antisemitism in the Labour Party was the subject of sustained discussion and activity: February because of the resignation of several Labour MPs to form Change UK, some of whom cited antisemitism as one reason for their decision; and December saw intense focus on the issue of antisemitism during the General Election campaign. In total in 2019, CST recorded 224 antisemitic incidents in which the offender or offenders, or the abuse they expressed, were related to the Labour Party, or in which antisemitism was expressed in the context of arguments about alleged antisemitism in the Labour Party. This is an increase from the 148 incidents of this kind recorded by CST in 2018.
CST recorded 697 antisemitic incidents that occurred online in 2019, comprising 39 per cent of the overall total of 1,805 incidents and a rise of 82 per cent from the 384 online incidents in 2018. Most of these 697 online incidents took place on social media. This large increase in online antisemitism reported to CST is the most obvious single factor explaining why CST recorded an overall increase in antisemitic incidents in 2019. The totals of online incidents recorded by CST are only indicative and are likely to understate the scale of the problem: targeted campaigns directed at individual victims often involve dozens of social media accounts and hundreds or even thousands of tweets, images or posts, but each campaign of this type is recorded by CST as a single incident. Incidents involving social media are only recorded by CST if they have been reported to CST by either the victim or a witness; if the content shows evidence of antisemitic language, motivation or targeting; and if the offender is based in the United Kingdom or has directly targeted a UK-based victim.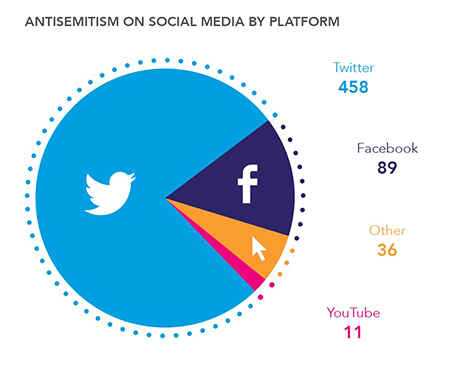 As well as an increase in online incidents, CST recorded 158 violent antisemitic assaults in 2019, an increase of 25 per cent from the 126 incidents of this type recorded in 2018 and the highest number of violent incidents ever recorded by CST in a single year. Almost half of these 158 violent incidents were recorded in three boroughs: Barnet (29 assaults), Hackney (28) and Salford (15). There were 88 incidents of Damage & Desecration of Jewish property in 2019; 98 direct antisemitic threats; 1,443 incidents in the category of Abusive Behaviour, which includes verbal abuse, antisemitic graffiti, antisemitic abuse via social media and one-off cases of hate mail; and 18 incidents of mass-mailed antisemitic leaflets or emails.
In the incidents in which a particular type of political or religious rhetoric, motivation or ideology could be identified, conspiracy theories were the most common single brand of discourse, present in 370 incidents recorded by CST in 2019 (20 per cent of the overall total of 1,805 incidents). This conveys the extent to which antisemitic tropes have become embedded across the social and political spectrum. In 342 incidents, a combination of two or more political and religious discourses were detected, a rise of 20 per cent from the reported 285 incidents in which this was the case throughout 2018. This reflects the complex and multifaceted nature of contemporary antisemitism, in which offenders viewing themselves as left wing may deploy antisemitic tropes common to the far right; and many offenders express an incoherent, self-contradicting mixture of anti-Jewish extremisms.
In 330 of the incidents reported to CST in 2019, the offender or offenders made reference to Hitler, the Nazis, the Holocaust, employed discourse based on the Nazi period, and/or punctuated their abuse with a Nazi salute or the depiction of a swastika. Of these, 126 were adjudged to contain evidence of far right political motivation. There were 505 allusions to Israel, the Middle East or Zionism in antisemitic incidents recorded by CST, of which 63 directly compared or equated Israel with the Nazis. In 126 of these 505 incidents, there were explicit anti-Zionist or anti-Israel motivation or beliefs alongside the antisemitism (CST does not consider criticism of Israel or Zionism inherently antisemitic; all of the incidents recorded as such and included in this report have displayed antisemitic evidence within discourse condemning Israel or Zionism). Eight incidents recorded by CST in 2019 contained discourse relating to Islam and Muslims, while 19 incidents showed evidence of Islamist ideology. In 39 incidents, another religious ideology was present. A total of eight incidents were related to or ideologically inspired by the UK's withdrawal from the European Union.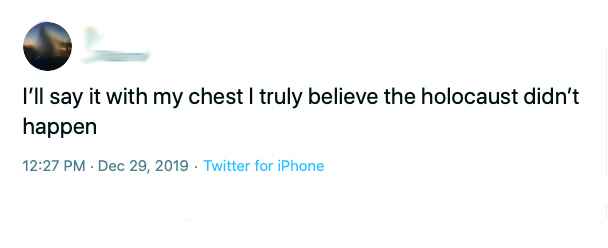 Almost two thirds of the 1,805 antisemitic incidents were recorded in Greater London and Greater Manchester, the two largest Jewish communities in the UK. CST recorded 947 antisemitic incidents in Greater London in 2019, three fewer than the 950 incidents recorded in London in 2018. CST recorded a fall of 11 per cent in antisemitic incidents in Greater Manchester, from 251 incidents in 2018 to 223 incidents in 2019. In total, 327 antisemitic incidents, or 18 per cent of the overall national total, were recorded by CST in the London borough of Barnet, which has the largest Jewish population of any borough in the United Kingdom.
Beyond London and Manchester, CST recorded 635 antisemitic incidents in the rest of the UK, an increase of 25 per cent from the 510 incidents recorded outside these two cities in 2018. This is likely to reflect the increase in online incidents, and improvements in incident data sharing between CST and Police forces around the UK under a national information sharing agreement between CST and the National Police Chiefs' Council (NPCC). CST recorded 76 antisemitic incidents in Hertfordshire, 58 in Northumbria, 56 in Merseyside, 38 in West Yorkshire, 28 in Scotland, 27 the West Midlands and 16 in Wales.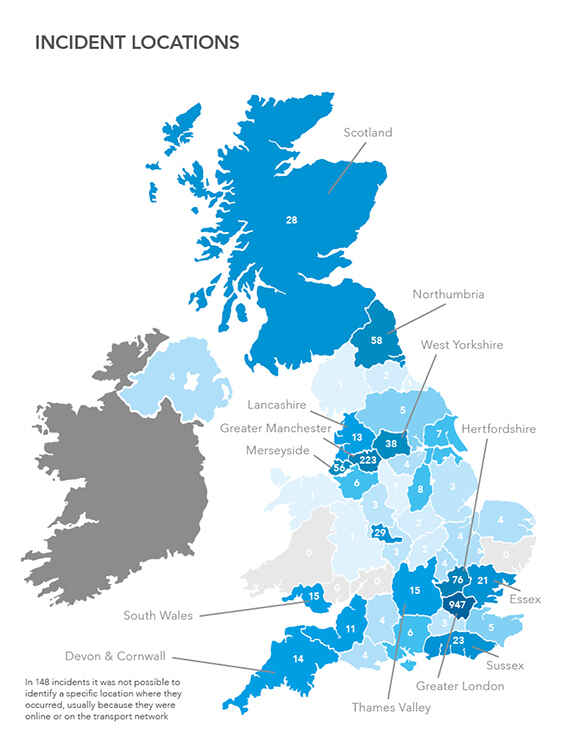 A further 566 reports of potential incidents were received by CST in 2019, but were not deemed to be antisemitic and are not included in this total of 1,805 antisemitic incidents. Many of these 566 potential incidents involved suspicious activity or possible hostile reconnaissance at Jewish locations; criminal activity affecting Jewish people and buildings; and anti-Israel activity that did not include antisemitic language, motivation or targeting.
Home Secretary, Rt Hon Priti Patel MP said:
"It's appalling that we have seen another increase of sickening abuse against the Jewish community. We need to do much more to tackle antisemitism and the intolerance this creates across society. As Home Secretary I am pushing for greater collaboration, both across government, policing, the courts and community groups, to remove this shameful stain on our society."
Communities Secretary, Rt Hon Robert Jenrick MP said:
"Who could have imagined that 75 years after the end of the Holocaust, antisemitism would be on the rise in the UK and across Europe. There is no place for antisemitism in our society. It is a scourge on us all and the record high number of recorded incidents in 2019 is completely unacceptable. This Government stands with CST – together we are committed to working with the Jewish community to stamp out anti-Jewish hatred and prejudice. Educating future generations about antisemitism is crucial. Our new funding to tackle antisemitism on campus and plans to combat Online Harms by targeting the appalling rise in antisemitic social media incidents, form a vital part of our commitment to root it out of our society."
Shadow Policing Minister & Vice-Chair All-Party Parliamentary Group Against Antisemitism, Louise Haigh MP, said:
"CST's data makes for depressing reading. It is shameful the Jewish community has been subjected to another year of racist abuse. We are beyond a stage of saying that more has to be done. We require immediate action. I will be working with colleagues, and with the CST and partners to identify what more we can be doing to reverse this unacceptable trend."
CST Chief Executive David Delew said:
"2019 was another difficult year for British Jews and it is no surprise that recorded antisemitic incidents reached yet another high. It is clear that both social media and mainstream politics are places where antisemitism and racism need to be driven out, if things are to improve in the future."
Download and read CST's Antisemitic Incidents Report 2019.
Read More