CST Blog
Antisemitic incidents: a summary
7 February 2020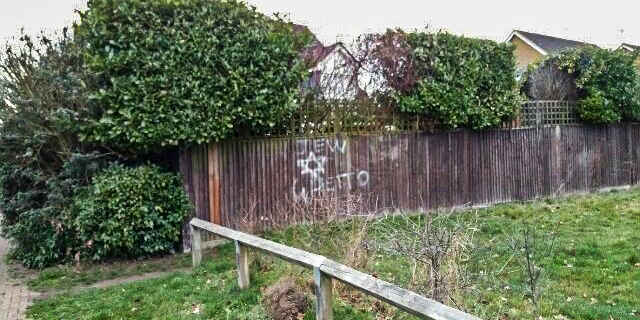 CST's annual Antisemitic Incidents Report, shows that 2019 was the worst year on record, with a total of 1,805 incidents deemed antisemitic by CST. This is 7% higher than the 2018 total of 1,690 incidents and is the fourth successive year in which a new annual high has been recorded. For the second successive year, CST recorded over 100 incidents in every calendar month.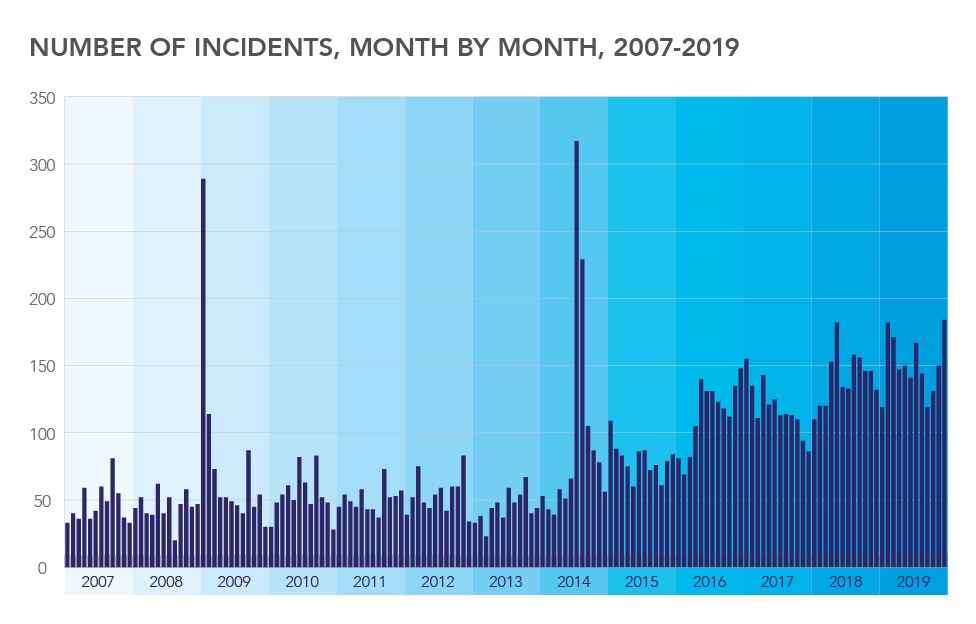 Most antisemitic incidents occur in areas with large Jewish populations. Nevertheless, incidents were reported from every British Police force region, with the exceptions of Gloucestershire and Suffolk. 
The most obvious single factor in the record antisemitism high for 2019 is the 697 incidents reported to CST from social media. This is 39% of the overall total of 1,805 incidents and is a rise of 82% on the 2018 total of 384 incidents from the same source. The online total is large, but is only indicative of a far bigger problem and does not include the many examples found daily by CST researchers.   
Violent antisemitic assaults also increased to their highest ever level, with 158 incidents recorded, one of which posed potential risk to life (ie grievous bodily harm, rather than actual bodily harm or common assault). This figure rose 25% from the 2018 total of 126 assaults and is the highest number of assaults in a calendar year. Almost half of the assaults occurred in Barnet (29 incidents), Hackney (28 instances) and Salford (15 incidents), all areas with large and visible Jewish populations.
The four years of rising incident levels began in 2016. Since April 2016, there were only two months, in November and December 2017, when less than 100 incidents were recorded. By comparison, in the ten years before April 2016, there were only six months that saw over 100 incidents. Five of those months coincided with Middle East conflict, the other was the Paris terror attacks of January 2015.
2016, 2017, 2018 and now 2019 have all seen record highs, often over double or triple the levels of five or ten years ago. Unlike previous record highs, these totals are not connected to overseas events. They have been sustained since April 2016, which was when Ken Livingstone made controversial remarks about Adolf Hitler and Zionism. Since then, there has been deepening public controversy regarding the Labour Party, Jews and antisemitism.
Hate crimes escalate when the target group is in the news. This phenomenon is no different for Jews and antisemitism. In 2019, CST recorded 224 antisemitic incidents directly related (by the offenders, the content or context) to the Labour Party controversy, compared to 148 incidents of this kind in 2018.  There were 25 such incidents in February 2019 (the 2nd worst month of the year, with 182 incidents), 30 in March (the 3rd worst month, 171 incidents) and 26 in December (the worst month, 184 incidents).  
By comparison, 126 incidents directly related to far right motivation, 126 to anti-Zionist motivation and 19 to Islamist motivation.  Eight incidents were connected to Brexit.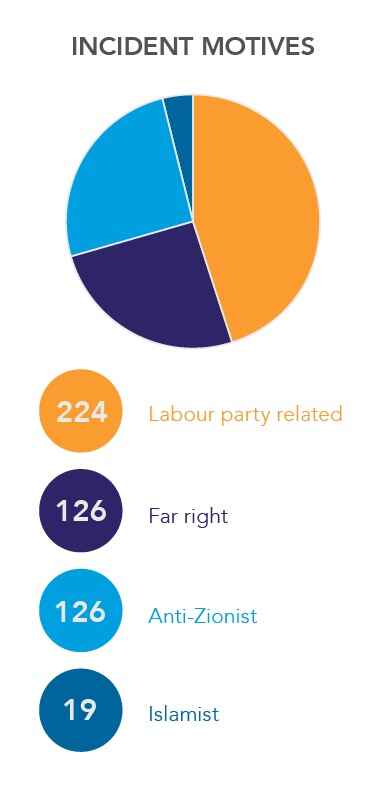 Antisemitic conspiracy allegations featured in 370 incidents. Hitler, Nazis or the Holocaust featured in 330 incidents. Israel, the Middle East or Zionism featured in 505 incidents. Brexit was connected to eight incidents. (Note that a single incident can feature more than one type of such discourse, but each incident is of course only counted once for the 1,805 total.)  
The true figure for antisemitic incidents is likely to be far higher than 1,805. Studies suggest over 70% of incidents go unreported to CST or Police, and CST staff and volunteers are often told of incidents that victims did not deem worth reporting. The value of CST's annual report does not therefore lie in the absolute figure, but rather in the consistency of the reporting and analysis process, the overall trends that are revealed and the specific details that can be evidenced, including victims, perpetrators, locations and motivations.  
CST does not release the report in order to generate publicity about antisemitism. Rather, we make this detailed analysis in order to help understand and fight antisemitism as best we can. The data enables CST and our communal partners to decide priorities and actions. Similarly, it enables Police and Government to act, both locally and nationally. Whatever the true extent of antisemitism, this report shows that it is clearly far too high, both in relative and absolute terms. We welcome all those who wish to work with us in fighting against the problem, as CST volunteers, as CST donors and in cooperation with communal security measures. 
If you suffer or witness antisemitism, please contact CST or Police, by going to https://cst.org.uk/report-incident.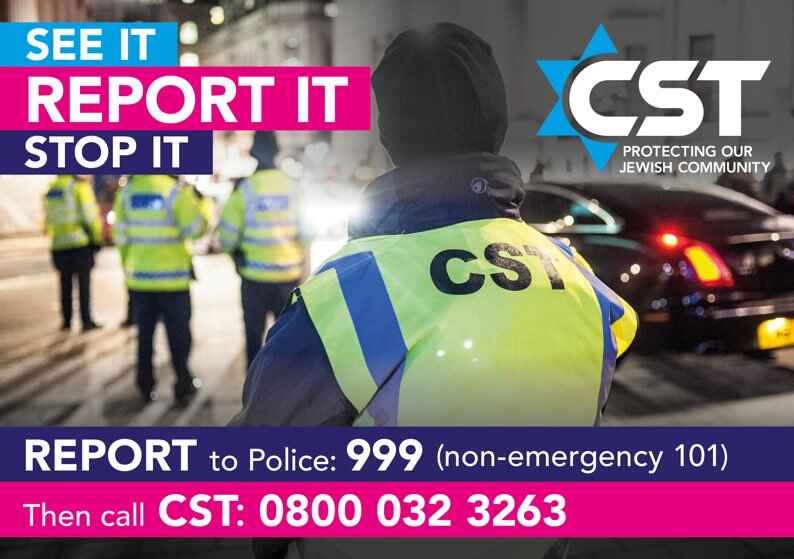 Read More