CST Blog
CST stands against anti-Jewish hate
19 May 2021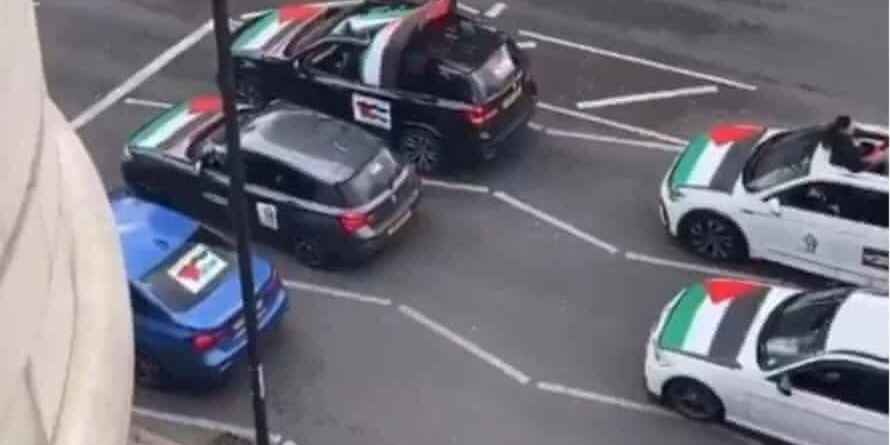 The rise in antisemitism in this country since last weekend, fuelled by antisemitic reactions to the conflict in Israel and Gaza, is utterly predictable and completely disgraceful. CST is working non-stop, in partnership with the police, to protect our community from this wave of hatred, and we will do everything in our power to ensure that our Jewish community can continue to live a safe, confident life as British Jews.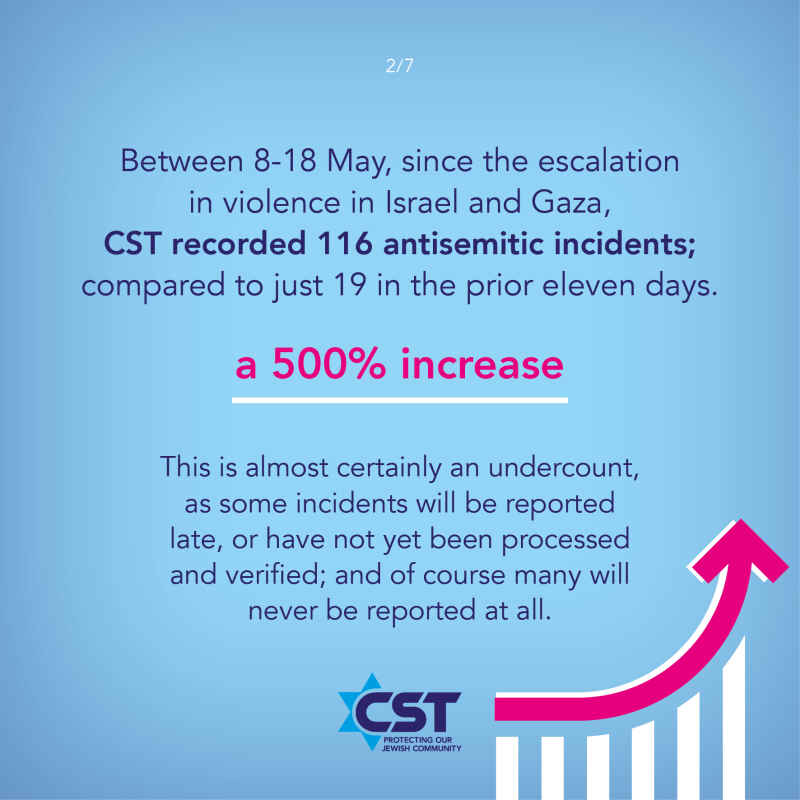 In the eleven days from the escalation in violence in Israel and Gaza on Saturday 8 May until yesterday afternoon, CST recorded 116 antisemitic incidents; compared to just 19 antisemitic incidents in the eleven days prior to 8 May. This is a fivefold increase in antisemitic incidents, and it is almost certainly an undercount, because some antisemitic incidents will be reported late to CST, or have not yet been processed and verified; and of course many antisemitic incidents will never be reported at all.

CST put on an extensive security operation across the Jewish community during the weekend and over the festival of Shavuot, and we want to thank all our CST volunteers and everyone else who took part in security at synagogues and other locations to help protect our community. CST's 24/7 National Security Control Centre has extra staffing to ensure it can respond to all the calls we are receiving from across the Jewish community. Our research team is constantly monitoring for threats to the Jewish community and antisemitic activity which we are passing to the police where appropriate. We have kept our partners in government and opposition parties fully informed of the rise in antisemitism and our work to tackle it, and we appreciate the support expressed in Parliament and from politicians of all parties.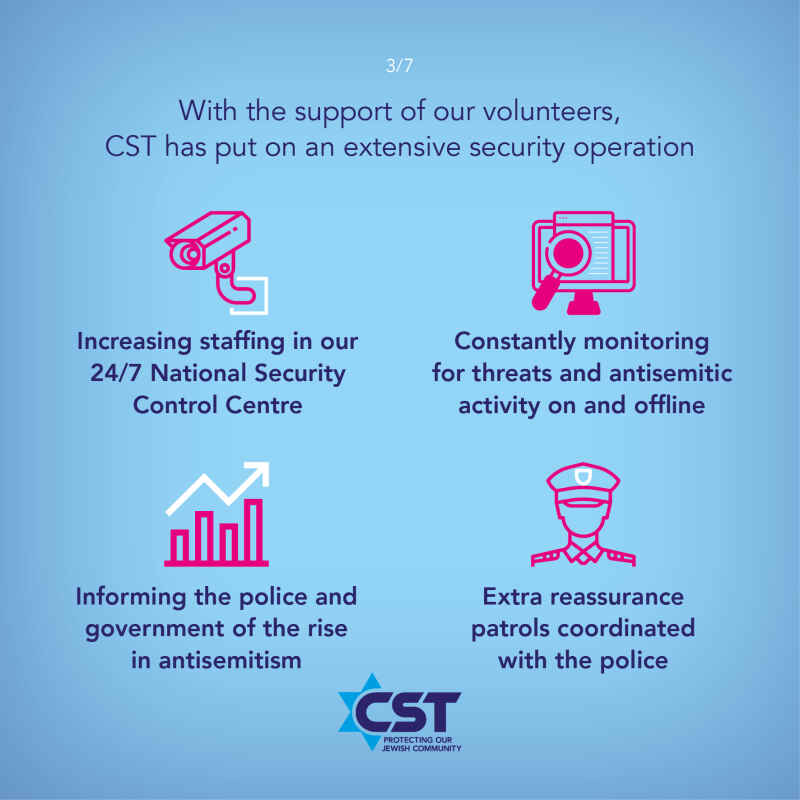 We have coordinated our security operation closely with the police who have also carried out extra patrols, and we are grateful to them for the extra resources that they have committed to protect and reassure the Jewish community. We have also been in touch with the Crown Prosecution Service to stress the importance of antisemitic hate crimes being prosecuted wherever possible. We are pleased that some of the more high-profile antisemitic hate crimes that have occurred have resulted in arrests. We hope there will be further arrests and prosecutions to ensure there is a cost to those people who seek to attack, threaten and harass our community.

Some of the reported antisemitic incidents have attracted widespread publicity because of their truly appalling nature, including the vile antisemitic and misogynistic abuse in Finchley Road, north London, on Sunday, and the horrific assault of a Rabbi in Chigwell, Essex. Many others, though, have gone unnoticed outside the Jewish community. These include:
Several incidents of individuals shouting "Free Palestine" with abusive or threatening language or gestures at random Jewish people, who are selected for abuse because they are Jewish
In one case, a man stopped Jewish secondary school students in London and threatened to punch them if they did not say they supported Palestine; he then said "Tell your f*cking mum and dad they are murderers and killing babies"
"Free Palestine" graffiti was daubed next door to a synagogue in central London
An act of criminal damage targeted a synagogue in London
Extensive antisemitic content on social media platforms, and sent directly to Jewish students and schoolchildren via direct messages
An antisemitic email was sent to senior Jewish communal leaders that linked to a story about Israel, and then said: "YOU F***ING JEW CU**TS CONCENTRATION CAMPS WERE TOO GOOD FOR YOU HE SHOULD HAVE GASSED ALL OF YOU MONEY GRABBING Y*D B*****DS"
There is a particular problem of cars, either individually or in convoys, driving through Jewish neighbourhoods, waving Palestinian flags and shouting slogans in a way that is clearly intended to intimidate local Jewish communities. This came to national attention on Sunday due to the disgusting abuse shouted by some of the participants in London, but it is a phenomenon that has been going on all week, particularly in north Manchester and north London. This is an attempt to import the Israeli-Palestinian conflict into the United Kingdom, not by expressing support for Palestinians or Israelis (which anyone is entitled to do), but by singling out Jews and treating them as a participant in the conflict. It must stop.

On top of these reported incidents is the sheer deluge of hate on social media, the intimidation of Jewish schoolchildren and students who are singled out and pressured to declare their position on the conflict or justify Israel's existence, and the broader atmosphere generated by large, angry anti-Israel protests that treat Israel as a unique evil in the world. This is a pattern the UK Jewish community has seen too many times before – you can read about how we explained it during the last large escalation in fighting in Gaza in July and August in 2014. We shouldn't have to explain it any more. The level of anger and hate that is directed at Israel always spills over into antisemitism at times like this and yet the people stoking this anger, online and on the streets, never take responsibility for this particular consequence.

CST's primary purpose is to protect our Jewish community, especially at times like this when it is so necessary. British Jews deserve to live without fear, able to live their Jewish lives however they choose in safety and confidence. That is why CST is here and this is what we will continue to do.
Read More