CST Blog
Covid, Conspiracies & Jew-Hate: Antisemitism in the Covid-19 conspiracy movement
19 July 2022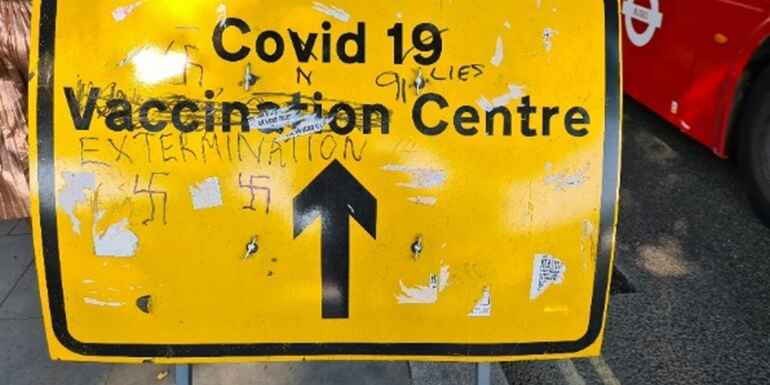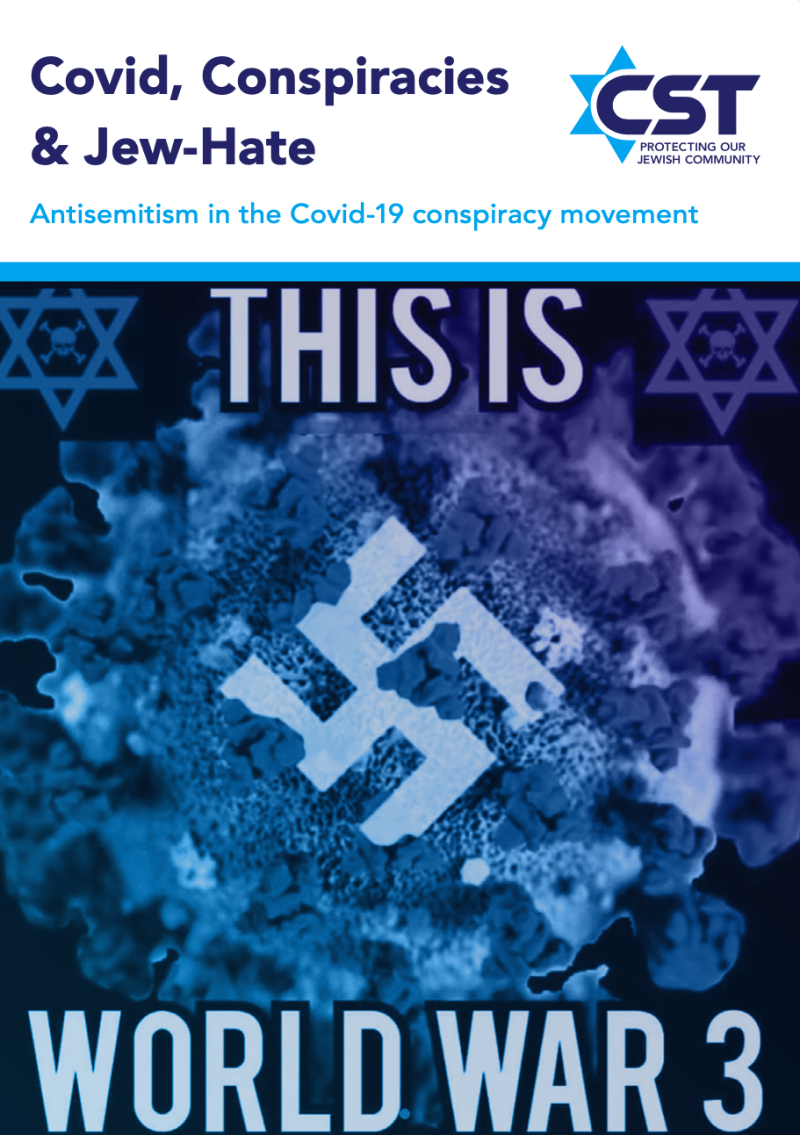 A new Research Briefing from CST titled Covid, Conspiracies & Jew-Hate: antisemitism in the Covid-19 conspiracy movement, published today, reveals the full extent of antisemitism within the Covid conspiracy movement.
In April 2020, not long after Covid-19 began spreading through the world's population, CST released a research briefing titled Coronavirus and the Plague of Antisemitism. It demonstrated how the pandemic was being used by far right extremists online to push antisemitic narratives and conspiracies.
Today, antisemitic images and language have become much more common in online spaces used by the Covid-conspiracy movement. These include conspiracy theories claiming that the virus is a Jewish hoax, and that vaccines have been invented by Jews to poison the population. This Research Briefing explores the antisemitism that is present inside the Covid conspiracy movement that evolved as the pandemic spread around the world.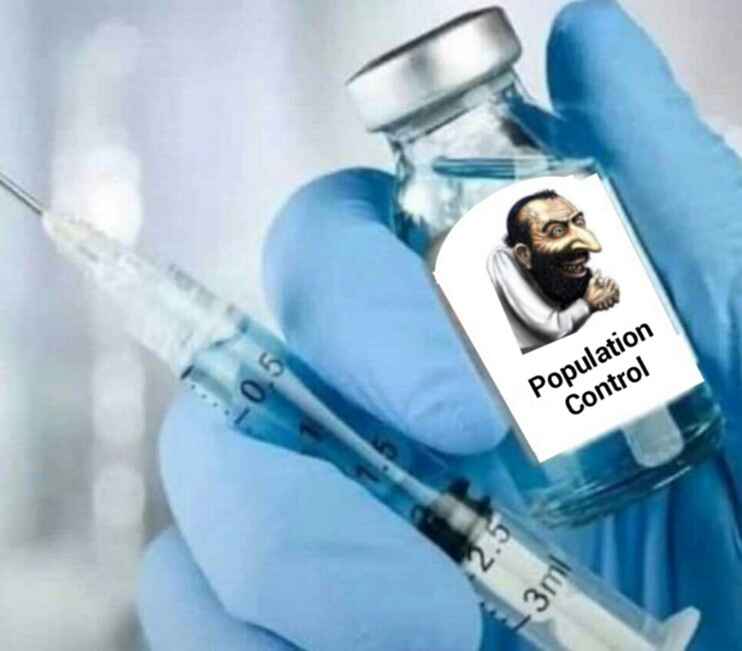 This movement brings together people from the far right, far left, new age, those with mixed ideologies and other parts of society. It reaches well beyond traditional forms of extremism: leading figures even include a celebrated street artist and a rapper, both of whom feature in detailed case studies in the report.
This is the first time that Britain has had a domestic political movement fuelled primarily by conspiracy theories, that is active both online and offline. It has outlived the ending of Covid restrictions and is likely to retain its influence in the future.
Britain's largest far right group, Patriotic Alternative, and former BNP leader Nick Griffin, have both exploited the anti-vaccine and anti-lockdown movement to spread their views. Patriotic Alternative have handed out leaflets on anti-lockdown protests and distributed their propaganda in Covid conspiracy online spaces, in an attempt to attract recruit Covid-sceptic individuals into the far right.
This report shows the offline consequences of these views becoming more widespread. CST recorded 118 antisemitic hate incidents in 2020 and 2021 that involved language or imagery linked to the pandemic, alongside anti-Jewish language or targeting. These incidents included verbal abuse and threats directed at Jewish people, graffiti blaming Jews for Covid, and antisemitic leaflets.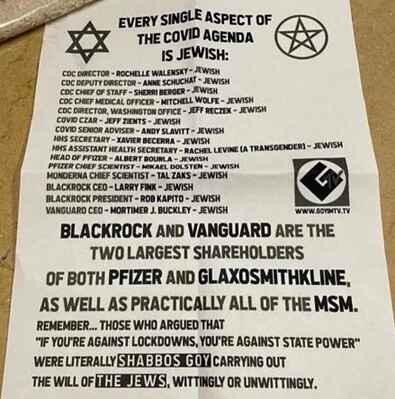 In one incident, a man was jailed for 26 weeks in December 2021 after shouting "You Jews are spreading Covid, you're responsible for it, you started it" at a Jewish couple at a tram station in Manchester.
In another incident, leaflets were posted through letterboxes in South Yorkshire featuring antisemitic caricatures of a Jewish face, alongside the phrases "Don't trust the Jew Jab" and "Beware the k*ke spike". "K*ke" is a racist slur for a Jewish person.
Leading activists in the Covid conspiracy movement showed their tolerance for antisemitism when they demonstrated in support of Tahra Ahmed, a Covid conspiracy activist who was sentenced to 11 months in prison for stirring up racial hatred by claiming that the Grenfell Tower fire was a "Jewish ritual sacrifice". Around 50 activists from the Covid conspiracy movement protested outside Ahmed's sentencing at the Old Bailey in February 2022, in a prosecution supported by evidence provided by CST.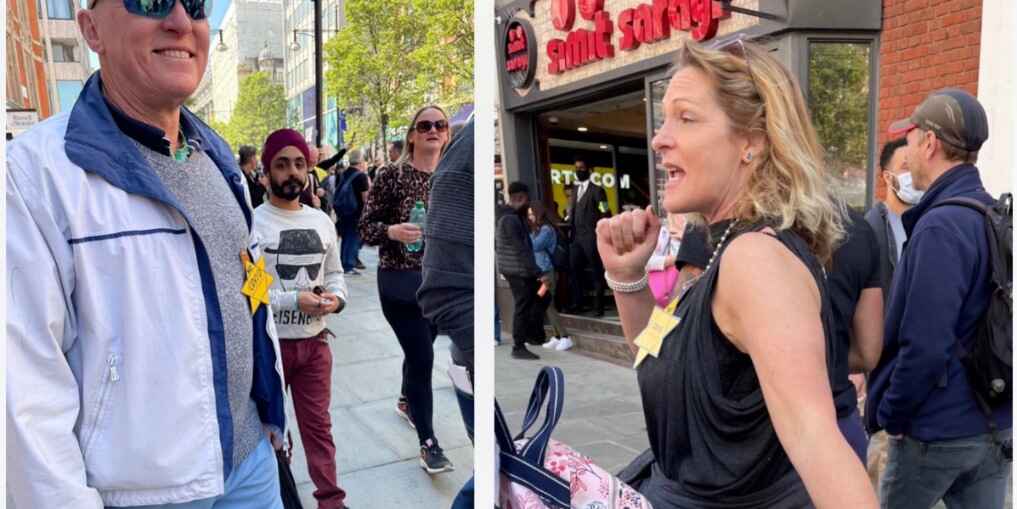 An alternative form of antisemitism that became prominent in the Covid conspiracy movement is the grotesque and offensive misuse of language and symbols related to the Holocaust. Anti-vaccine and anti-lockdown protestors have worn yellow stars (similar to the identifying badges the Nazis forced Jews to wear during the Holocaust) and compared vaccination centres to death camps.
Most worryingly, there are elements within the Covid conspiracy movement that are moving in a more confrontational and violent direction. In the UK this has involved the harassment of politicians, journalists and police officers on the streets. In Germany, the confluence of Covid conspiracism and far right extremism has led to a number of violent incidents. The antisemitism in the Covid conspiracy movement, combined with this gradual move towards violent activism, could therefore pose a direct threat to the Jewish community.
View the full report, Covid, Conspiracies & Jew-Hate: antisemitism in the Covid-19 conspiracy movement. 
Read More