CST Blog
CST Launches New UK Terrorism Databases
21 July 2022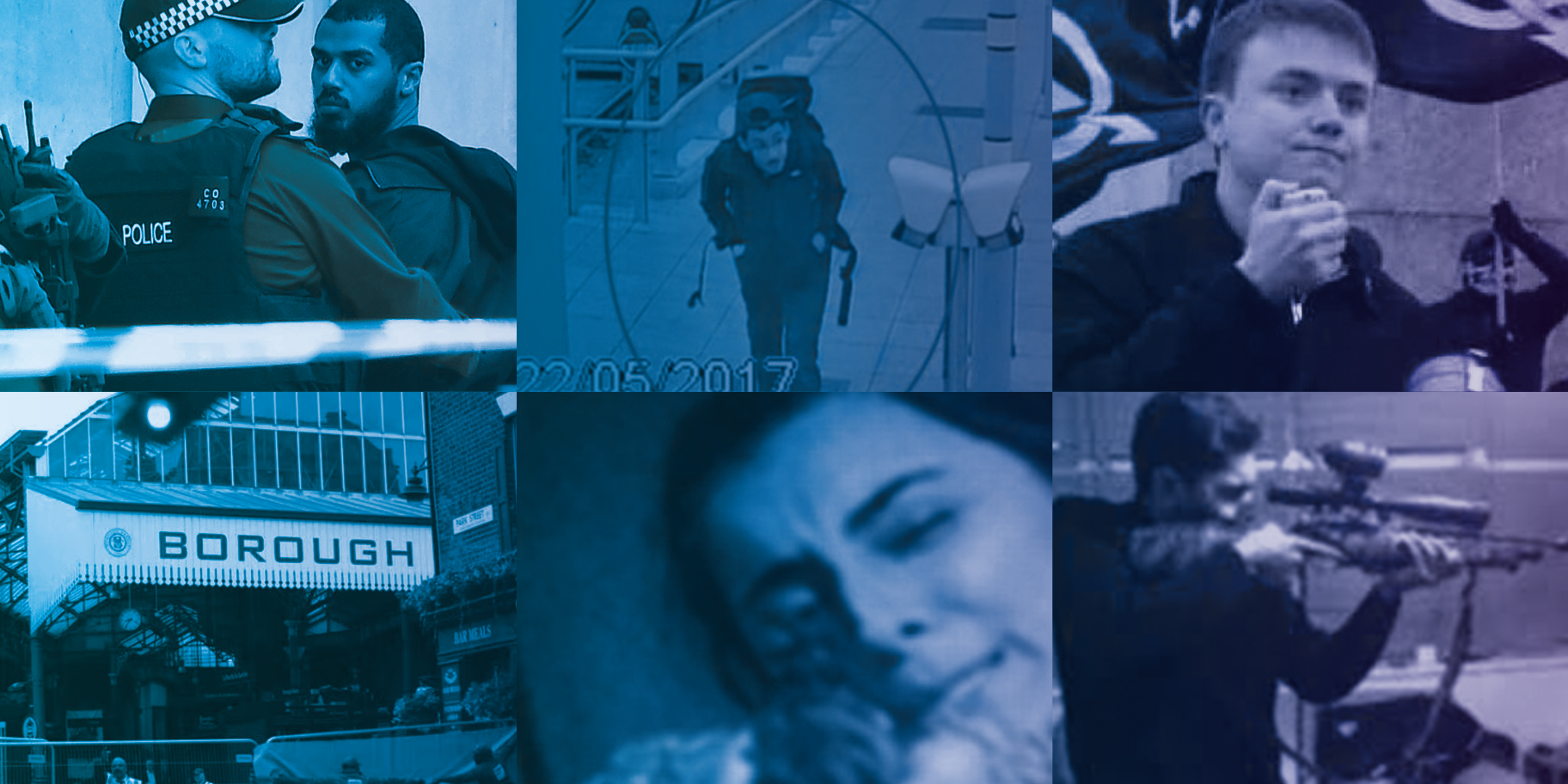 CST has launched two terrorism databases tracking terror attacks and foiled plots in the UK, from 2013 to the present. These are a unique public-facing resource for researchers, practitioners and members of the public to keep track of terrorist incidents and trends.
Studying terrorist attacks and foiled plots is essential to forming an accurate picture of the security landscape. UK authorities regularly provide figures on foiled attack plots, but they cannot publish detailed lists of the plots that make up those statistics.
The absence of such a record makes it difficult to keep track of these incidents and assess underlying trends in contemporary terrorism. Especially challenging is keeping a record of foiled plots, since many cases may not be obvious or easy to classify.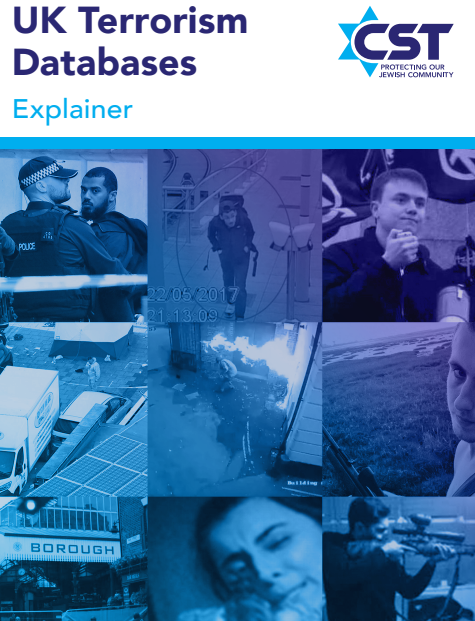 CST has also published a companion Terrorism Databases Explainer, describing the criteria and analysing key terrorism trends in the UK between 2013 and 2021.
CST's new databases are designed to be operationally and analytically relevant. They offer a resource for timely summaries about thwarted plots and attacks in the UK.
The databases are intended to be of interest and utility to journalists, researchers and practitioners; at the same time, they are suited for security-minded users requiring bottom-line information necessary for front-line protection.
The databases are also intuitive, user-friendly and fully searchable. Users can easily filter by Attack Method, Ideology, Target Types, Hostile Reconnaissance, Region Targeted – and more.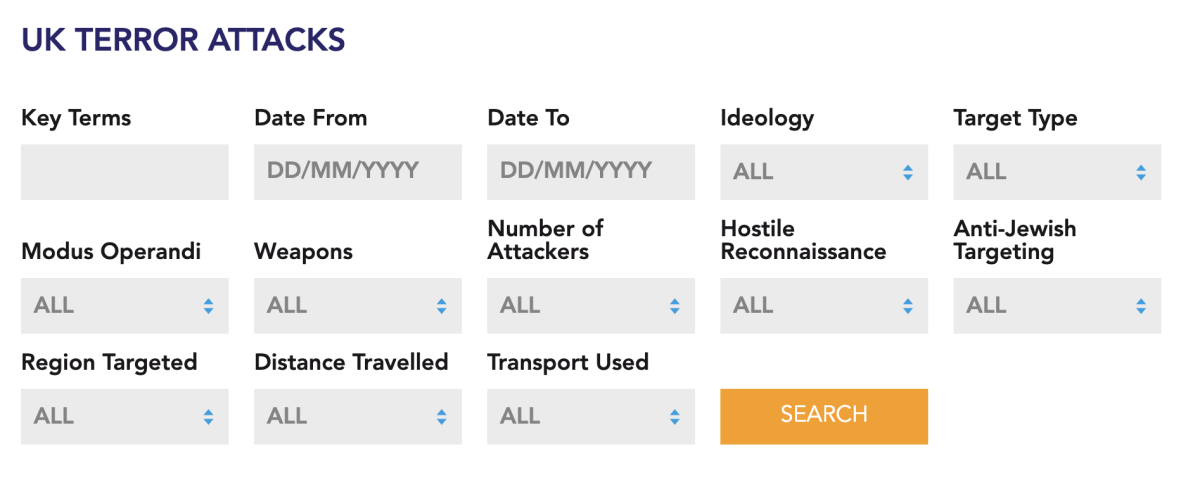 Using straightforward and rigorous criteria, CST has made a best faith effort to minimise subjective judgment. The information is intended to match the criteria used by Counter Terrorism Policing UK and the UK Security Service (MI5) in defining attacks and foiled plots in the UK, to keep as closely as possible to the official record.
Therefore, CST's databases focus on incidents relating to jihadist extremism, right-wing extremism, single-issue extremism; they do not include Northern Ireland related terrorism, which authorities also classify separately.
The interface of the databases is organised and clean. The default setting shows the name of each entry and information about Ideology, Modus Operandi and Target Type. Clicking on 'Incident Summary' reveals a Fact File and Summary for each incident.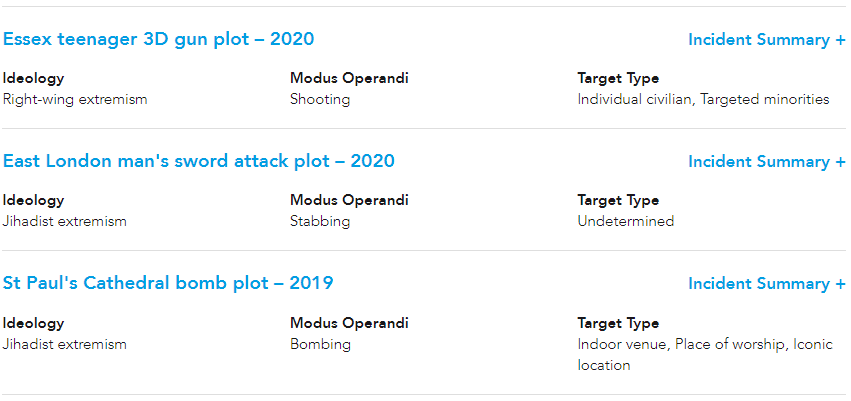 Each summary of a plot or attack offers links to links to a variety of sources: archived press releases from UK police forces, Crown Prosecution Service (CPS) and Crown Office and Procurator Fiscal Service (COPFS); UK judges' sentencing remarks; official inquests/inquiries; media reports and other resources. In general, locating all this information requires searching across numerous sources online and offline. CST's databases integrate the information in a single portal.
The Terrorism Databases Explainer also reviews the over-arching terrorism trends in the UK between 2013 and 2021. Here are some of the highlights:
Attack Method
The most common attack method has been stabbing attacks using bladed weapons, followed by vehicle ramming and bombing.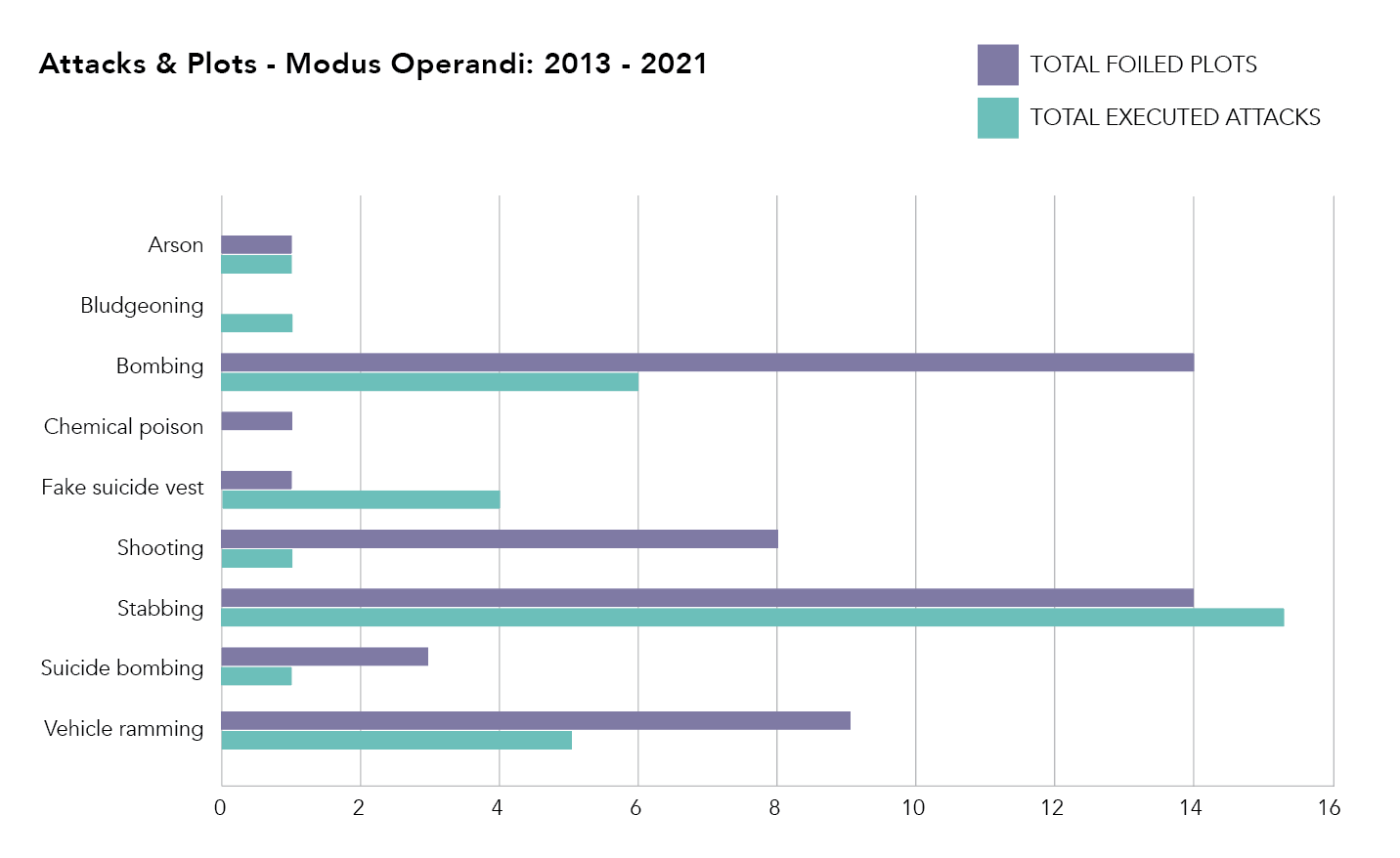 The database also shows seven separate bombings, including one suicide bombing. An interesting and worrying pattern emerged that in five of these bombings: the attackers used public transport to carry their explosive devices to their target.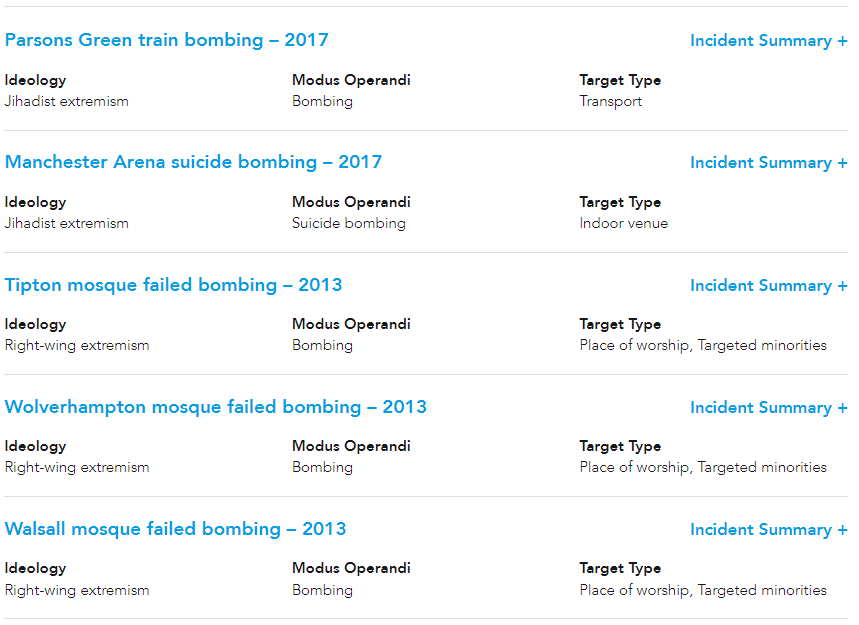 This includes the 2017 Parsons Green train bombing; the 2017 Manchester Arena bombing; and all three failed bombings outside mosques in the West Midlands in 2013. 
Attack Proximity
The distance an offender travels to perpetrate an attack is an important component of a terrorist's target selection. In criminology literature, the distance an offender travels to commit their crime is studied from a "residence-to-crime" or "journey-to-crime" approach.

CST's UK Terror Attacks database includes data on how far attackers travelled to commit their attacks, as well as the type of transportation they used to arrive at their targets. Most of the attacks took place within 0-5 miles of the attackers' residence. By contrast, three attackers travelled over 100 miles to their targets. 
Target Selections
Easily accessible, crowded spaces were the most common targets that were attacked or considered. In CST's databases, these target types are classed as iconic locations, indoor venues, places of worship, public areas and transport. These are mainly 'soft targets' that are designed for easy access, public enjoyment and efficient movement.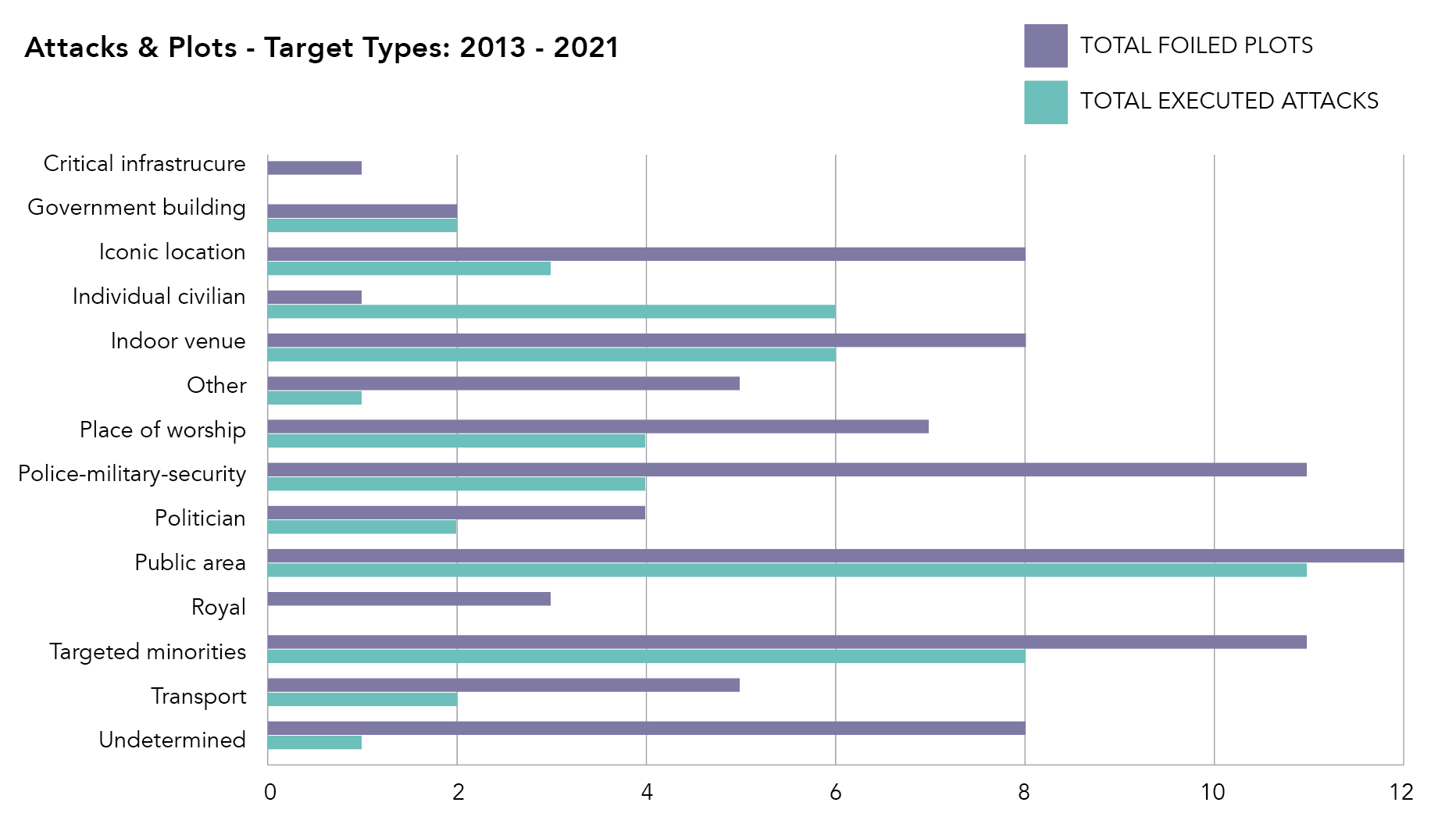 Anti-Jewish targeting
Antisemitism forms a core part of many terrorist groups' ideologies, and Jewish communities worldwide remain desirable targets for a diverse range of terrorists and ideologically motivated extremists. Between 2013 and 2021, the UK saw at least four terror plots that considered targeting UK Jewish communities across the country.
This included two jihadist extremist plots and two or three right-wing extremist plots. (The uncertainty is that one of these alleged plots has not yet been resolved in court.) The databases provide details on each incident.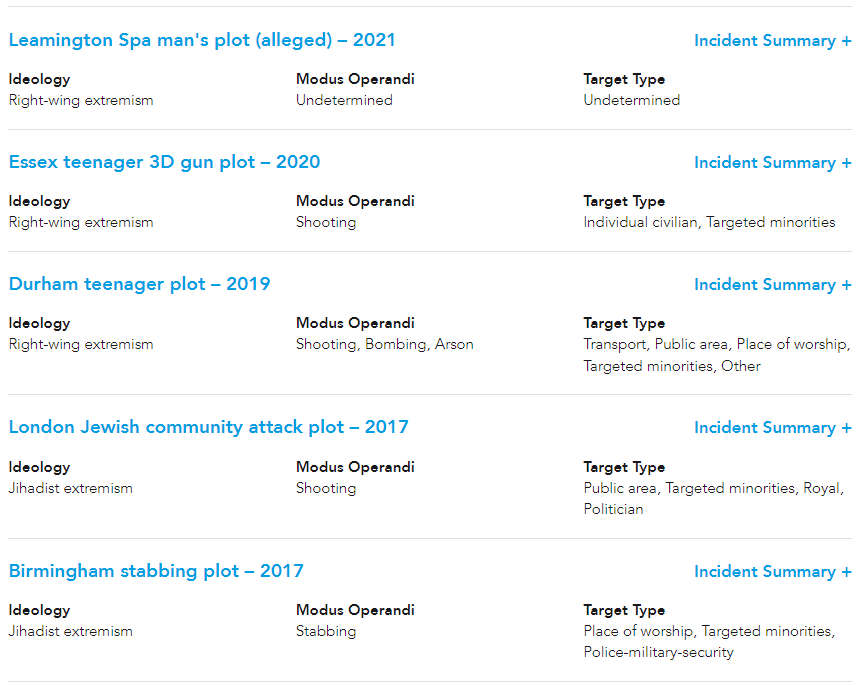 Analysing terrorist methodologies has been part of CST's core work since its inception. Protecting British Jews from terrorist attacks drives much of CST's security work. The level of anti-Jewish threat, and the amount of security needed from CST, largely depends on the overall threat of terrorism against the UK.
To share security best practice, CST works in close partnership with government, police, civil society groups and alongside faith and minority communities. After Darren Osborne's ramming attack in Finsbury Park in 2017 against Muslim worshippers, police requested that CST provide security guidance for distribution to mosques.
And in the aftermath of Brenton Tarrant's terrorist mass shootings in two mosques in New Zealand, CST updated its Security Procedures for Places of Worship, which was promoted by the UK Government and police. Indeed, CST's SAFE initiative aims to share CST's security knowledge to improve the security of the UK's faith and minority communities.
The UK's CONTEST Counter-Terrorism Strategy (2018) prioritises "strengthening the resilience of local communities to terrorism as they are at the forefront of our response". CST strives to make tangible contributions for this effort; our new databases are another tool to help achieve these aims.
Read More