CST Blog
Antisemitic Incidents Report January-June 2022
4 August 2022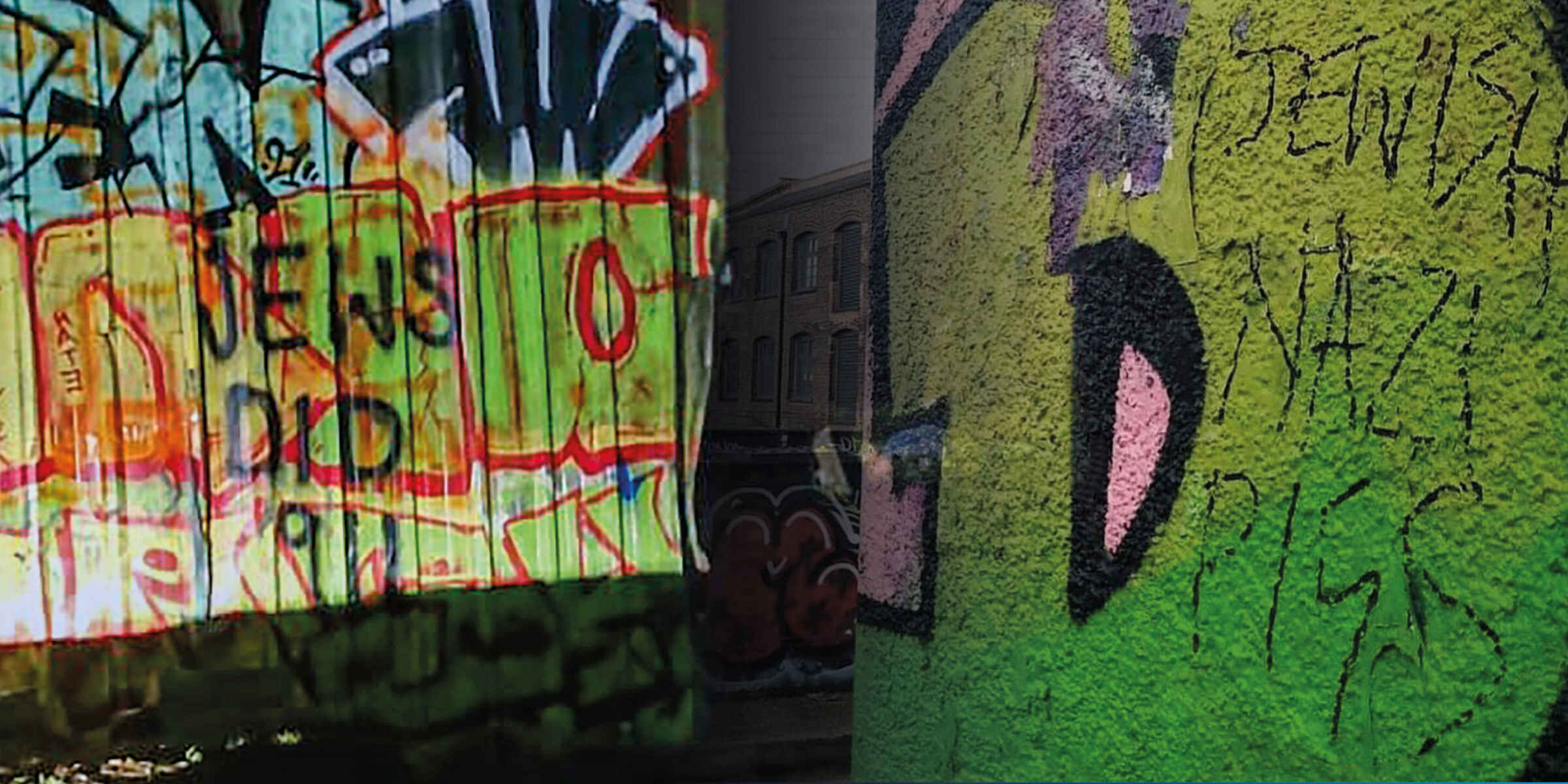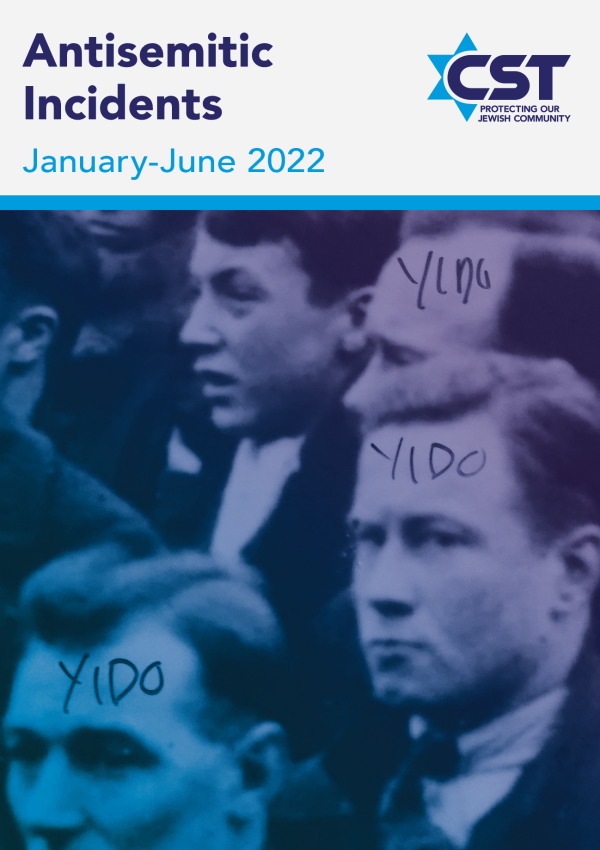 CST's Antisemitic Incidents Report January-June 2022, published today, shows 786 anti-Jewish hate incidents recorded nationwide in the first half of this year. This is a 43% decrease from the 1,371 incidents recorded in the first six months of 2021, and the joint-fifth-highest total ever reported to CST between January and June in any year. CST recorded 875 antisemitic incidents in the first half of 2020, 911 in the first six months of 2019, and 810 from January to June 2018. 
A further 272 reports of potential incidents were received by CST in the first six months of 2022 but were not deemed to be antisemitic and are not included in this total of 786 incidents. Many of these 272 potential incidents involved suspicious activity or possible hostile reconnaissance at Jewish locations; criminal activity affecting Jewish people and buildings; and anti-Israel activity that did not include antisemitic language, motivation or targeting.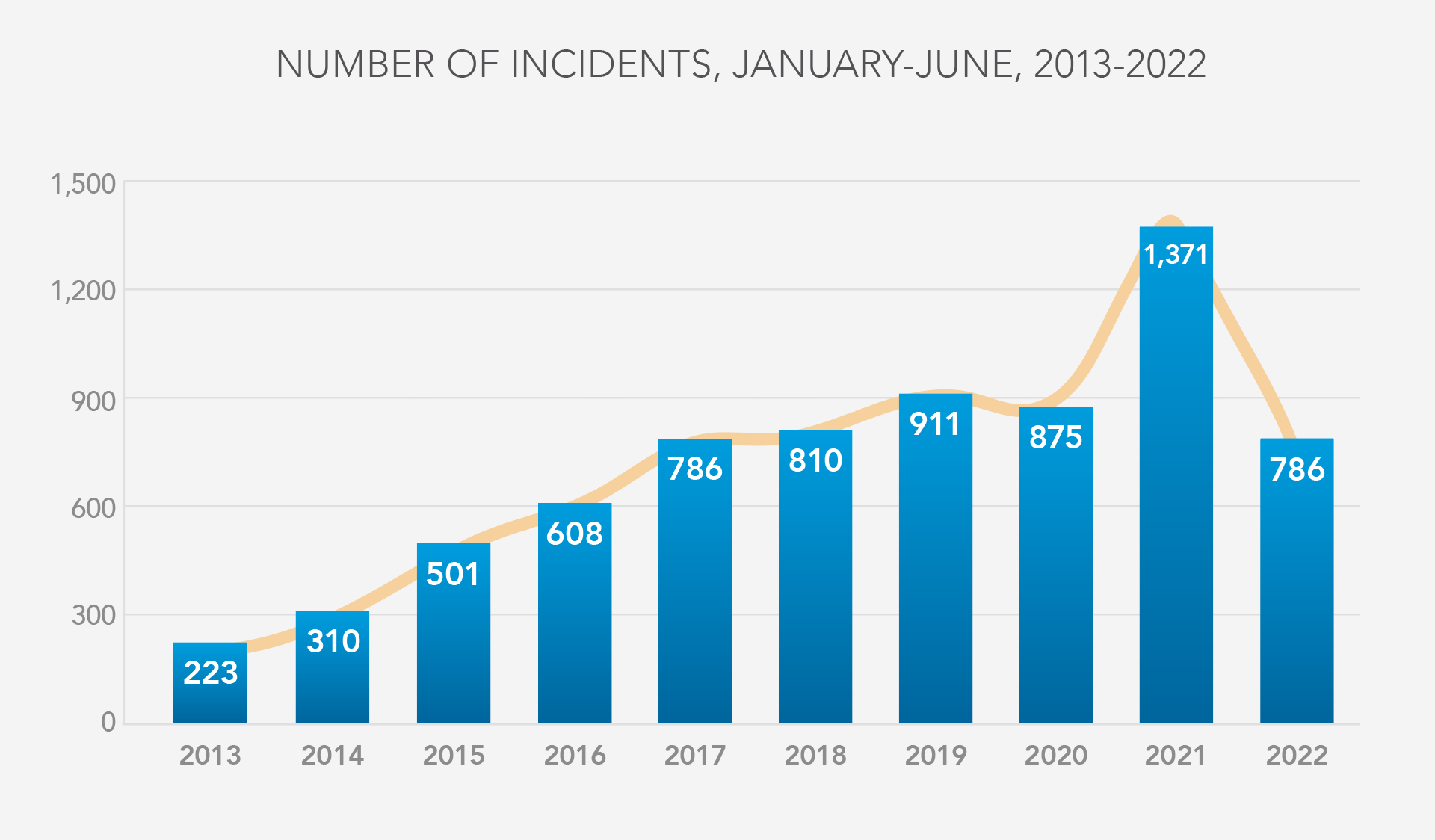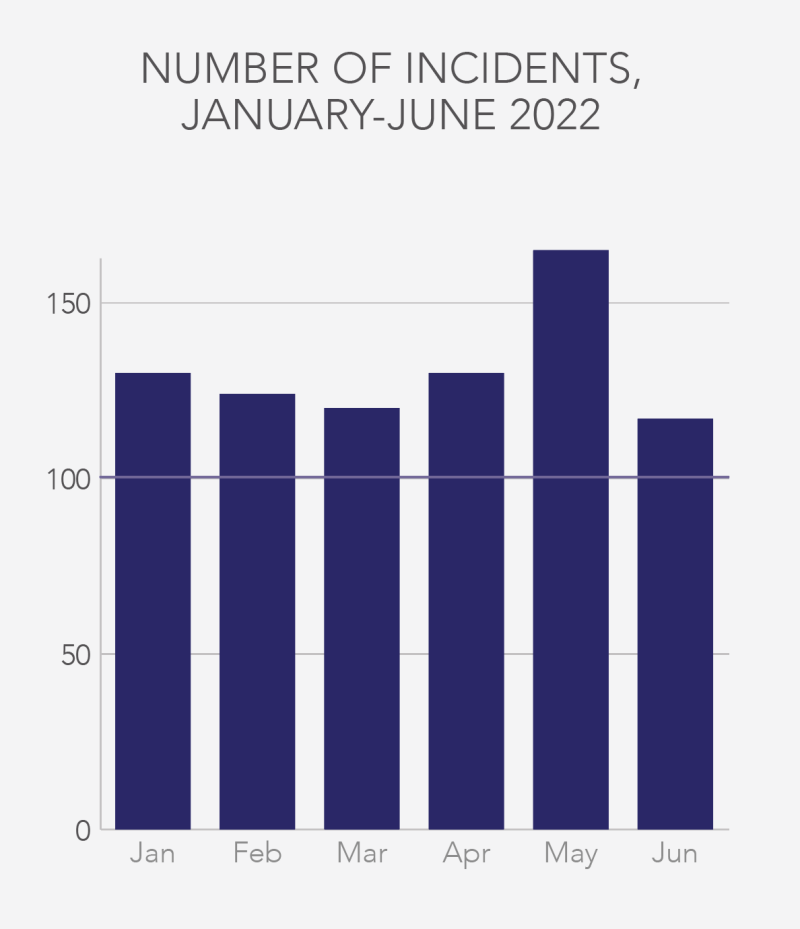 The decrease from last year to this reflects the magnitude of the spike in anti-Jewish hate observed in May and June 2021, when there was an escalation in conflict between Israel and Hamas. External factors also impacted six-monthly figures reported in the three previous years, with the COVID-19 outbreak and allegations of antisemitism in the Labour Party affecting the nature and volume of reports in 2020, 2019 and 2018. Without a similar trigger event, the 786 instances of anti-Jewish hate recorded between January and June 2022 represent a 'new normal' in levels of UK-based antisemitism. Over 100 incidents were reported in each month: totals that were unprecedented before 2016 but have become typical since.
There were 638 offline incidents, the third-highest number of offline incidents ever recorded in the first half of a year, constituting 81% of the 786 total, compared to 72% of incidents in the first six months of 2021 and 58% in the first half of 2020. The percentage rise in offline, in-person antisemitism suggests that anti-Jewish activity is returning to the street level, without any pandemic restrictions enforced so far in 2022.
In contrast, the volume and proportion of online incidents diminished, from 378 (28% of 2021's January-to-June total) to 148 (19% of 2022's six-monthly figure). This can be partly explained by the removal of COVID-19 limitations of social interaction, which is also evident in the fall in 'Zoomboming' – where online communal events are hijacked with antisemitic abuse – from 13 in the fist half of 2021 to one in the corresponding period this year. Similarly, CST recorded just six incidents from January to June 2022 that contained antisemitic rhetoric alongside references to COVID-19, compared to 41 such incidents in the first six months of 2021 and 26 in the first half of 2020. It suggests that the volume of pandemic-related antisemitic incidents recorded in the previous two years was largely a response to a novel and uncertain situation, which included frustration at the restrictions placed on daily activity, or simply reflected the way that hate crime perpetrators will use language that is inspired by whatever is in the news.  
The anti-Jewish manipulation of current affairs – an essential component of contemporary antisemitism – is apparent in the 12 incidents recorded from January to June 2022 that referenced or were in some way inspired by the war in Ukraine. They included conspiracy theories accusing Jewish people of causing and bankrolling the war, and of Jews being behind every aspect of the conflict, filling positions of power and pulling the strings on both the Ukrainian and Russian sides; pro-Putin and pro-Russian sentiment that favourably compares the Russian President to Adolf Hitler and Russia to Nazi Germany; attacks on "Zionist" Ukrainian President Volodymyr Zelenskyy for his Jewish identity; and comparisons between Russia's aggression and Israel's actions. Although relatively few in number, these incidents demonstrate how some antisemitic incident offenders will repurpose established antisemitic ideas, theories and stereotypes to fit with whatever is prominent in wider public discourse.
The most common type of language or imagery used in antisemitic incidents over the first six months of 2022 referenced Hitler, the Nazis and/or the Holocaust, present in 232 (30%) of the 786 cases of anti-Jewish hate. Fifty of these involved evidence of far-right extremist beliefs, beyond the simple and superficial appropriation of Nazi-era reference, while incident offenders more commonly glorified the Holocaust than denied its existence: 36 incidents celebrated the Nazi extermination of European Jewry, whereas eight incidents involved denial of the facts or scale of the Holocaust.
CST recorded 102 antisemitic incidents that referenced or were related to Israel, Palestine and the situation in the Middle East. Sixty-six of these evidenced anti-Zionist motivation alongside antisemitic language or targeting. Antisemitic conspiracy theories were evident in 70 of the 786 incidents recorded by CST from January to June 2022, 65 of which alleged Jewish influence over global politics, media, finance and other areas of life.
Despite a 64% drop in school-related incidents, from 137 across the first six months of 2021 to 50 in the same timeframe in 2022, 21% of the incidents where CST obtained a description of the offender's age involved perpetrators who were minors. It perpetuates a concerning trend established in the first six months of 2021, when 20% were minors, more than double the proportion reported between January and June 2020, when 9% were minors: a ratio that had been broadly consistent with previous recorded averages. It suggests that the surge in antisemitism enacted by a younger demographic, while initially a reaction to events in the Middle East and responsible for the spike in school-sector anti-Jewish hate last year, runs deeper than the desire to blame Jewish people for wars involving Israel. Offenders under the age of 18 years were also more likely to incorporate politicised, conspiracist or extremist rhetoric within their antisemitism. These discourses were employed in 53% of incidents with child perpetrators, compared to 48% of incidents perpetrated by adults.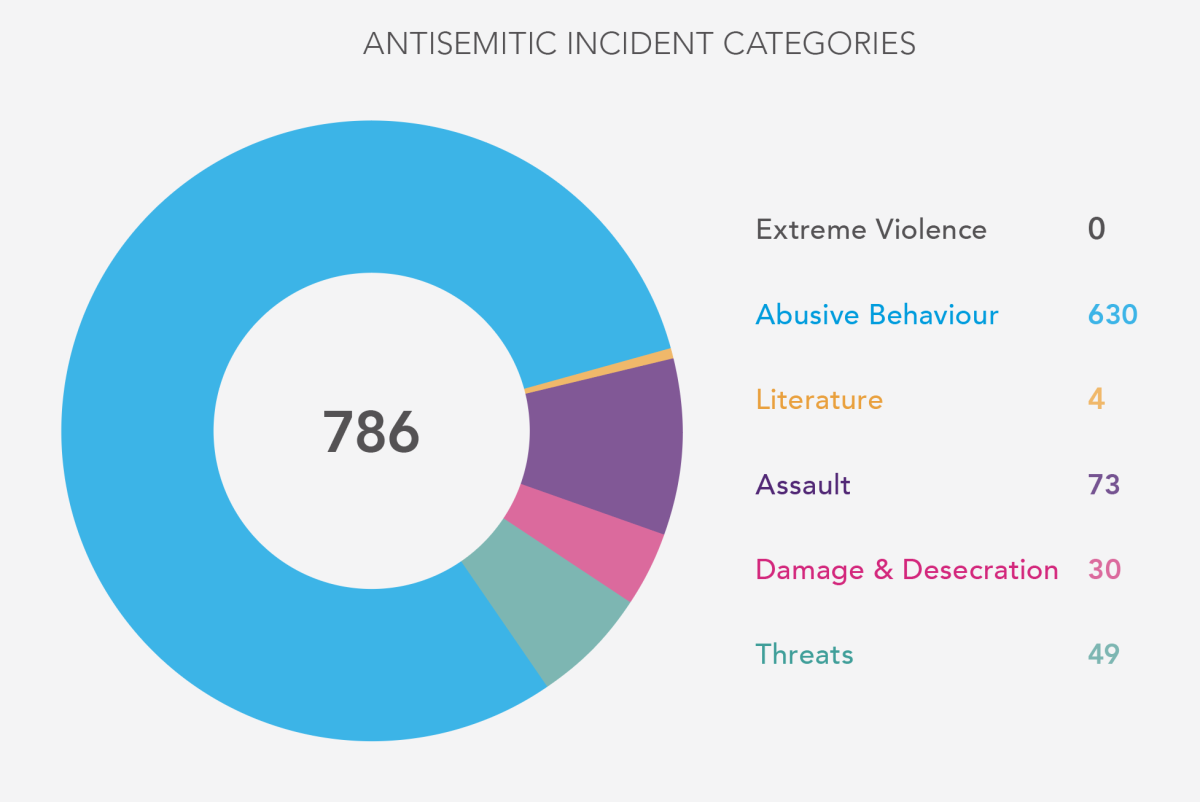 CST recorded 73 antisemitic incidents in the category of Assault from January to June 2022, 9% of the 786 total and a higher proportion of anti-Jewish violence than was reported in either of the previous two years, when lockdown restriction limited the opportunity for physical attacks in public. There were 59 incidents of Damage & Desecration of Jewish property in the first half of 2022; 49 direct antisemitic threats; 630 cases of Abusive Behaviour, including verbal abuse, antisemitic graffiti, antisemitic abuse via social media and one-off hate mail; and four instances of mass-mailed antisemitic Literature.
CST recorded 463 antisemitic incidents in Greater London, a decrease of 39% from the 759 incidents recorded in London in the first half of 2021; and 104 antisemitic incidents in Greater Manchester, a fall of 43% from the 181 incidents in the comparable time period in 2021. Elsewhere in the UK, CST recorded 21 antisemitic incidents in Borehamwood & Elstree, 11 in Gateshead, 10 in Liverpool and 7 in Leeds. CST recorded an antisemitic incident in all but eight Police regions across the country. 
Read the full Antisemitic Incidents Report January-June 2022.
---
CST Chief Executive Mark Gardner said:
"The January to June total has fallen, but that is of limited comfort, because last year was a record high due to the May 2021 war in the Middle East. Without that conflict or the influence of other factors like the pandemic, these latest figures show that the base level of anti-Jewish hatred remains far too widespread; and may even be worsening amongst younger people."
HM Government's Independent Adviser on Antisemitism, Lord Mann, said:
"CST's latest incident report highlights why action to tackle antisemitism must remain a priority under out new Prime Minister. Though there has been a welcome drop from the historic high last year, we cannot allow the continued level of antisemitic incidents to go unchallenged. I will report in the autumn on my review of work in parliament to tackle antisemitism since 2006, which will provide further impetus to tackle anti-Jewish hatred in the UK".
DCC Mark Hamilton, the National Policing Lead for hate crime said:
"As ever, we are grateful for the valuable work CST does to support and protect Jewish communities, as well as others affected by hate crimes. The robust partnerships with local police and our Information Sharing Agreements mean that this data is likely to mirror our own, when national crime statistics become available. It is not surprising to see a fall compared to last year, given the huge spike that we experienced during the conflict in the Middle East in May 2021. Whilst the UK remains amongst the safest places in the world for Jewish people to live, even these reduced levels are unacceptable. The right to live free from targeted abuse is a fundamental right that we all share and we will continue to work to bring offenders to justice. I encourage anyone who suffers such a crime to report it, either to the police or to CST."
Read More