CST Blog
Antisemitic Incidents Report 2022
9 February 2023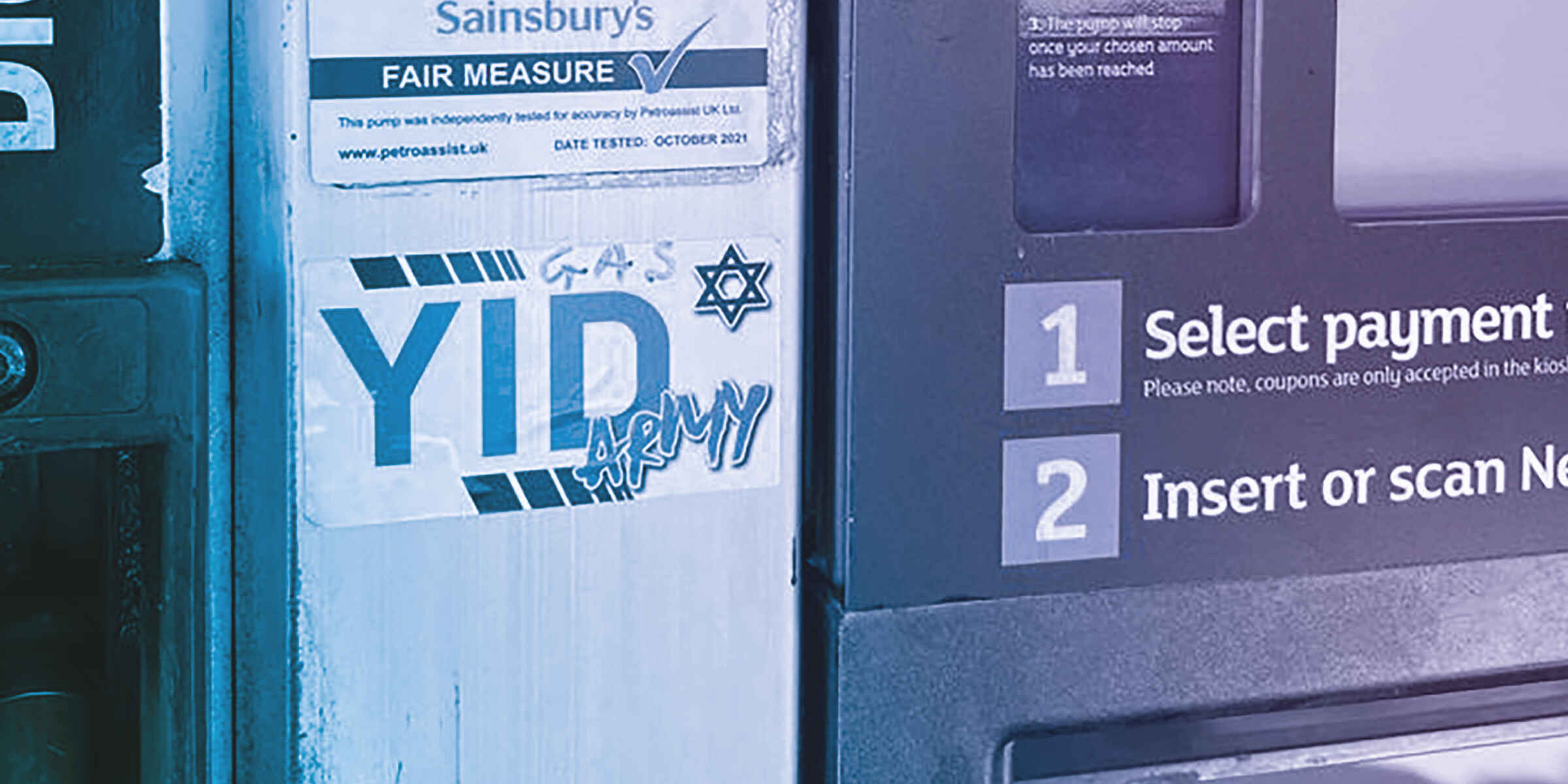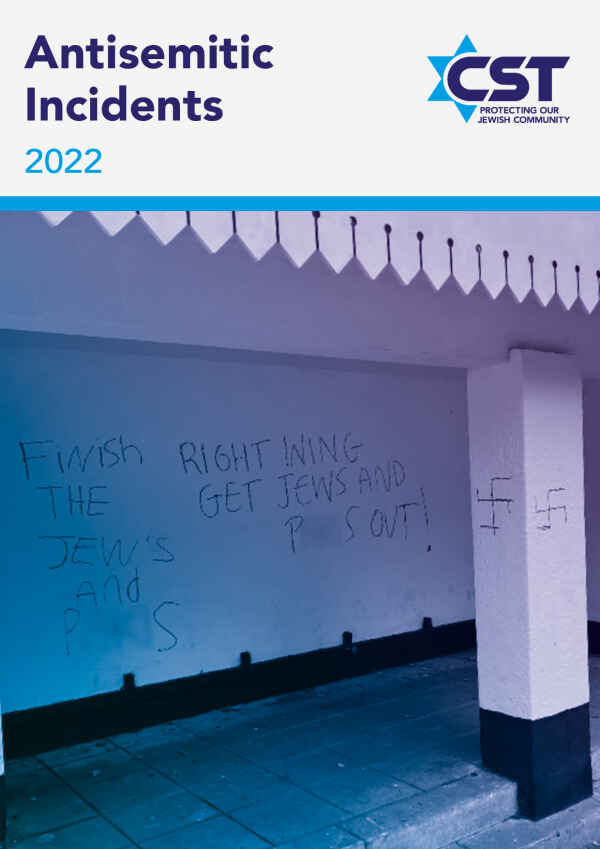 CST's Antisemitic Incidents Report 2022, published today, shows 1,652 anti-Jewish hate incidents recorded nationwide in 2022. This is the fifth-highest annual total ever reported to CST, and a 27% decrease from the 2,261 antisemitic incidents in 2021, which was a record high sparked by antisemitic reactions to the conflict in the Middle East that year. CST recorded 1,684 incidents in 2020, 1,813 in 2019 and 1,690 in 2018. CST has been recording antisemitic incidents since 1984.
An additional 615 reports of potential incidents were received by CST in 2022 but were not deemed to be antisemitic and are not included in this total of 1,652 incidents. Many of these 615 potential incidents involved suspicious activity or possible hostile reconnaissance at Jewish locations; criminal activity affecting Jewish people and buildings; and anti-Israel activity that did not include antisemitic language, motivation or targeting.
The fall in reported incidents serves to illustrate the unprecedented volume of anti-Jewish hate recorded by CST in May and June 2021, during and following the escalation of violence between Israel and Hamas. In 2022, there was no similar external circumstance to have such an impact on the content or scale of antisemitic incidents in the UK. While the relative drop was predictable, the overall figure remains significant. Over 100 cases of antisemitism were reported each month, and the average monthly total was 138 incidents. For comparison, barring May and June – when incident figures were affected by the war-related surge in reports - the average monthly total in 2021 was 116 incidents. Without any relevant trigger event, the 1,652 instances of anti-Jewish hate recorded in 2022 can be considered a 'new normal' for antisemitism in the country, far exceeding what was typically observed prior to 2016.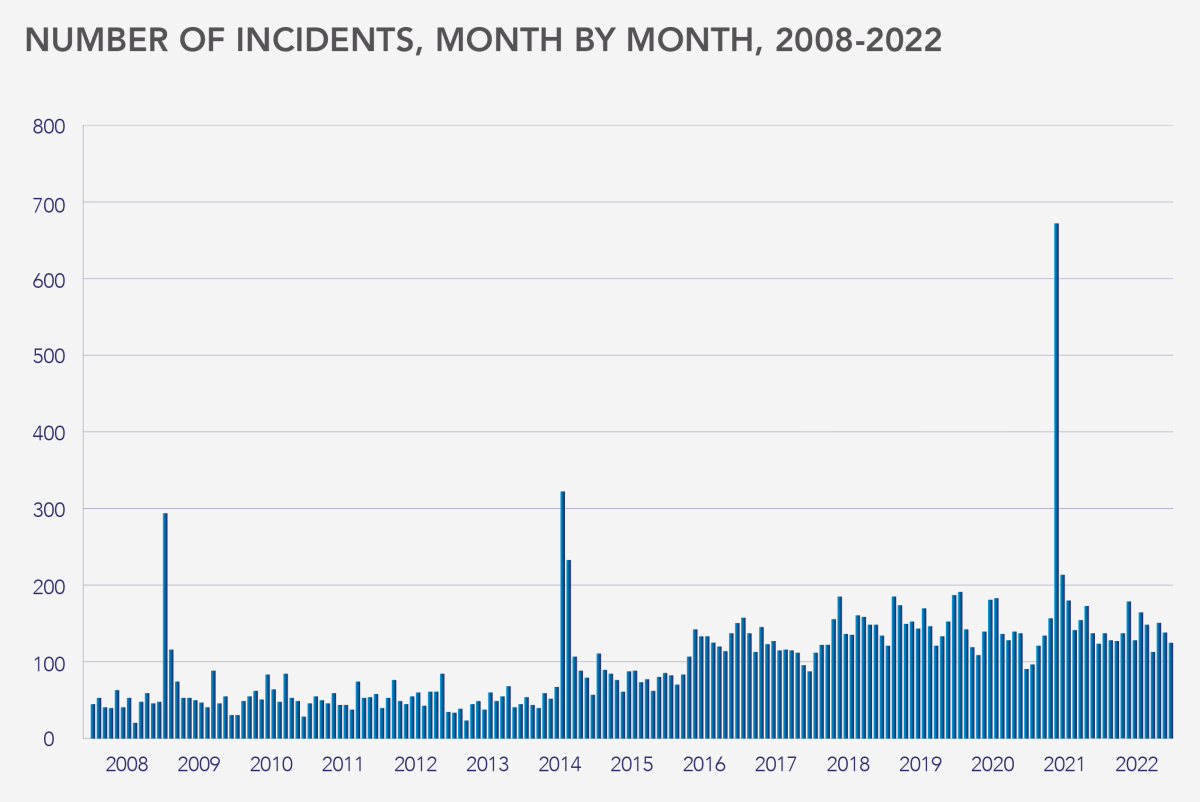 Over three-quarters of all antisemitic incidents in 2022 took place offline: 1,294 incidents out of the total of 1,652. This is the second-highest total for offline incidents ever recorded by CST, forming 78% of the total. It suggests that in-person antisemitic activity has returned in force since the outbreak of Covid-19, during the first full year since 2019 in which no pandemic restrictions were applied in the UK. These incidents include face-to-face verbal abuse, assault, threats, graffiti and hate mail.
In contrast, the number of online incidents reported to CST fell by 35%, from 552 online incidents in 2021 to 358 in 2022. Online incidents formed 22% of the overall total for 2022, compared to 24% in 2021, 38% in 2020, and 39% in 2019. This is further reflected in the drop-off in 'Zoombombing', wherein online video conferencing events are hijacked with antisemitic material, from 16 in 2021 to just four in 2022. Likewise, antisemitic abuse that contained references to Covid-19 diminished from 78 cases in 2021 to eight in 2022, as the pandemic faded from prominence in news and media coverage. It suggests that the volume of pandemic-related antisemitic incidents recorded in the previous two years was largely a response to a novel and uncertain situation, which included frustration at the restrictions placed on daily activity, or simply reflected the way that hate crime perpetrators will use language that is inspired by whatever is in the news.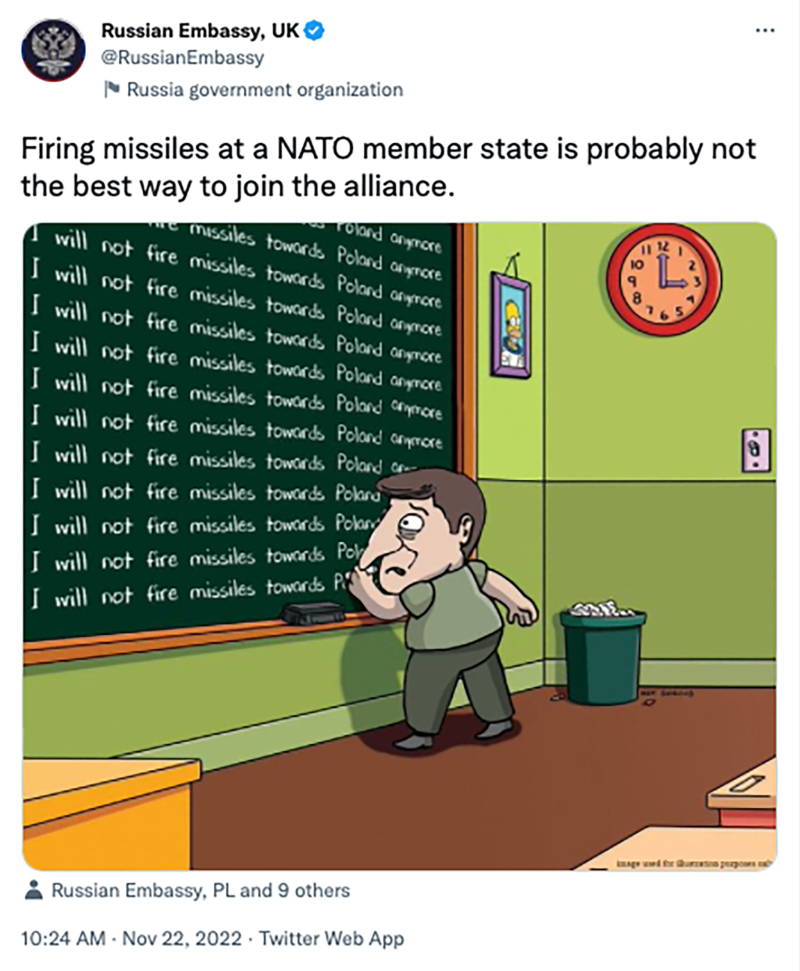 In 2022, the anti-Jewish manipulation of current affairs was observed in the 16 incidents that were in some way inspired by the war in Ukraine. They included conspiracy theories accusing Jewish people of causing and bankrolling the war, and of Jews being behind every aspect of the conflict, filling positions of power and pulling the strings on both the Ukrainian and Russian sides; pro-Putin and pro-Russian sentiment that favourably compares the Russian President to Adolf Hitler and Russia to Nazi Germany; attacks on "Zionist" Ukrainian President Volodymyr Zelenskyy for his Jewish identity; and comparisons between Russia's aggression and Israel's actions. Although relatively few in number, these incidents demonstrate how some antisemitic incident offenders will repurpose established antisemitic ideas, theories and stereotypes to fit with whatever is prominent in wider public discourse.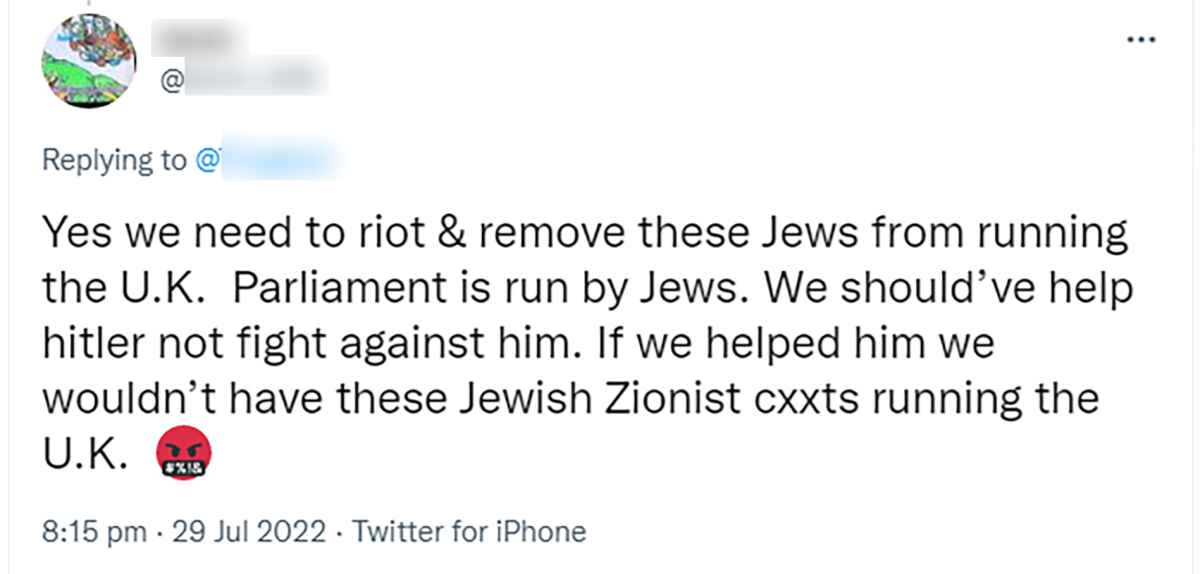 Changes were also seen in the number of incidents containing rhetoric linked to Israel and Palestine alongside anti-Jewish language or targeting. They fell from 826 in 2021 – fuelled largely by anger about the conflict – to 244 in 2022, typical of a year without a substantial intensification of hostilities in the Middle East. Instead, the most common discourse observed included references to Hitler, the Nazis, the Holocaust or other aspects of the Nazi era, present in 28% of all antisemitic incidents reported to CST (although it also decreased in absolute terms, from 503 such incidents in 2021 to 465 in 2022). Ninety-nine of these showed evidence of far-right extremist beliefs, beyond the superficial appropriation of Nazi-era references. Strikingly, there were more antisemitic incidents in 2022 that celebrated and glorified the Holocaust (79 incidents) than those that denied it (19 incidents).

An alarming trend that began in 2021 persisted in 2022, whereby the proportion of incidents involving children as victims, offenders, or both, was higher than the averages typically observed in previous years. In incidents where CST obtained the victim or victims' age, 15% were minors, and 20% of incidents where the offender or offenders' age was provided involved child perpetrators. This is similar to 2021 but a significant change from 2020, when just 8% of victims 10% of offenders were minors. This happened despite the decrease in anti-Jewish hate reported to have taken place in a school-related context, from 183 instances in 2021 (when educational environments proved to be hotbeds of antisemitic reactions to the war in Israel and Gaza) to 94 in 2022.  
It suggests that the surge in antisemitism enacted by a younger demographic, while initially a reaction to events in the Middle East and responsible for the spike in school-sector anti-Jewish hate last year, runs deeper than the desire to blame Jewish people for wars involving Israel. Offenders under the age of 18 years were also more likely to incorporate politicised, conspiracist or extremist rhetoric within their antisemitism. These discourses were employed in 52% of incidents with child perpetrators, compared to 49% of incidents perpetrated by adults. Only 11 of these 159 reports contained references to the Middle East, but Holocaust or Nazi-related rhetoric and discourse was used in 66. These figures may reflect a growing exposure of younger people to extremist beliefs and conspiracy theories about Jews, which abound on the social media platforms where this demographic is perhaps more likely to spend a large amount of time. The picture from 2022 also suggests that incidents involving minors are more likely to involve violence: in 31% of the violent incidents recorded by CST the victim was a minor, as was the perpetrator in 24% of violent incidents in 2022.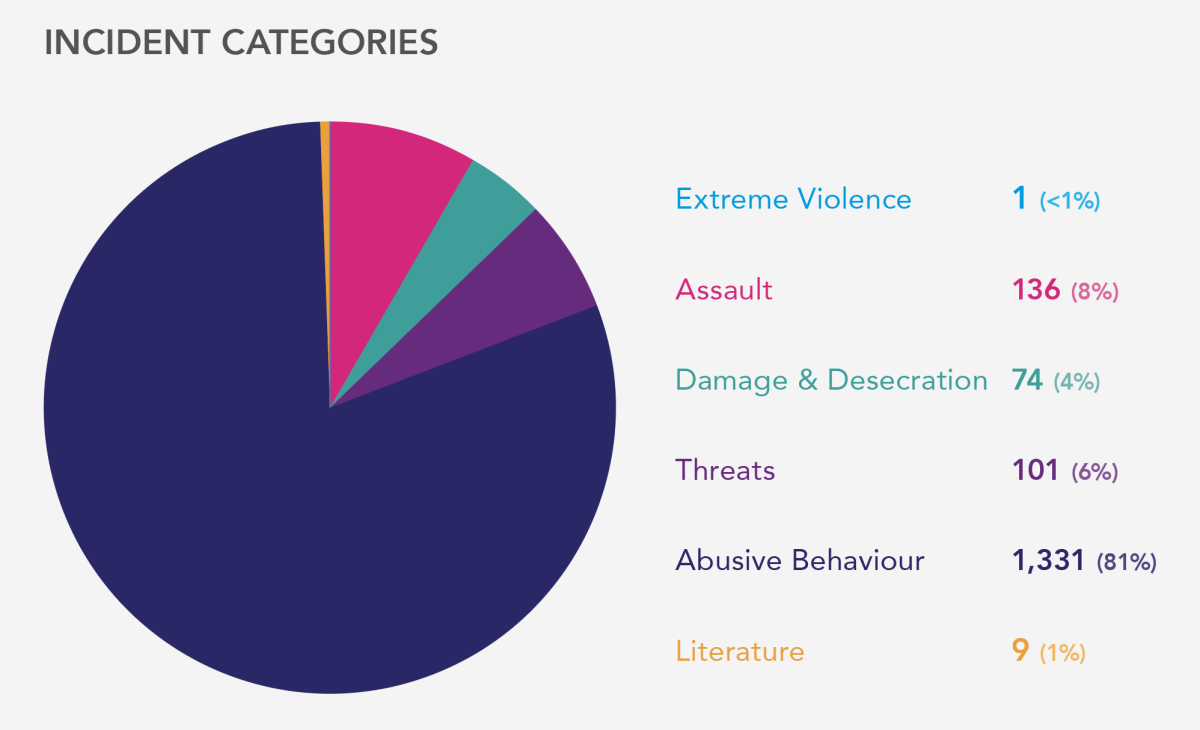 CST recorded 136 antisemitic incidents in the category of Assault in 2022, a decrease of 22% from the 174 incidents in this category in 2021, and an additional incident severe enough to be classified as Extreme Violence (meaning it involved a threat to life or Grievous Bodily Harm). This combined total of 137 violent incidents comprises 8% of the overall total, equal to their proportion of 2021's record high.
CST recorded 74 incidents of Damage & Desecration of Jewish property in 2022, a 10% fall from the 82 incidents of this type in 2021. There were 101 direct antisemitic Threats, a 29% fall from the 143 incidents in this category in 2021; and nine incidents of mass-produced antisemitic Literature in 2022, one fewer than the 10 such incidents during 2021.
CST recorded 1,331 antisemitic incidents in 2022 in the largest incident category of Abusive Behaviour, which covers verbal abuse, antisemitic graffiti, most online antisemitism and one-off examples of hate mail. This was a decrease of 28% from the 1,849 incidents in this category during 2021. Eighty-one per cent of all antisemitic incidents reported during 2022 fell into this category.
CST recorded 920 antisemitic incidents in Greater London, a decrease of 27% from the 1,259 incidents recorded in London in 2021; and 210 antisemitic incidents in Greater Manchester, a fall of 26% from the 284 incidents in 2021. Elsewhere in the UK, CST recorded 32 antisemitic incidents in Gateshead, 31 in Liverpool, 30 in Borehamwood & Elstree, 28 in Leeds and 20 in Brighton & Hove. CST recorded an antisemitic incident in all but five Police regions across the country.
Read the full Antisemitic Incidents Report 2022.
---
CST Chief Executive Mark Gardner said:
"Years of anti-Jewish hate have left a lasting legacy, and what we consider 'normal' today would have been an alarm call just a few years ago. The growing involvement of younger people in antisemitism shows us what the future may hold if we do not address this problem urgently, consistently and with a lasting commitment for action."
Home Secretary, Suella Braverman MP, said: 
"While I welcome the reduction in the number of antisemitic incidents recorded by the Community Security Trust, it is a sobering reminder that antisemitism continues to be a scourge on our society, and we cannot be complacent. I am committed to ensuring the despicable people who commit these crimes feel the full force of the law. Our absolute priority is to get more police onto our streets, cut crime, protect the public and bring more criminals to justice. I applaud the continued efforts of CST to protect Jewish people and stamp out these abhorrent crimes, and I look forward to continuing to work together to tackle antisemitism in all its forms."
Shadow Home Secretary, Yvette Cooper MP, said:
"The high numbers of antisemitic attacks are deeply disturbing and reinforce the need for the vital work that the Community Security Trust does. While it is welcome that the number of incidents has fallen they remain shockingly high and it is clear that we must never be complacent in the face of the scourge of antisemitism. Tackling online extremism also needs to be a central part of a new Counter Extremism strategy. We must all redouble our efforts to call out antisemitism wherever we see it, to challenge the pernicious myths that fuel anti-Jewish hatred and remain vigilant to the prejudices that can spring up at any time."
HM Government's Independent Adviser on Antisemitism, Lord Mann, said:
"Whilst I welcome the fact that there has been a 27% decrease, it is unacceptable that the underlying baseline of what is considered normal pre-pandemic is still the fifth-highest total ever recorded. This highlights the importance of the Community Security Trust for the safety of the Jewish community in Britain. It also acts a reminder that we must remain vigilant. The Jewish community should be able to live their lives free from hatred, abuse and violence both online and offline and these figures demonstrate the vital need for antisemitism education in schools." 
DCC Mark Hamilton, the national policing lead for hate crime said:
"It is always welcome to hear of reductions in recorded hate crime but, as ever, the headline can give false impressions and we need to delve into the data to find the real impact on our society. This drop from the previous year is little comfort, given the record high seen in 2021. Notably 2022 is still relatively high compared to historical averages. The CST analysis provides us with valuable nuance and gives us an early indicator of expected levels of police recorded hate crime that will be released by the Home Office later this year. A key message I take from the analysis of data over time is the extent that communities in the UK are affected by global conflict and atrocities. We have had to evolve our responses to react early to global factors and to put in place measures to protect affected groups in the UK. Our partnership with charities like the CST is invaluable in this process and their rapid and comprehensive analysis of community sentiments is an integral part of our threat analysis and preventative responses. Ultimately the professionalism and dedication of CST partners helps to protect not only Jewish citizens, but also the wider society. The right to live free from targeted abuse is a fundamental right that we all share and we will continue to work to bring offenders to justice. I would encourage anyone who suffers such a crime to report it, either to the police or to CST."
Read More