CST Blog
The Persistent Threat of Iranian & Hizbollah Terrorism
18 July 2023
Written by Eran Benedek, CST's Senior Threats Analyst 
July 18 marks the anniversaries of the terrorist bombings of the AMIA Jewish community centre in Buenos Aires, Argentina 29 years ago (1994) and of an Israeli tourist bus outside Burgas airport in Bulgaria 11 years ago (2012).
The double tragedies are a bitter reminder of the 85 people killed in AMIA and 6 people killed in Burgas, all of them victims of Iranian and Hizbollah terrorism. They are a stark demonstration of Iran and Hizbollah's continued efforts to weaponize sensitive anniversaries by committing further attacks.
Commemorations of these attacks also highlight the consequences for community morale and resilience in the face of a catastrophic attack, underling the importance of robust communal security. And yet the passage of time can cloud the historical record, weakening memories of the extent of Iran and Hizbollah's terrorist operations worldwide.
In fact, the day after the AMIA bombing, on 19 July 1994, a Hizbollah suicide bomber took down mid-flight an Alas Chiricanas Airlines carrier travelling from Colón to Panama City. Twelve of the 18 passengers were Jewish, including three Americans and four Israelis.
Similarly, within days of Hizbollah's Burgas bombing, Bulgarian authorities also arrested an IRGC-Quds Force operative surveilling a synagogue in Sofia. And 11 days before the Burgas bombing, another Hizbollah operative was arrested (and later convicted) in Cyprus of planning to attack Israelis, confessing to authorities that he "was just collecting information about the Jews, and this is what my organisation is doing, everywhere in the world".
The AMIA and Burgas tragedies, then, exist within a wider context. Iran and Hizbollah were and remain motivated to target Jews, Israelis and Iranian dissidents worldwide. They possess global terrorist capabilities that are evidenced by a record of international criminal activities and covert operations spanning four decades.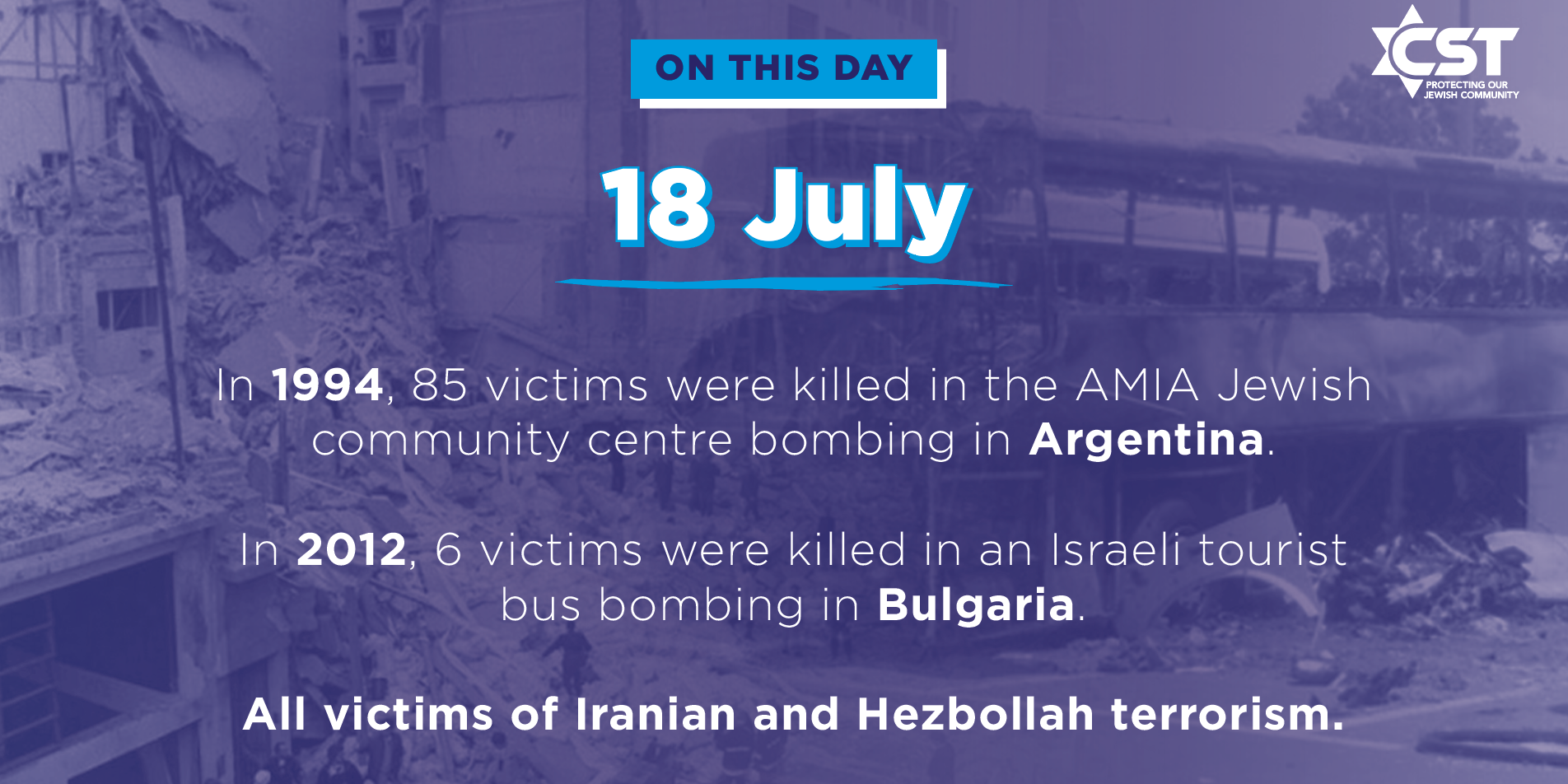 This long-term campaign of anti-Jewish terrorism is underpinned by the promotion of antisemitic views from senior Iranian leaders. In April 2022, for example, the commander of the IRGC's Quds Force, Brig-Gen Esmail Qaani, praised that, "the heroic children of Palestine conduct operations at the heart of the Zionist regime and shake this squalid Jew".
The same month, the IRGC's commander-in-chief, Maj-Gen Hossein Salami, called the Holocaust a "fake event", lauded the jihadist attacks in Israel and declared that Ayatollah Khomeini's original threat that "Israel should be wiped off the face of the earth" was not a simple phrase but part of a long-term strategy.
The following blog offers an update on past and current trends and summarises key statements by British officials of Iranian threats to the UK. At the end, a table provides an updated list of some 20 disrupted Iranian operations against Israeli and Jewish targets between 2020 and 2023.
Methods and targets
Of course, Iranian and Hizbollah terrorism is not new. The threat has been persistent for over four decades, with varying levels of intensity at different periods. In July 2023, the UK Foreign, Commonwealth and Development Office highlighted that, "Iranian threats to the UK and our partners are not a new phenomenon", citing European and British officials condemning past Iranian operations in France, the Netherlands and Denmark.
Since the 1979 Iranian revolution, Iran has been involved in over 100 global operations, according to seminalresearch by Matthew Levitt, a terrorism expert and former counterterrorism official with the FBI and US Treasury official:
"Over the past 40-plus years, the Islamic Republic of Iran has targeted dissidents, Western opponents, Israelis, and Jews in assassination plots, abduction plots, and surveillance operations that facilitate both…It has done so consistently over the years, including at times and in places where carrying out such operations could undermine key Iranian diplomatic efforts, such as negotiations over the country's nuclear program".
Iran and Hizbollah often use a range of methods in preparing and undertaking their global operations. Displaying both sophisticated and poor tactics, Iranian and Hizbollah operatives have used the following recurring modus operandi:
Long-term pre-attack planning, often over the course of several months or years
Hostile reconnaissance and information collection
Assembling "human target packages" to kill or capture adversaries
Subcontracting surveillance and assassination operations to criminal gangs
Using diplomatic, business and education cover stories to disguise operational activities
Recruiting operatives worldwide, especially those with dual nationalities and Western passports
Counter-surveillance tradecraft, which are sometimes sloppy, sometimes professional
Infiltrating Iranian dissident groups under cover stories or coercive tactics to flip their allegiance
In particular, Iran and Hizbollah favour using operatives, proxies and hired criminals to undertake hostile reconnaissance against targets, often over a period of weeks or months.
Over the last 40 years, most of Iran's external operations have targeted Iranian dissidents, followed by cases targeting Jews and Israelis, diplomats, Western interests (including politicians and state VIPs) and others, respectively. (Levitt's research also shows that at least five operations involved the fatwa against Salman Rushdie.)
Historic terrorist operations
Consider the following selected cases demonstrating the longevity and consistency of Iranian and Hizbollah behaviour:
In 1985, Hizbollah claimed responsibility for bombs planted at the Great Synagogue and the office of a US airline in Copenhagen, injuring twenty-two victims and damaging a Jewish old age home was damaged.
Between December 1985 and September 1986, Iran reportedly provided logistical support for a Hizbollah cell that bombed some 15 locations in Paris against various targets, including Jewish community locations, killing 13 victims and wounding 250.
In 1987, Iran was behind two separate attacks in London: a car bombing that injured a former Iranian cabinet member and chairman of a local Iranian dissident group and the execution of two Iranian monarchists, a father and son, who were shot dead inside their flat while were living in exile.
In 1992, an Iranian operation using Hizbollah operatives infamously assassinated four Iranian Kurdish dissidents in a shooting attack at the Mykonos café in Berlin.
Contemporary terrorist operations
In the last four decades, Iran and Hizbollah are likely to be responsible for over 50 completed, failed or foiled terrorist attacks specifically targeting Israeli and Jewish targets worldwide.
In the last three years alone, Iranian operations have reportedly targeted synagogues, Israeli businesspeople, tourist venues, Iranian journalists and others in over a dozen countries worldwide, including in the UK and Europe. It is notable that these plots are not restricted to Israeli targets, but also target Jewish community buildings. This itself follows an intensification of Iranian efforts to target these and other targets in recent years.
German authorities, for example, suspect that Iran is behind the targeting of three synagogues in North Rhine-Westphalia in November 2022.
In July 2023, an Afghan national was arrested in Azerbaijan suspected of planning with others to target the Israeli Embassy in Baku. A couple weeks earlier, in late June, authorities in Cyprus thwarted a suspected Iranian plot to attack Israeli businesspeople, a Chabad House, as well as hotels and entertainment venues frequented by Israeli tourists in Limassol.
In March 2023, Greek authorities arrested two Iranian-born Pakistani nationals on suspicion of planning an Iranian-directed attack during Passover against Israelis and Jews.
The suspects in Athens allegedly conducted hostile reconnaissance of the area and were in the final stages of planning the attack on the Chabad House, which runs religious services, a kosher food shop and the Gostijo kosher restaurant. According to Greek media, the suspects were reportedly in WhatsApp contact with an Iran-based handler who instructed them to photograph and film the Chabad House and detonate a gas balloon tank.
Iranian threats to the UK
In February 2023, the UK's Security Minister, Tom Tugendhat MP, addressed Parliament about the threat of Iran and its operatives in the UK. In addition to emphasising that "the Iranian Intelligence Services work with organised criminal gangs", he also provided what is almost certainly the first official acknowledgement of Iranian targeting of Jews in the UK.  In Tugendhat's words:
"Between 2020 and 2022, Iran tried to collect intelligence on UK-based Israeli and Jewish individuals. We believe this information was a preparation for future lethal operations".
 Tugendhat elaborated shortly after in an interview with the Jewish Chronicle:
 "You can be very clear that I wouldn't have mentioned Jewish and Israeli targets unless I had good reason to do so…I take all threats against anyone in the UK very seriously and the reason I highlighted Israelis and the Jewish community is that we have been seeing threats and Iranian operational activity directed against them. I do not issue these warnings lightly".
Tugendhat's statements followed a marked change in tone by UK authorities warning very publicly about Iranian threats. In November 2022, Ken McCallum, the Director-General of MI5, described Iran as "the state actor which most frequently crosses into terrorism" and emphasised that Iran "projects threat to the UK directly, through its aggressive intelligence services".
McCallum also revealed that Iran – at that time – was behind 10 plots since January 2022 to kidnap or kill UK-based individuals considered enemies of the regime.
At present, UK authorities say they have disrupted 15 credible Iranian threats since January 2022 to kill or kidnap UK-based individuals. And since last year, British police have warned UK-based Iranian dissidents of threats, including "credible threats" to their lives, from Iranian state services.
For example, the west London offices of Iran International, an opposition media outlet, received armed protection in late 2022. And in February 2023, an Austrian national, who was arrested outside Iran International's offices, pleaded not guilty to a terrorism offence for allegedly filming and photographing the building's security arrangements.
On 6 July 2023, UK Foreign Secretary James Cleverly, who addressed Parliament to introduce a new sanctions regime against Iran, emphasised that Iran continues to target Persian-language media outlets and Iranian journalists. He also contextualised this as part of Iran's wider operations worldwide:
"We know from working closely with our international partners that these Iranian menaces extend beyond the UK to the rest of Europe and the wider world. In March 2023, an Iranian-orchestrated plot was stopped in Athens. We have seen similar attempts in the United States of America, Türkiye, France and Denmark. Such brazen activity is unacceptable."
The threat continues
The threat is not diminishing and may, in fact, be accelerating. In early July 2023, Iran's Ministry of Intelligence (MOIS) announced that it plans to continue operations abroad to pursue members of the Iranian opposition Mojahedin-e Khalq Organisation.
In its statement, MOIS even connected its anti-opposition threats with "Zionist murderers", writing that "certain long-time state sponsors of terrorism in Europe and America are still bound to giving a kiss of life and revving the terrorist cult under the direction and pressure from Zionist murderers". MOIS also warned that, "the terrorist proxy acting on behalf of the passing Zionist regime... shall be entirely rooted out".
These statements are in keeping with Iran's long record of promoting antisemitism as a component of its foreign policy. In April 2022, for example, the commander of the IRGC's Quds Force, Brig-Gen Esmail Qaani, praised that, "the heroic children of Palestine conduct operations at the heart of the Zionist regime and shake this squalid Jew".
The same month, the IRGC's commander-in-chief, Maj-Gen Hossein Salami, called the Holocaust a "fake event", praised the jihadist attacks in Israel and declared that Ayatollah Khomeini's original threat that "Israel should be wiped off the face of the earth" was not a simple phrase but part of a long-term strategy.
Why robust security is essential
The AMIA attack remains among the worst terrorist attacks against a Jewish target in the history of modern terrorism. The fact that the victims have yet to receive justice exacerbates the pain, as Buenos Aires-based investigative journalist Javier Sinay chronicles in a recent and harrowing essay in the Jewish Quarterly.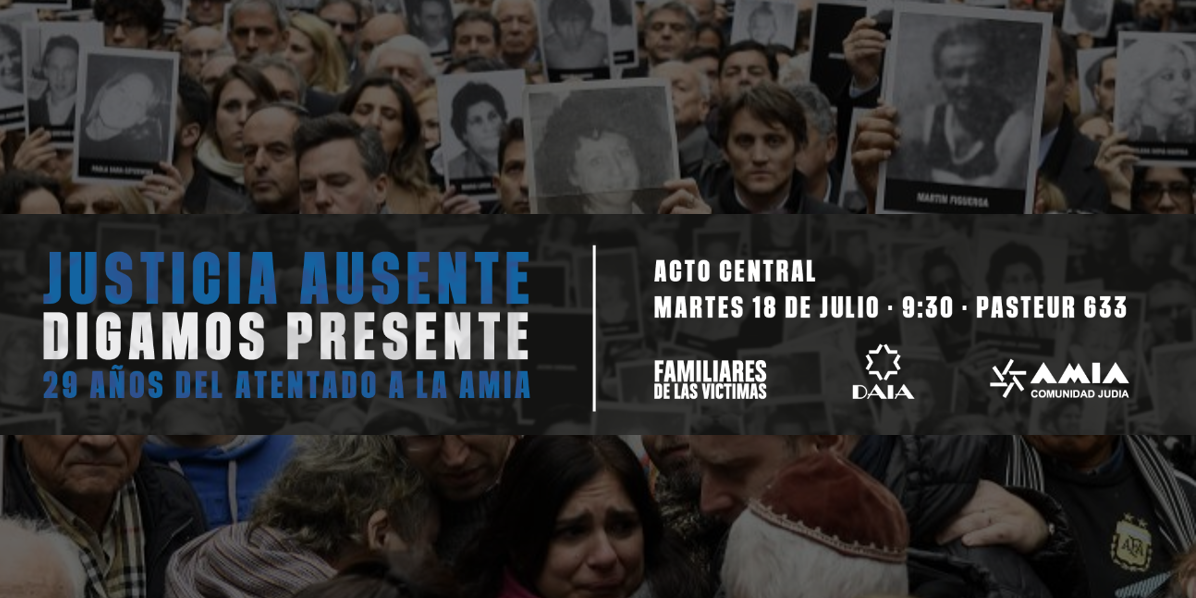 Among CST's core missions is to counter antisemitism and protect the UK Jewish community from threats related to anti-Jewish terrorism and violence. The broader history of anti-Jewish terrorism from a variety of extremist ideological sources demonstrates why diaspora Jewish communities devote so many resources to organising security for buildings and communal events.
The trends and patterns described above should be a clear reminder, if it were needed, that the threat of Iranian and Hizbollah terrorism remains acute and directed against a variety of potential targets. Our responsibility is to learn from these trends and translate them to practical security lessons to protect individuals and facilities across the UK and abroad.
TABLE: IRANIAN OPERATIONS TARGETING JEWS AND ISRAELIS WORLDWIDE, 2020-2023 
| | | |
| --- | --- | --- |
| Date | Country  | Target |
| Jul 2023 | Baku, Azerbaijan | Attack plot on Israeli Embassy |
| Jun 2023 | Limassol, Cyprus | Attack plot on Israeli businesspeople, tourists & Chabad House |
| Mar 2023 | Athens, Greece | Attack plot on Chabad House  |
| Nov 2022 | NRW, Germany | Attack plot on synagogue in Dortmund |
| Nov 2022  | NRW, Germany | Attack plot on synagogue in Bochum (arson at nearby school) |
| Nov 2022 | NRW, Germany | Shots fired Old Synagogue in Essen |
| Nov 2022 | Tbilisi, Georgia | Assassination plot on Itzik Moshe  |
| Jun 2022 | Istanbul, Turkey | Attack plot on Israeli tourists |
| Apr 2022 | Istanbul, Turkey | Assassination plot on Israeli diplomat  |
| Feb 2022 | Istanbul, Turkey | Assassination plot on Yair Geller  |
| Nov 2021 | Kenya | Attack plots on Israeli tourists & local targets |
| Nov 2021 | Senegal, Ghana & Tanzania | Attacks plots on Israeli tourists & businesspeople |
| Nov 2021 | Cyprus | Attack plot on five Israelis living in Cyprus |
| Nov 2021 | Bogotá, Colombia | Attack plot on Israeli businessman |
| Oct 2021 | Cyprus | Attack plot on Teddy Sagi & Israeli businesspeople  |
| Jun 2021 | Bogotá, Colombia | Attack plot on Israeli businesspeople |
| Jan 2021 | New Delhi, India | Bombing outside Israeli Embassy  |
| 2020-22 | United Kingdom | Intelligence collection on UK-based Israeli & Jewish individuals |
The table is based on CST research and the dataset maintained by Dr Matthew Levitt at The Washington Institute for Near East Policy
Read More