CST Blog
Antisemitic incidents – 16 October update
16 October 2023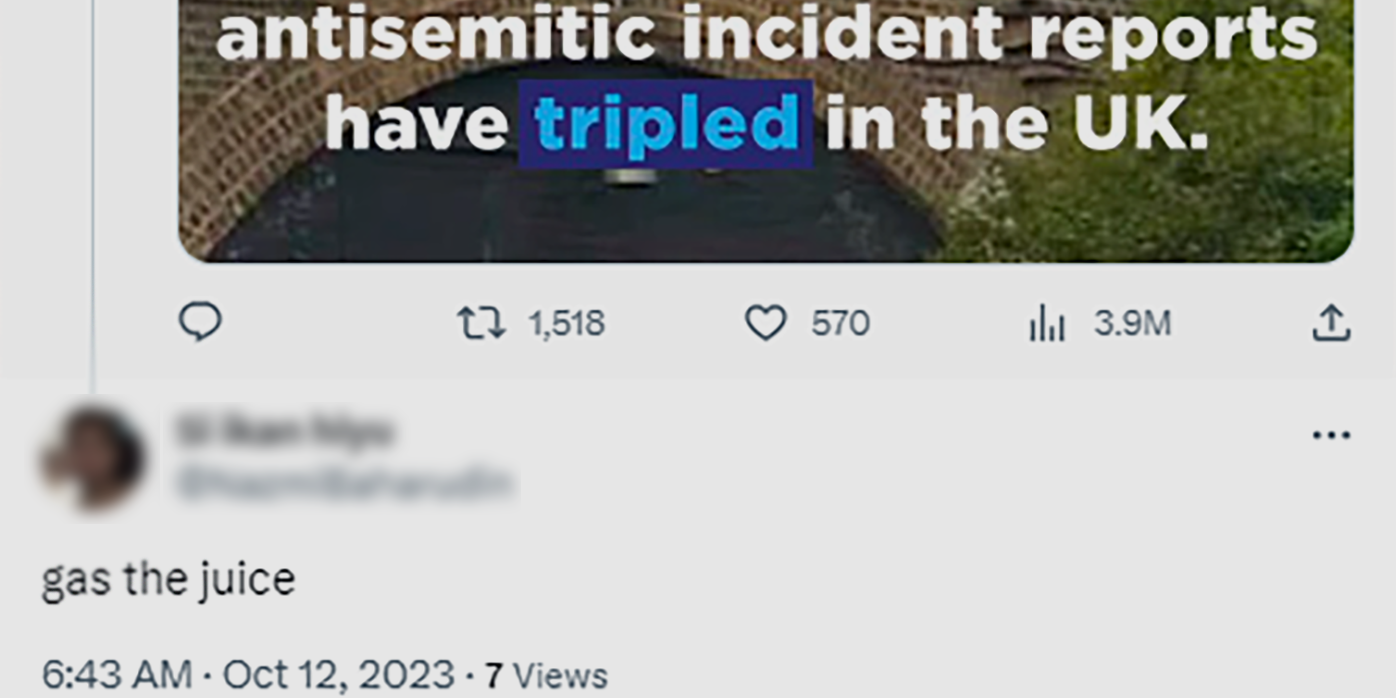 This is an update to the blog post of 13/10/23
In the ten days inclusive between the Hamas terror attack on Israel (Saturday 7 October) Monday 16 October, CST recorded at least 320 antisemitic incidents across the UK. This is a provisional total that is almost certain to increase further as we receive more delayed reports of incidents covering this period, and while we continue to verify and log all the reports that we have currently received.
For comparison, CST recorded 47 antisemitic incidents over the same ten days in 2022. This means that we have seen an increase of 581% this year compared to the same period last year.
These are all instances of anti-Jewish racism, wherein offenders are targeting Jewish people, communities and institutions for their Jewishness. In many cases, these hateful comments, threats to life and physical attacks are laced with the language and symbols of pro-Palestinian and anti-Israel politics.
Even compared to periods of previous conflicts involving Israel, these statistics are unprecedentedly high. The last time a significant spike in antisemitism related to events in the Middle East was recorded occurred in May 2021. During the first ten days of that escalation in violence, 298 antisemitic incidents were reported to CST. Across the first ten days of the conflict in July 2014, we recorded 82. Bear in mind, when comparing these to the 320 anti-Jewish hate incidents recorded since Saturday 7 October, that the figures for 2021 and 2014 are final totals including all late-reported incidents, whereas the current total of 320 incidents is only provisional and will almost certainly increase further.
In addition to the 320 anti-Jewish hate incidents recorded so far, CST also logged at least 209 incidents that have not been classified as antisemitic. These include criminal acts affecting Jewish people and property, suspicious behaviour near to Jewish locations, and anti-Israel activity that is not directed at the Jewish community or does not use antisemitic language.
The 320 antisemitic incidents recorded over this ten-day period fall into the following categories:
15 Assaults
14 Damage & Desecration to Jewish property
46 direct Threats
244 Abusive Behaviour, including verbal abuse, graffiti on non-Jewish property, hate mail and online abuse
1 instance of mass-produced antisemitic Literature
CST has recorded 184 antisemitic incidents in Greater London; 35 in Greater Manchester; 13 in West Yorkshire; eight in the West Midlands; eight in Nottinghamshire; and the remaining 72 incidents were spread across 21 different police regions around the UK.
Two hundred and thirty-four of the 320 antisemitic incidents occurred offline and 86 were online. Many of the online incidents were 'pile-ons' involving multiple antisemitic posts and comments all in the same thread or conversation; CST records these as a single incident.
Thirty-six antisemitic incidents were related to universities across the UK. Meanwhile, 17 incidents targeted Jewish schools, schoolchildren and teachers at non-Jewish schools, or schoolchildren on their way to or from their place of education.
Examples of antisemitic incidents recorded by CST since Saturday 7 October include:
An email sent to a Jewish newspaper editor, praising Hamas
A sticker plastered on a synagogue showing the Prime Minister saying, "I stand with genocide"
"Free Palestine, kill Jews" shouted at the heart of a Jewish community in London
"Palestine will be 3[sic]" written on the sign of a Jewish cemetery, with the word "Jewish" crossed out in the same pen
A threat made over the phone to a Kosher shop in Liverpool, saying, "We are coming to get you"
A Facebook comment from an offender based in Kent, saying, "Shut up Jew boy no one is interested in your crap"
Under a Jewish newspaper's tweet about BBC Arabic journalists being taken off air, an offender wrote, "And you're still going to claim that Jews don't control the media?"
Swastikas were seen daubed in Manchester
Two Jewish schools were splattered with red paint in London
"Free Palestine" was shouted at the residents of a Jewish house in Manchester following by their grocery delivery driver
CST will not stand for this anti-Jewish hatred and nor should anybody else. We urge everyone who experiences or witnesses antisemitism to report it to police and to CST so that those who are trying to intimidate and threaten our community can be investigated, arrested and prosecuted.
To report an antisemitic incident to CST, please use our online form or for urgent or out-of-hours reports please call our 24-hour National Emergency Number 0800 032 3263.
Read More