CST Blog
Antisemitic incidents – 20 October update
20 October 2023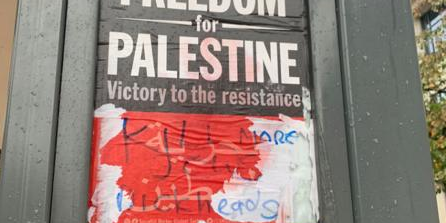 This is an update to the blog post of 18/10/23
In the 14 days inclusive between the Hamas terror attack on Israel (Saturday 7 October) and Friday 20 October, CST recorded at least 533 antisemitic incidents across the UK. This is the highest ever total reported to CST across a fourteen-day period. CST has been recording antisemitic incidents since 1984.
This is also a provisional total that is almost certain to increase further as we receive more delayed reports of incidents covering this period, and while we continue to verify and log all the reports that we have currently received.
For comparison, CST recorded 71 antisemitic incidents over the same 14 days in 2022. This means that we have seen an increase in anti-Jewish hate acts of 651% this year compared to the same period last year.
These are all instances of anti-Jewish racism, wherein offenders are targeting Jewish people, communities and institutions for their Jewishness. In many cases, these hateful comments, threats to life and physical attacks are laced with the rhetoric and iconography of pro-Palestinian and anti-Israel politics.
Even compared to periods of previous conflicts involving Israel, these statistics are unprecedentedly high. The last time a significant spike in antisemitism related to events in the Middle East was recorded occurred in May 2021. During the first 14 days of that escalation in violence, 445 antisemitic incidents were reported to CST. Across the first 14 days of the conflict in July 2014, we recorded 122. Bear in mind, when comparing these to the 533 anti-Jewish hate incidents recorded since Saturday 7 October, that the figures for 2021 and 2014 are final totals including all late-reported incidents, whereas the current total of 533 incidents is only provisional and will almost certainly increase further.
In addition to the 533 anti-Jewish hate incidents recorded so far, CST also logged at least 326 incidents that have not been classified as antisemitic. These include criminal acts affecting Jewish people and property, suspicious behaviour near to Jewish locations, and anti-Israel activity that is not directed at the Jewish community or does not use antisemitic language.
The 533 antisemitic incidents recorded over this twelve-day period fall into the following categories:
19 Assaults
31 Damage & Desecration to Jewish property
58 direct Threats
424 Abusive Behaviour, including verbal abuse, graffiti on non-Jewish property, hate mail and online abuse
1 instance of mass-produced antisemitic Literature
CST has recorded 296 antisemitic incidents in Greater London; 85 in Greater Manchester; 22 in West Yorkshire; 13 in Hertfordshire; 12 in the West Midlands; nine in Nottinghamshire; eight in Merseyside; eight in Scotland; and the remaining 80 incidents were spread across 23 different police regions around the UK.
Three hundred and seventy-one of the 533 antisemitic incidents occurred offline and 162 were online. Many of the online incidents were 'pile-ons' involving multiple antisemitic posts and comments all in the same thread or conversation; CST records these as a single incident.
Forty-five antisemitic incidents were related to universities across the UK. In the first six months of 2023, CST recorded just 17 incidents of this kind, and 56 in the whole of 2022. Meanwhile, 35 incidents targeted Jewish schools, schoolchildren and teachers at non-Jewish schools, or schoolchildren on their way to or from their place of education. Between January and June 2023, 67 incidents in the school sector were reported to CST. Whenever Israel is at war, CST records an increase in anti-Jewish hate across the country, and an acute rise is usually reported specifically in and related to places of education.
Examples of antisemitic incidents recorded by CST since Saturday 7 October include:
Posters of Jewish hostages have been removed or defaced in London, Manchester and Leeds
One man was assaulted while putting up some of these posters, and the offender shouted, "f*ck you Jew" at him
A man removed the mezuzah from a home in Hertfordshire
A man posted the following threat on Instagram: "That's an average Israeli zionistidiot! We, the Arabs, are going to wipe you completely from the face of the earth! You can shove your Torah, your Talmud, your Moses and all your prophets up your stinky a*s!"
A letter was sent to a Jewish school in London, saying, "well done Hamas. You Jews will pay the price for what you have done From a PLO Team"
As a visibly Jewish man was waiting at a bus stop in Manchester, the occupant of a passing vehicle shouted, "filthy Jew!"
A University Rabbi received a direct message on Instagram saying, "You massacred innocent Muslims, I hope you die too"
Three men were walking down a street in London. As the victim walked past, they shouted, "What are you looking at you f*cking Jewish c*nts?"
A visibly Jewish man was at a venue in Liverpool when he was surrounded by a group of men who began to dance around him, shoving him and shouting, "Free Palestine"
CST will not stand for this anti-Jewish hatred and nor should anybody else. We urge everyone who experiences or witnesses antisemitism to report it to police and to CST so that those who are trying to intimidate and threaten our community can be investigated, arrested and prosecuted.
To report an antisemitic incident to CST, please use our online form or for urgent or out-of-hours reports please call our 24-hour National Emergency Number 0800 032 3263.
Read More