CST Blog
CST supports calls for neo-Nazi National Action group to be proscribed
30 November 2016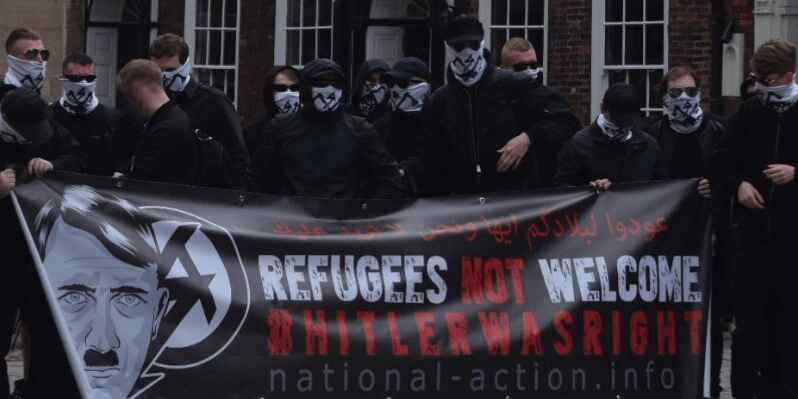 CST welcomes the report in The Times that the neo-Nazi organisation National Action may be proscribed by the government. National Action is a viciously antisemitic and racist neo-Nazi group whose violent and hateful rhetoric has already inspired its follows to commit appalling hate crimes. We would support its proscription as a measure to curb its hateful activities.
National Action idolises Adolf Hitler and often uses Nazi imagery in their publications and online, while proclaiming a "White Jihad". It also showed support for Thomas Mair, who murdered Jo Cox MP in June 2016.
CST has worked closely with the Police and Government to raise the problem of National Action's extremism and incitement since the organisation first emerged around two years ago. As The Times reported, leading National Action activist Jack Renshaw is currently facing investigation following two speeches he made earlier this year in which he called for Jews to be "eradicated". Firstly in February 2016, Renshaw spoke to the Yorkshire Forum and allegedly made an "extremely antisemitic and controversial" speech. Secondly, in March, Renshaw spoke to the North West Infidels at a rally in Blackpool, where he discussed Britain's "Jewish problem". Both of these speeches were referred by CST to the Police for prosecution shortly after they were made. The Crown Prosecution Service told The Times that they are "considering whether to charge Mr Renshaw with inciting racial hatred over comments made at a public demonstration, in front of police officers, in which he threatened to execute left wing opponents, described Jews as "parasites" and declared he was a Nazi."
Dave Rich, Deputy Director of Communications at CST told The Times:
"Anybody who is inciting hatred and violence of that kind needs to be dealt with fully by the law. Actions don't come from nowhere."
Examples of hate crimes carried out by National Action supporters include:
In October 2014 NA supporter Garron Helm was sentenced to four weeks in prison for sending antisemitic messages to Jewish Member of Parliament, Luciana Berger, on Twitter. CST worked closely with Luciana to support her and ensure Helm was brought to justice.
In January 2015, NA supporter Zack Davies stabbed a Sikh man in Tesco in Wales, while shouting "This is for Lee Rigby", and was consequently found guilty of attempted murder and received a life sentence.
In June 2015, NA activists sprayed antisemitic graffiti on a menorah in Cannon Hill Park, Birmingham, and hung a Nazi flag on it. They put a video of this hate crime on YouTube to encourage and incite antisemitism in others. Some of the comments under the video on YouTube include "Gas subhumans jews!Salute from Greece!Heil Hitler!" and "n****r loving b***h I'll hang you and your family at the stake".
Read More