CST Blog
18 times Iran has targeted Jews or Israelis: man on trial in Berlin this week
9 March 2017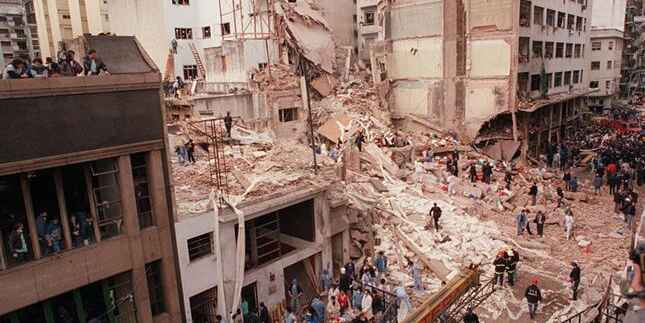 Haider Syed Mustafa, a 31-year-old Pakistani man, went on trial in Berlin this week. Mustafa has been accused of collecting information on Jewish and Israeli targets in Germany and France. This is not the first time Iran, or Iranian operatives, have targeted Jews and Israelis in suspected terror plots or been found to have collected information and Jews and Israelis.
According to this report from the Associated Press:
"Haider Syed Mustafa is accused of having collected extensive information for an elite unit of Iran's Revolutionary Guard on Reinhold Robbe, the former head of the German-Israeli Association in Berlin, and Daniel Rouach, a French-Israeli professor from the Ecole Superieure de Commerce de Paris university.

No pleas are entered in the German system and Mustafa refused to make a statement as the trial opened.

According to prosecutors, Mustafa collected large amounts of information including photos and video of the two men, and details of their workplaces, homes, families and acquaintances as well as the neighborhoods and public transportation they frequented. He then allegedly sent the information to a contact called "Mahmud" who passed it on to the Iranian Quds Force unit.

Prosecutor Michael Greven told the Berlin state court that Mustafa, who came to Germany in 2012 to study for an engineering degree at the University of Bremen, collected the information on Robbe and Rouach between July 2015 and July 2016 on trips to both Berlin and Paris. He spent several days in both cities and "apparently clandestinely" shot more than 900 photos and dozens of videos with a digital camera and with his iPhone. Separately, he also collected information on the Jewish newspaper Juedische Allgemeine in Berlin."
Since September 1986, Iran, or it's proxy Hizbollah, have targeted Jews or Israelis at least 18 times:
Mustafa, who is the subject of the current Berlin trial, studied engineering after arriving in Germany in 2012. He collected over 900 photographs and videos in Berlin and Paris, including of Jewish and Israeli targets. He also collected information about Juedische Allgemeine, a Jewish newspaper in Berlin. If found guilty, Mustafa faces a possible five years in prison.
[Image credit: La Nación) 
Read More