CST Blog
Jewish Security guard Dan Uzan Z"L awarded medal of courage
3 November 2015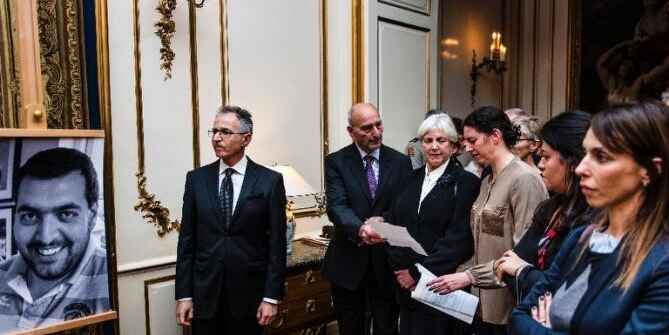 (AFP Photo/Simon Skipper)
Dan Uzan Z"L, the Jewish security guard who was brutally murdered, has been awarded a medal of courage at the French Embassy in Copenhagen. Uzan was slain whilst on duty at the Great Synagogue in Copenhagen during a Bat Mitzvah party on early Sunday 15th February 2015 by gunman Omar El-Hussein.
The Local reported:
"The Danish attacks mirrored the January attack against French satirical magazine Charlie Hebdo, which was followed by a hostage drama at a Jewish supermarket.

Monday's ceremony was also attended by Latifa Ibn Ziaten, the Morocco-born mother of French paratrooper Imad Ibn Ziaten who was killed in March 2012 by Islamist gunman Mohamed Merah in Toulouse.

Claiming inspiration from Al-Qaeda, Merah shot dead a rabbi, three Jewish children and three French paratroopers, before being killed during a stand-off with police at his home."
Uzan's father, Sergeot Uzan, referred to the security threat against Jewish communities:
"Unfortunately there are many volunteer guards that stood and today have to stand guard around the world"
Filmmaker Finn Nørgaard, who was also murdered by Omar El-Huissein, has been posthumously awarded and has been given the Chevalier Des Arts et Lettres – one of France's highest cultural honours.
Read More