CST Blog
Danish Jewish security volunteer Dan Uzan Z"L named 'Dane of The Year'
10 December 2015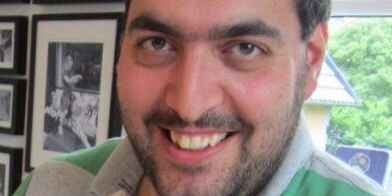 Dan Uzan Z"L, the Jewish security guard who was slain whilst on duty at the Great Synagogue in Copenhagen, has been voted 'Dane of the Year' by Danish Newspaper, Berlingske. Dan was brutally murdered protecting 80 people during a Bat Mitzvah party on early Sunday 15 February 2015 by Danish-Palestinian gunman Omar El-Hussein. Dan was just 37 years old.
Dan was posthumously bestowed with the award by The Berlingske Media group, with 25,353 votes cast. The award is given annually to Danes who have "made the greatest difference in their field." The Berlingske Media Group said:
"Dan Uzan was killed while protecting others, while voluntarily guarding a synagogue while a terror attack took place in the city. He was not just protecting the people inside…but also freedom of religion. He paid with his life."
Danish Prime Minister Lars Løkke Rasmussen told attendees at the award ceremony:
"Dan was, first and foremost, a genuine everyday hero. He stepped up when he knew he was putting himself at risk."
Uzan's sister, Andrea Uzan spoke of her brother:
"Dan has now been honoured and recognized for the values he stood for. Not just in Denmark, but also in Europe and elsewhere in the world. This is something that provides a lot of comfort in our grief."
Dan's commitment to his community was just like that of CST's volunteers who put themselves forward to protect our community. His sacrifice will never be forgotten by CST and has been commemorated by CST naming one of our security teams after him.
Read More