CST Blog
CST Annual Dinner 2016
3 March 2016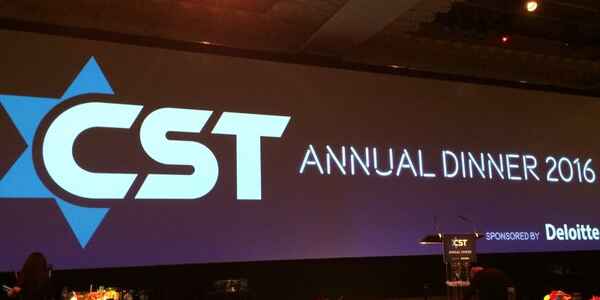 The Home Secretary, Theresa May MP, was the guest of honour at CST's Annual Dinner in central London last night. The dinner is CST's main fundraising event of the year. It was sponsored by Deloitte and attended by around 1,000 guests, including donors, politicians, Police officers, Jewish community partners and other supporters of CST's work protecting our Jewish community.
The guests were welcomed by CST trustee Brook Land, who thanked CST's volunteers for their work throughout what he called "another difficult and challenging year not only for CST and our Jewish community but also for all our British Society and those who safeguard it."
The Home Secretary used her speech to announce that the Government will continue its financial support for Jewish communal security. During the year 2016/17 this will amount to £13.4 million Government funding for security measures, including security guards, at Jewish independent and state schools, colleges and nurseries, synagogues and other community sites, and will be managed by CST.
This announcement is a welcome and necessary sign of financial and moral support that is greatly appreciated by CST and across the Jewish community.
The delivery of this funding will continue the successful system used by CST and the Government since 2010 to administer funding for security guards at Jewish state schools, and extended to cover a much wider range of Jewish buildings in 2015. The funding helps to support the security needs of UK Jewish communal organisations and buildings, rather than being for CST itself.
The event was attended by several politicians from different parties, including Labour Party Deputy Leader Tom Watson MP and London mayoral candidates Zac Goldsmith MP and Sadiq Khan MP.
Senior police officers who came to the dinner to show their support for CST included Commissioner of the Metropolitan Police Sir Bernard Hogan Howe QPM; Greater Manchester Police Chief Constable Ian Hopkins; Thames Valley Police Chief Constable Francis Habgood; British Transport Police Chief Constable Paul Crowther OBE; and GMP Assistant Chief Constable Garry Shewan, who is Lead Officer on Jewish related issues for the National Police Chiefs Council.
Introducing the Home Secretary, CST Deputy Chair Lloyd Dorfman CBE said:
"It's been a momentous three years since you last addressed our dinner. We've seen continuing high-levels of anti-Semitic incidents in Britain. We've seen murderous attacks on Jews in Brussels, Paris and Copenhagen. And it was after the Paris attacks that we well recall, with profound appreciation, the solidarity you showed with our community when you held a placard with the words "Je suis Juif" and declared to the audience, "Without its Jews, Britain would not be Britain."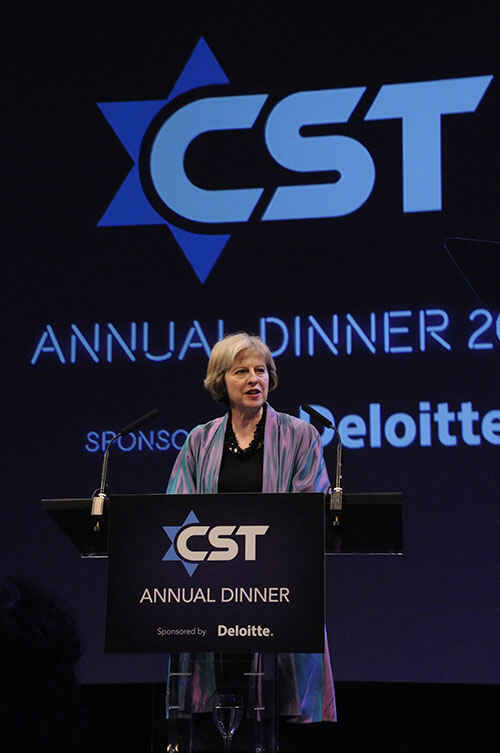 In her speech, the Home Secretary explained the challenge of extremism and the Government's commitment to support the Jewish community. She said:
"No one wants the school where they send their child to need security guards. No one wants their place of worship to have to be fitted with security alarms and blast resistant glass. But until that changes, we are clear we will stand by you…

This is the challenge of our generation. We must not tell ourselves that this will be easy, or that it is a fight that can be resolved overnight. It is a generational struggle.

To win we need to work together as a society. Organisations like the CST – which has been standing up to intolerance and prejudice for years – help make us a stronger country overall…

If we are to defeat extremism, we must do so together. We must expose the extremists' lies and we must not give them an inch in causing tension and division…

And I am determined – and the Government is determined – to stand by our Jewish community. We are with you – now and for the years to come."
Concluding the evening, CST Chair Gerald Ronson CBE thanked the Home Secretary for playing "a leading role" in the government's efforts to combat antisemitism. He also thanked all the Police officers, MPs and civil servants who work throughout the year to support the Jewish community.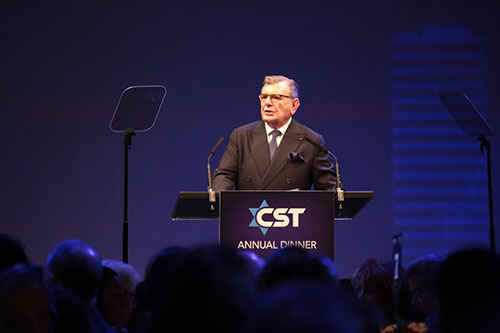 CST thanks all those who made the Dinner such a successful and moving evening. Its primary purpose was to enable CST to deliver the staff, volunteers, training and equipment that our community requires in these challenging times. While antisemitism affects Jews, it is not for Jews to solve on their own. As Gerald Ronson explained in his speech:
"When I was younger, the antisemites had to spread their filth on street corners and in dingy pubs. We used to be called 'Jew-boys'. Now, we are called 'infidels', by Jihadis who film themselves chopping people's heads off and send the footage for angry young men to watch in their bedrooms and on their mobile phones…

As Jews, we also know that antisemitism is a warning about the wider state of society. We are the canary in the coalmine. But this is one canary that has no intention of ending up dead in its cage…

This won't magically end tomorrow. The terrorism is widespread in Africa, the Middle East and Europe. The far Right will react. Nationalism will grow. Barriers will go up, between countries, and between people. Britain might escape the worst of it, but we won't escape all of it.

I doubt these problems are even half way done yet. Now, is not the time to be complacent. That is why the trustees of CST are determined to take everything to the next level, in all of our Jewish communities and in even closer partnership with police, politicians and people of all faiths and backgrounds who oppose this danger."
Read More