CST Blog
CST assists Home Office in formulation of new Hate Crime Action Plan
26 July 2016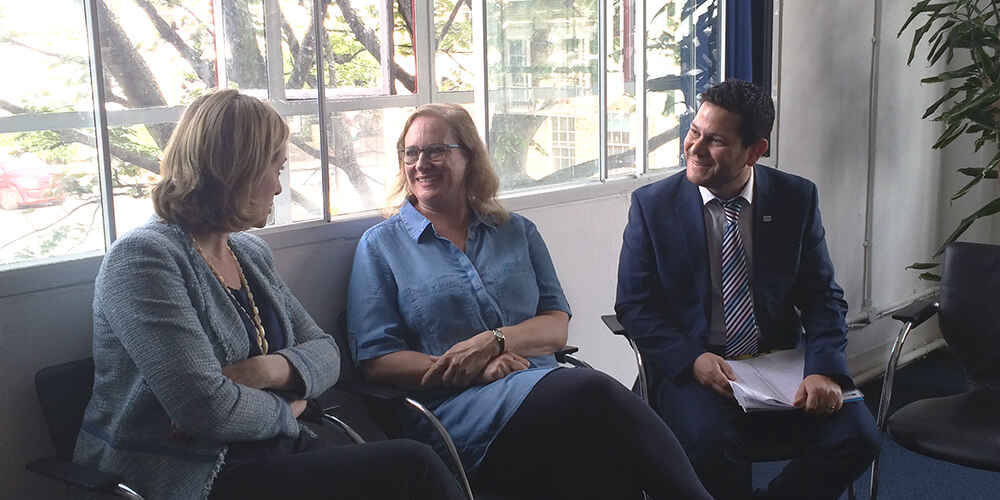 Today the new Home Secretary, Amber Rudd MP, launched the Hate Crime Action Plan at the offices of Galop, the lead organisation behind the CATCH: Community Alliance to Combat Hate project. Though long in the planning stages, it has been launched following a surge in hate crimes being reported since the vote to the leave the European Union. CST had the pleasure of being invited to the launch this morning to discuss the plan with the Home Secretary, alongside community partners including Tell Mama UK and Galop. 
The new Hate Crime Action plan includes a £2.4 million grant to protect vulnerable communities and places of worship including Mosques, Churches and other religious institutions which need protection. Based on the expertise that CST has developed in administering public money in this way, CST has been advising the Home Office in the practicalities of managing a grant to improve the security of all minority communities. Another key objective of the Hate Crime Action plan is to encourage victims of Hate Crime, in whatever form it takes, to report the crime to the Police and to third-party organisations engaged in recording Hate crime, such as CST. It also promises that prosecutors will receive new guidance on racially and religiously motivated hate crimes to ensure they are stamped out. The Home Office has further stressed that they will ask Her Majesty's Inspectorate of Constabulary to evaluate the Police's responses to hate crimes. 
Earlier this month, the Crime Prosecution Service (CPS) released figures to demonstrate that Hate Crimes were being prosecuted. In 2015-2016, 15,442 Hate Crimes were prosecuted, a rise of 4.8% on the previous year. In terms of racially and religiously aggravated hate crime, 13,032 cases were prosecuted, with a conviction rate of 83.8%. CST works closely with the Crime Prosecution Service to ensure hate crimes targeting Jews or the wider Jewish community, are dealt with. CST's Government and International Affairs Director, Mike Whine, sits on the CPS's Scrutiny and Involvement panel, and CST's Deputy Director of Communications represents the Jewish Community on the London Hate Crime Panel.
Amber Rudd commented on the rise of hate crime in Britain: 
"Those who practise hatred send out a message that it's ok to abuse and attack others because of their nationality, ethnicity or religious background. That it's ok to disregard our shared values and promote the intolerance that causes enormous harm to communities and individuals…. Well, I have a very clear message for them. We will not stand for it. Hatred has no place whatsoever in a 21st century Great Britain that works for everyone… We are Great Britain because we are united by values such as democracy, free speech, mutual respect and opportunity for all. We are the sum of all our parts - a proud, diverse society. Hatred does not get a seat at the table, and we will do everything we can to stamp it out."
CST already administers Government funding for security for the Jewish community, and has done since 2010, therefore the £2.4 million in funding set out by the Home Secretary in the Hate Crime Action Plan will not be covering security for Jewish communal buildings. At the CST Annual Dinner in March 2015, following the terror atrocities in Copenhagen and Paris that targeted the Jewish community, Former Prime Minister David Cameron MP announced £11 million in Government funding earmarked solely for Jewish community security. Cameron stated, when announcing the funding:
"If the Jewish community does not feel secure then our whole national fabric is diminished. It is not just about the enormous contribution you all make to our society - it is more profound than that. It is a measure of the vigour of our institutions and the health of our democracy that the Jewish community feels safe to live and flourish here."
At the CST Annual Dinner 2016, Former Home Secretary and current Prime Minister Theresa May announced a continuation of security funding, combining Department for Education and Home Office funding in a £13.4 million grant to the Jewish community for Jewish security measures, including security guards at Jewish schools, colleges, nurseries, synagogues and other communal sites. Theresa May commended CST for protecting our Jewish community and working to combat antisemitism:
"No one wants the school where they send their child to need security guards. No one wants their place of worship to have to be fitted with security alarms and blast resistant glass. But until that changes, we are clear we will stand by you…we need to work together as a society. Organisations like the CST – which has been standing up to intolerance and prejudice for years – help make us a stronger country overall…I am determined – and the Government is determined – to stand by our Jewish community. We are with you – now and for the years to come."
CST will continue to work closely with the Crime Prosecution Service to ensure that antisemitic hate crimes are dealt with in a sensible manner. CST is also pleased to continue administering the Government security funding for the Jewish community, and is very glad to have played its part in the formulation of the new hate crime action plan.
Image: Home Secretary Amber Rudd with CST's Jonny Newton and a representative of Galop
Read More