CST Blog
Man handed 26 week suspended sentence for antisemitic graffiti
17 August 2016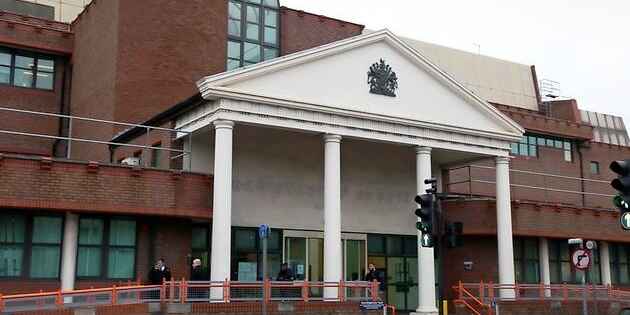 A Polish man, Kamil Malmon, has been found guilty and handed a 26 week suspended sentence for writing "F*** the juda" in pencil on the wall of Pinner Synagogue in June of this year. Malmon was filmed by CCTV, installed at the synagogue with funding provided by CST's Security Enhancement Project, approaching the wall where the graffiti was later found. Malmon appeared to take something out of his pocket and draw on the wall. He was later identified by the caretaker of the synagogue and a pencil was found on his person.
Malmon appeared at Willesden Magistrates court on 12 August and pleaded, through a Polish interpreter, not guilty to the charges. The court watched the CCTV evidence from the synagogue and heard statements provided by the caretaker of the synagogue, a representative from the synagogue and from several Police who attended the scene.
In his statement to the Police, which was read out in court, Malmon stated that he is homeless and denied writing the graffiti, claiming instead that he was only rolling a cigarette. Malmon also said in his statement to Police that Jewish people always separate themselves and only look after themselves, but denied having a problem with Jews.
The Magistrate, after deliberation, stated that the crime was clearly racially aggravated and after further inspection of the CCTV found Malmon guilty of the graffiti.
In sentencing at Hendon Magistrates Court on 17 August, the Magistrate said there was overwhelming evidence against Malmon. Had the offence not been religiously or racially aggravated the sentence would have consisted of a modest fine. However, due to the aggravated factor the sentence was uplifted to a 26 weeks sentence, suspended for 12 months. Malmon was also ordered to pay costs amounting to £735.
A representative from Pinner Synagogue responded to the conviction:
"Whilst this was the first incident of its type experienced by the Synagogue since its establishment 75 years ago, and perhaps associated with the current trend of increasing antisemitism, it was nevertheless shocking and unacceptable. This incident was painfully reminiscent of the 1930s as tragically experienced by the parents of many of the members of the Synagogue. There is no place for antisemitism in Society today. Our thanks therefore to the local police for pursuing this hate crime to a successful conclusion and to the CST for the funding of the CCTV which was absolutely central to the identification of the offender."  
CST welcomes this conviction and sentence, and hope it shows that antisemitic incidents, including graffiti, will not be tolerated and will be dealt with by the Justice system. CST wishes to thank the Metropolitan Police and the Crown Prosecution Service for their swift action on this case.
Image credit: Kilburn Times
Read More