CST Blog
Record number of antisemitic hate incidents in UK in 2016
2 February 2017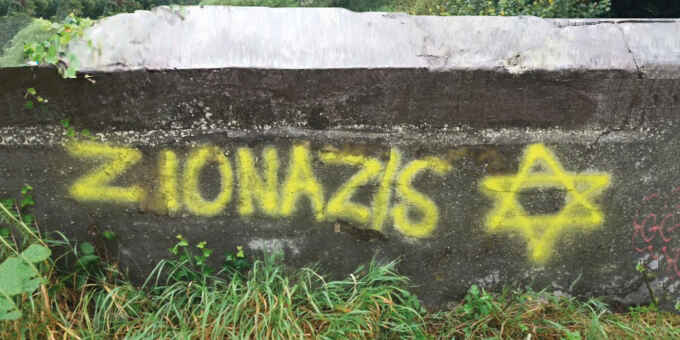 CST's Antisemitic Incidents Report 2016, published today, shows that there was a record number of antisemitic hate incidents recorded by CST in the UK in 2016.
A copy of the report can be downloaded here.
CST recorded 1,309 antisemitic incidents nationwide during 2016, a 36 per cent increase from the 960 incidents recorded by CST in 2015. Previously, the highest annual total of antisemitic incidents recorded by CST had been 1,182 incidents recorded in 2014. CST has recorded antisemitic incidents since 1984.
A further 791 reports were received by CST in 2016, but were not deemed to be antisemitic and are not included in this total.
There is no obvious single cause for the record total of antisemitic incidents in 2016. Previously, record high incident totals have been caused by antisemitic reactions to sudden, specific 'trigger events' leading to temporary 'spikes' in incidents. In contrast, there was no single, sudden trigger event in 2016, and the high number of incidents was spread uniformly through most of the year. Every month from May to December saw a monthly incident total above 100 incidents, an unprecedented run of consistently high totals over an eight month period. For comparison, in the decade prior to 2016 monthly totals above 100 incidents had only happened six times.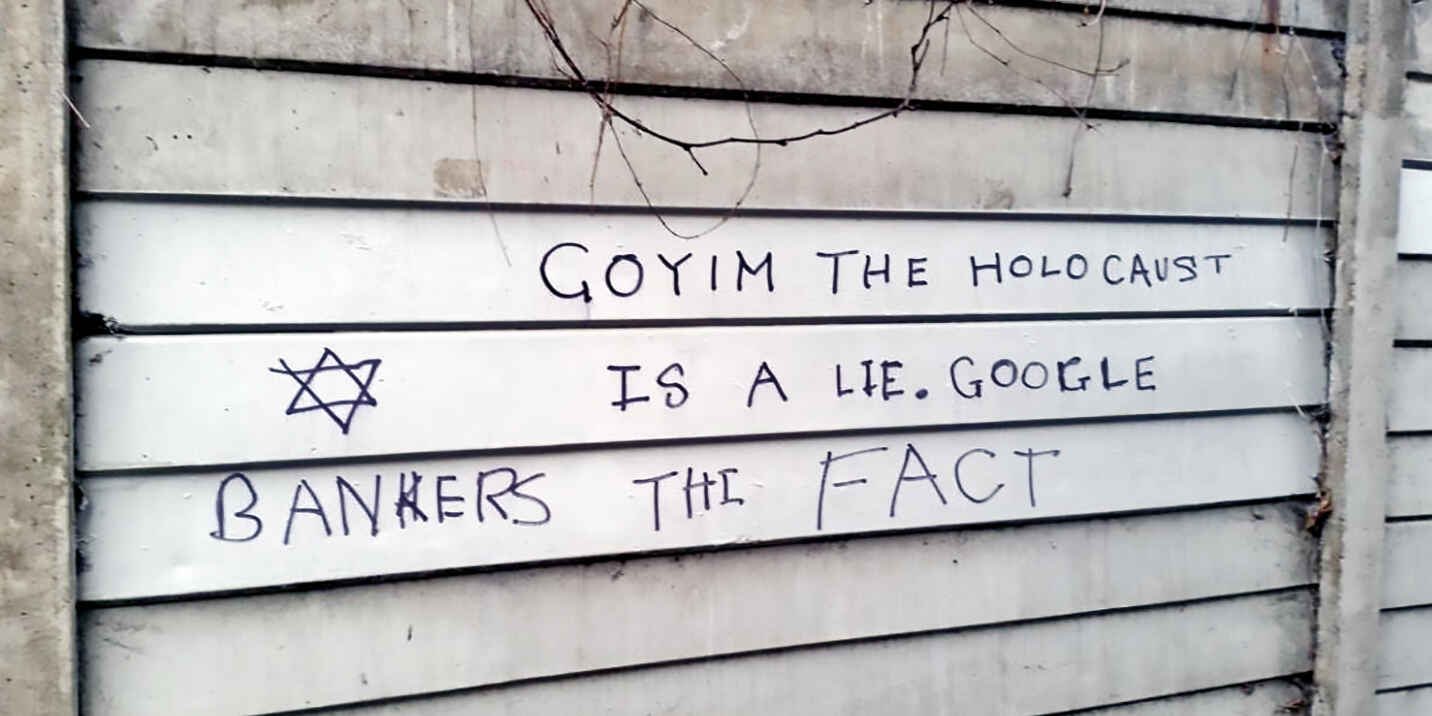 Looking at a longer time frame, CST recorded an average of 105 antisemitic incidents per month from July 2014 to December 2016, compared to an average of 50 incidents per month over the same period up to July 2014 (i.e. from January 2012 to June 2014). This means that CST currently records, on average, more than double the number of antisemitic incidents per month than was the case four years ago. It appears that antisemitic incident totals may have been sustained at this high level by the cumulative effect of a series of events and factors that, taken together, have created an atmosphere in which more antisemitic incidents are occurring, and are also more likely to be reported to CST and the Police.
These factors included the conflict in Gaza and Israel in summer 2014; terrorist attacks on Jewish communities in France and Denmark in 2015, and other terrorism in Europe; and in 2016, high profile allegations of antisemitism in the Labour Party; a perceived increase in racism and xenophobia following the EU referendum, including an increase in recorded racial and religious hate crime; and regular, high-profile discussion of antisemitism, racism and hate crime in mainstream media, politics and on social media during the year.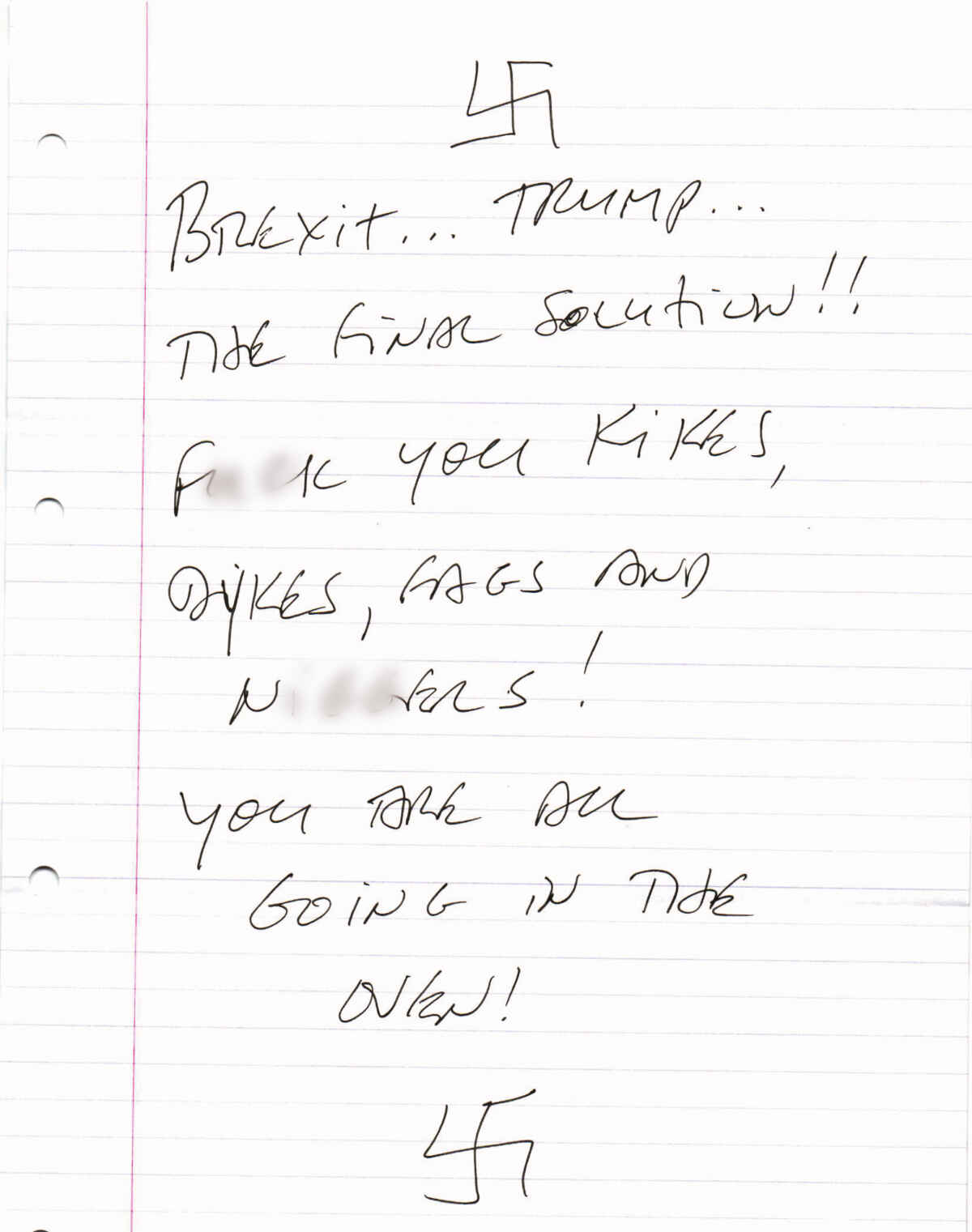 The most common single type of incident recorded by CST in 2016 involved verbal abuse randomly directed at visibly Jewish people in public. In 385 incidents (29 per cent of the overall total), the victims were Jewish people, male or female, attacked or abused while going about their daily business in public places. In at least 186 of these incidents, the victims were visibly Jewish, usually due to their religious or traditional clothing, school uniform or jewellery bearing Jewish symbols.
Social media has become an essential tool for coordinated campaigns of antisemitic harassment, abuse and threats directed at Jewish politicians, student activists and other individuals, perpetrated by transnational networks of online antisemitic activists, some of whom are involved in extremist politics. CST recorded 287 antisemitic incidents that involved social media in 2016, comprising 22 per cent of the overall total of 1,309 incidents. This was an increase on the 185 incidents involving social media that CST recorded in 2015 (19 per cent of the total for that year). These totals are only indicative and in some ways understate the scale of the problem: targeted campaigns directed at individual victims often involve dozens of social media accounts sending hundreds or even thousands of tweets, images or posts within a concentrated timespan.
Incidents involving the use of social media are only recorded by CST if they have been reported by a member of the public who is a victim or witness; if the comment shows evidence of antisemitic content, motivation or targeting; and if the offender is based in the United Kingdom or has directly targeted a UK-based victim.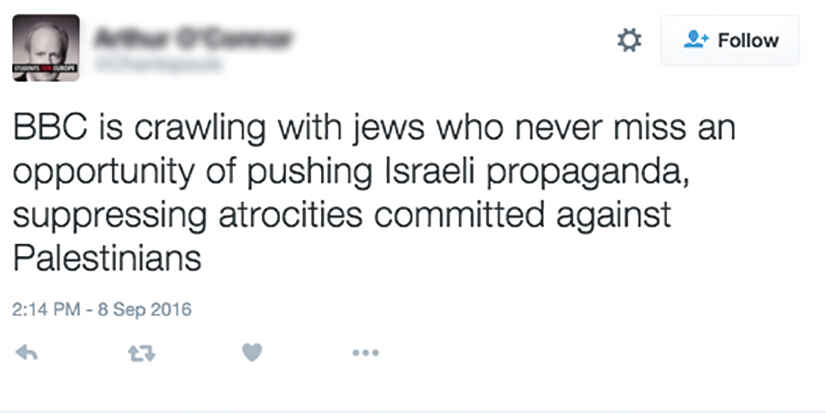 The 1,309 antisemitic incidents recorded in 2016 included 107 violent antisemitic assaults, an increase of 29 per cent from the 87 violent incidents recorded in 2015. None of these violent incidents were classified by CST as 'Extreme Violence', which would mean they involved potential grievous bodily harm (GBH) or threat to life.
There were 65 incidents of Damage & Desecration of Jewish property in 2016; 1,006 incidents of Abusive Behaviour, including verbal abuse, antisemitic graffiti, antisemitic abuse via social media and one-off cases of hate mail; 100 direct antisemitic threats; and 15 cases of mass-mailed antisemitic leaflets or emails. The totals for Abusive Behaviour and Threats are the highest CST has ever recorded in those categories.
Over three-quarters of the 1,309 antisemitic incidents were recorded in Greater London and Greater Manchester, the two largest Jewish communities in the UK. CST recorded 813 antisemitic incidents in Greater London, a rise of 65 per cent from the 494 incidents recorded in London in 2015. In Greater Manchester CST recorded 205 antisemitic incidents, a fall of 9 per cent from the 226 incidents recorded there in 2015. Beyond these two centres, CST recorded 291 antisemitic incidents in 96 locations around the UK, including 35 in Hertfordshire, 21 in Leeds, 16 in Gateshead and 13 in Liverpool.
CST Chief Executive David Delew said:
"Whilst Jewish life in this country remains overwhelmingly positive, this heightened level of antisemitism is deeply worrying and it appears to be getting worse. Worst of all is that, for various reasons, some people clearly feel more confident to express their antisemitism publicly than they did in the past. CST will continue to support the victims of this hatred and we call on others to join us in confronting it wherever it appears."
Home Secretary Amber Rudd MP said:
"Antisemitism is a deplorable form of hatred that has absolutely no place in a tolerant, open and diverse Britain that works for everyone. It is vital we ensure the safety and security of our Jewish community and this Government will continue to do all we can to stamp out these vile attacks and encourage those who experience them to come forward. We are providing £13.4 million to protect Jewish sites, have improved police recording of religious hate crime, and last year published our Hate Crime Action Plan to set out further action on this abhorrent abuse."
Labour Party Deputy Leader Tom Watson MP said:
"The findings of this report are extremely distressing. I don't want to live in a country where any member of the Jewish community feels unsafe, afraid or discriminated against and it is shocking that the number of antisemitic incidents is on the rise in the UK. It's vital that we continue to highlight the abuse Jewish people are experiencing and as deputy leader of the Labour Party I have made a commitment to do exactly that. We must root out antisemitism whenever it takes place and wherever it exists, as a party and as a country."
Communities Secretary Sajid Javid MP said:
"Antisemitism must be understood for what it is – an attack on the identity of people who live, contribute and are valued in our society. Hatred and bigotry must not be allowed to grow without challenge. That's why it's so important that we all tackle the attitudes that fuel prejudice and speak out. We can never be complacent and must ensure that Britain remains a safe place for Jewish people".
All-Party Parliamentary Group Against Antisemitism Chair John Mann MP said:
"These figures are very worrying. The APPG Against Antisemitism will ensure that British institutions are robust in confronting and resisting antisemitism. The rise of nationalist populism and a failure to boldly oppose antisemitism are both contributing factors to this increase that must be challenged by us all. I hope that CST's report will serve as a stark warning to everyone that something must change and everyone shares the responsibility to act."
Assistant Chief Constable Garry Shewan, National Lead for Policing of Jewish Communities, said:
"These figures provided by CST demonstrate how important it is in the UK for us to all unite to say a loud collective 'stop' to those who engage in hate related activity. This year we have seen an increase in the level of antisemitism being expressed on our streets and on the internet. Hate has no place in our country and it undermines the strengths that our diversity brings. Antisemitism causes worry in our Jewish communities which must be confronted. If you see, read or hear antisemitism please report it to either the police or CST so that together we can tackle this hate behaviour."
You can download a copy of CST's Antisemitic Incidents Report 2016 here.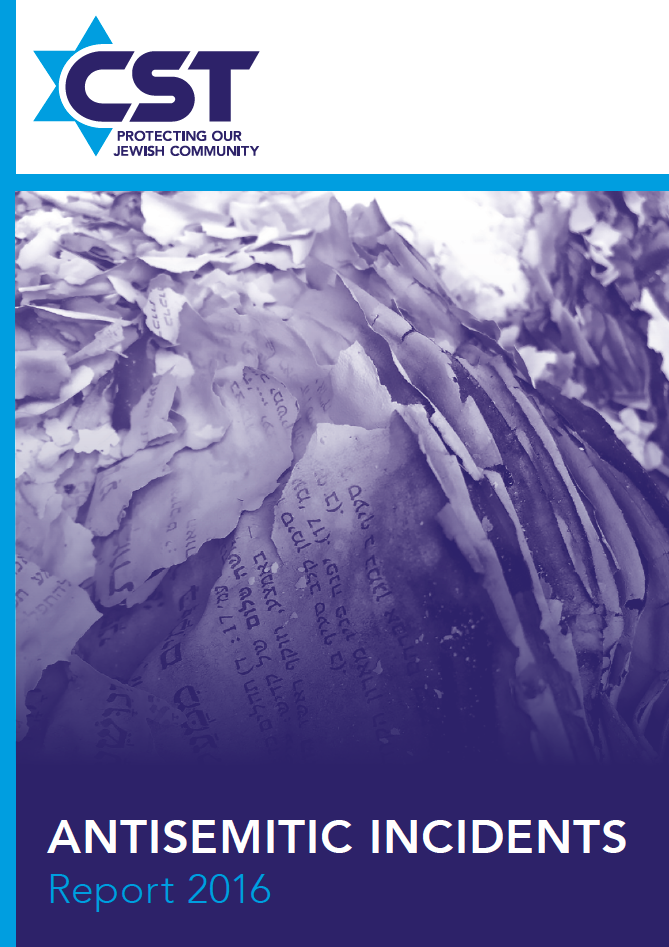 Read More