CST Blog
CST supports hate crime awareness events whilst reaching over 1 million people online
23 October 2018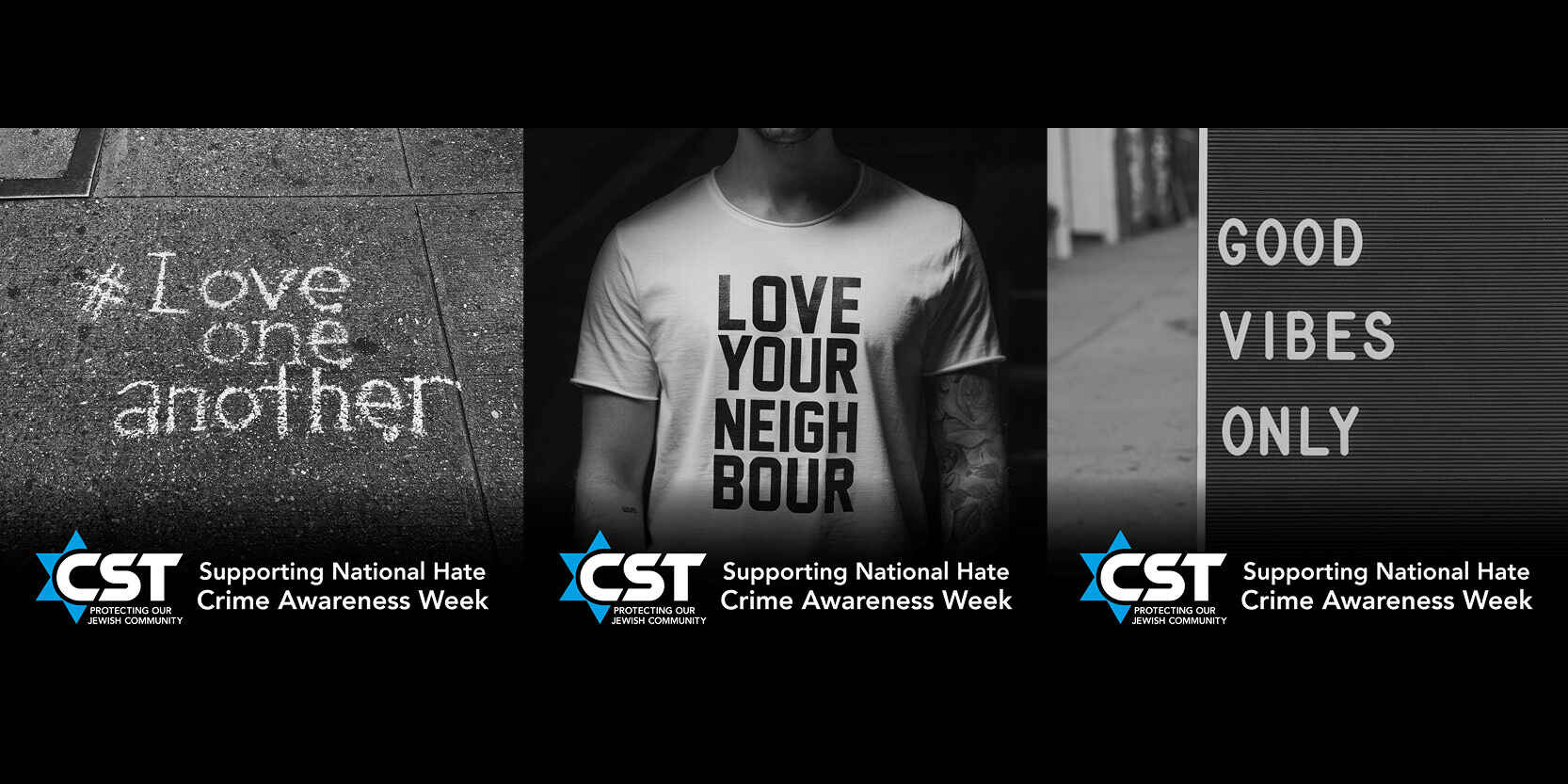 This October, CST supported National Hate Crime Awareness Week (NHCAW) organised by 17-24-30 No To Hate Crime Campaign alongside Stop Hate UK. CST attended events and ran stalls around London and produced a successful social media campaign to raise awareness of NHCAW and the importance of reporting hate crime. 
CST was on the road all week, setting up stalls and joining other organisations at key Jewish and non-Jewish locations. The week started off with a stall at St Johns Wood United Synagogue, at an event organised by Westminster Police in addition to a walking patrol of King's Cross and St Pancras stations organised by British Transport Police. CST also hosted a stall at JW3 in Swiss Cottage, joined by representatives from Police Ward Officers from the West Hampstead Safe Neighbourhood Team. The week was rounded off with CST staff joining Barnet Mencap representatives at Middlesex University and a CST NHCAW stall at a kosher store in Golders Green. During NHCAW, staff also represented CST at an interfaith event at Regent's Park Mosque, as well as an NHCAW press conference held at Scotland Yard, hosted by the Metropolitan Police.
At the various events attended through the week, CST staff were able to hear from those within and from outside the Jewish community about their experiences of antisemitism and hate crime. We were approached by non-Jewish supporters of our work, as well as those who wanted to learn more about our what we do to combat hate crime.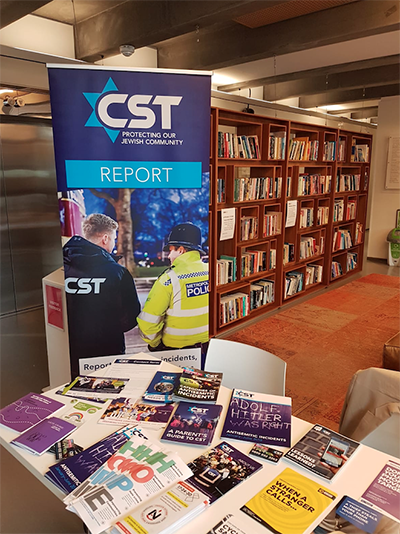 We were reached out to by Jewish people across the religious and political spectrum who had faced antisemitism in the past, both distant and recent. We met Jewish school children who had been mocked on the bus after been recognised as Jewish by their uniforms, mature students who faced antisemitic hostility from staff and fellow students on campus, and others who had been targeted and physically or verbally abused by antisemites on the streets. Out of all of the people who told us about antisemitic incidents that had affected them, none had realised the importance of reporting the incidents to CST or to the Police. Some considered that the incidents they had faced would not be taken seriously, others felt that their experiences were simply part and parcel of being Jewish, while some did not realise that such incidents actually constitute antisemitism or hate crime. Each of those we spoke to about their antisemitic incidents over NHCAW did, however, tell us that their experiences had left them feeling powerless, embarrassed or vulnerable. CST encourages all those affected by antisemitism to report it, no matter how trivial the incident appears. While we and the Police cannot always bring perpetrators of antisemitism to account, reporting it can help those affected to come to terms with what has happened to them, and it can be the first step towards preventing similar incidents for others.

As well as joining others across London to educate and raise awareness of NHCAW, CST produced a successful campaign on Twitter, Facebook and Instagram. CST is delighted to say that over 1 million people saw the campaign in the United Kingdom. 
We were delighted to work with NHCAW and to use this opportunity to spread the word about the importance of reporting hate crime, to those on the ground who so keenly needed to hear it.
You can find out more about reporting hate crimes and various specialist organisations, including CST, who can assist you if you have been a victim or a witness of hate crime.
You can also report any antisemitic incident to CST and in an emergency, you should call the Police on 999 and CST's National Emergency Number (24-hour) on 0800 032 3263.
Read More