CST Blog
Launch of the #WeDeserveBetter campaign
16 April 2019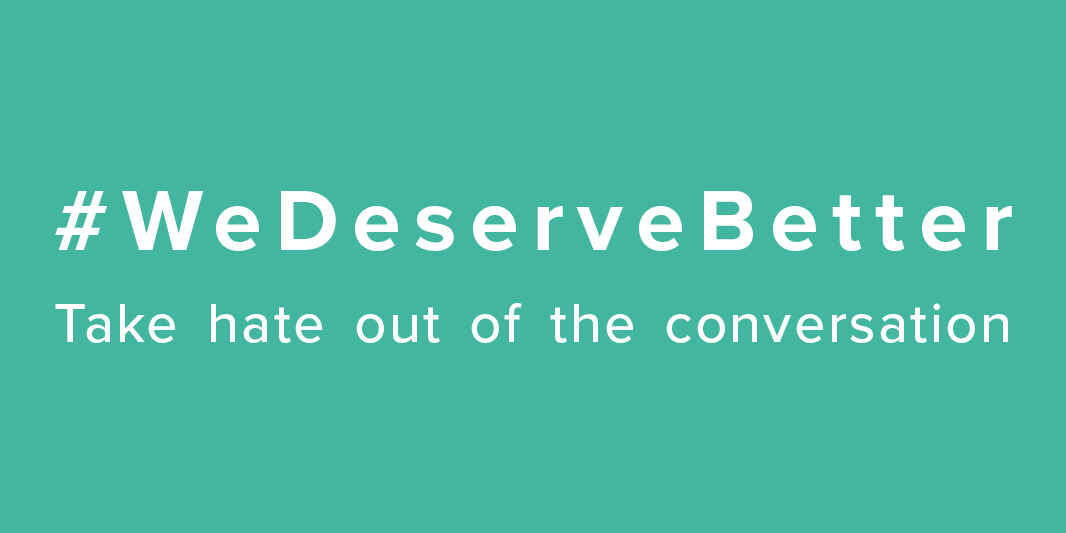 The #WeDeserveBetter campaign is a Europe-wide NGO-led campaign that will run from the beginning of May until 26 May. The objective of the campaign is to improve the tone of online and social media conversations, encouraging better empathy, tolerance and respect in debates and public discourse. The campaign is raising awareness about the normalization of hate speech in public and political discourse, which is preventing critical debates and block us from engaging with people many see as 'others'. 
The grassroots campaign aims to show that all citizens deserve better quality debates, better arguments without spreading hate and relying on false news, misinformation or conspiracy theories.
Regardless of our different political colours, we know we deserve better than this, which is why we are campaigning: to inspire more awareness and positive speech.
How can you participate?
It's simple: if you agree with the message, spread it! Share it on Facebook and Instagram, spread it on YouTube, tweet it out – just make sure you always add the international, English hashtag #WeDeserveBetter.
Feel free to add something more specific when you share it; you can call out others using hate speech (#CallOut), you can encourage others to #ThinkBeforeYouType or you can just simply share why this issue matters to you. 
The more we are, the louder our voices will be! Let's stand up together for the values of tolerance and respect in the public discourse. 
You can share our Twitter post:
Or share the CST post on Facebook or Instagram. 
Make sure to follow CST on social media, for Twitter @CST_UK and Facebook /CSTprotecting, in the coming weeks as we will be sharing more materials as the campaign unfolds
Read More