CST Blog
BitChute - A Very British Problem
28 January 2021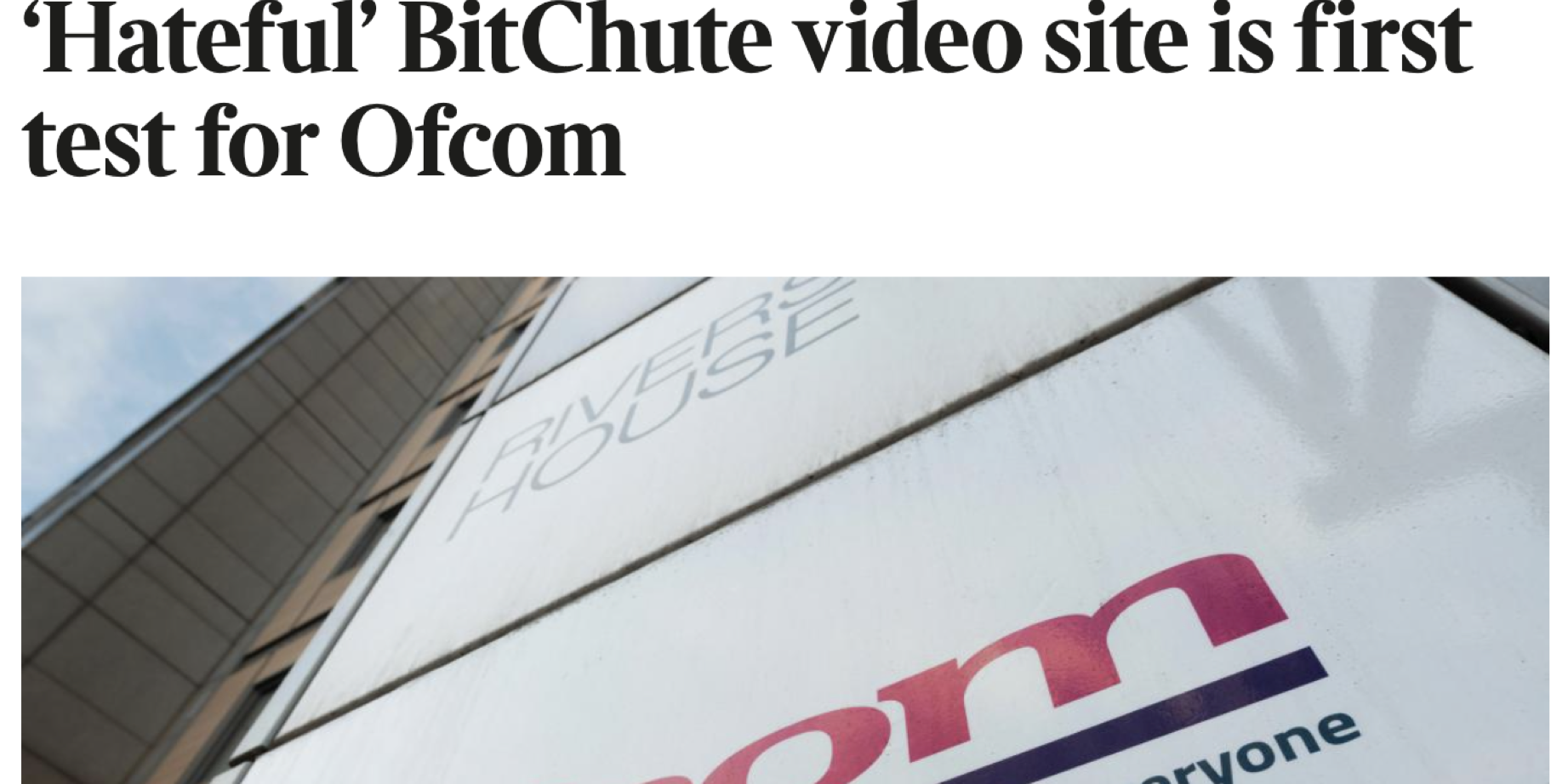 Today's edition of The Times contains a report about the huge amount of antisemitic content on the alternative video sharing site, BitChute, following original research by CST. Through some simple searches for neutral, Holocaust-related terms, we found easily accessible and large quantities of video content that either denies, distorts, inverts, or glorifies the Holocaust. CST has repeatedly raised our concerns both publicly and privately about BitChute, which effectively operates as a YouTube equivalent for neo-Nazis, conspiracy cranks, would-be terrorists and other extremists, a problem we first highlighted in our report published last year, Hate Fuel.  
BitChute is a British company registered at Companies House with an address at a serviced office building in Andover, Hampshire. According to Companies House records BitChute has two British directors: Richard Jones, who lives in the UK, and Raymond Vahey, who lives in Thailand. Notably, since 1 November 2020 BitChute has come under regulation by Ofcom, due to new statutory regulations that apply to UK-based VSPs (video sharing platforms), of which BitChute is one. Crucially, under the new regulations VSPs must "take appropriate measures to protect consumers who engage with these services from the risk of viewing harmful content." Ofcom is due to be the UK's official internet regulator under forthcoming legislation on online harms, and we will be reporting our findings regarding BitChute to Ofcom as we believe this is an important test case for how the regulator will approach extremist, hateful and antisemitic content online. 
HOLOCAUST DENIAL AND GLORIFICATION 
In the run up to Holocaust Memorial Day 2021, CST conducted searches on BitChute for five non-offensive terms related to the Holocaust: "Holocaust", "Auschwitz", "Hitler", "Gas Chambers" and "Anne Frank". We collected the first 20 search results for each of these search terms, amounting to 100 videos in total, and almost all the videos we found contained vile antisemitism, either denying, glorifying or distorting the Holocaust. Out of the 100 videos there were 97 different videos (three videos turned up in more than one search) of which 94 contained clear antisemitic discourse and content. These 94 videos had a combined viewing figure of 1,513,905. Some of the videos are inaccessible from the UK, but this is easily circumvented by using widely accessible technology that disguises your internet location – a Virtual Private Network (VPN).  
Examples of titles of some of the videos found by CST include: 
The Jewish Gas Chamber Hoax - A New Film By Holocaust Debunker Eric Hunt 
The Majdanek Gas Chamber Myth - Eric Hunt 2014 (3 of 7) 
The Treblinka Archaeology Hoax - Eric Hunt 2014 (2 of 7) 
The Sick Lies of a Holocaust Survivor 
Auschwitz Inmates Speak Up - No Gas Chambers! 
Holocaust Hoax For Kids! 
Adolf Hitler vs. The Jew World Order 
Was Adolf Hitler a Zionist Stooge? 
Auschwitz - Why The Gas Chambers Are A Myth (full) 
Lying about gas chambers 
Anne Frank (That Hiding Bitch) 
Anne Frank Diary Hoax - Ernst Zundel et al 
Anne Frank's Friend Says German Soldier Saved Filthy Jews From The Gas 
SCRATCHING THE SURFACE 
Holocaust Denial content is only one small part of the problem on BitChute, which still hosts large quantities of other antisemitic, racist and conspiracy-fuelled material despite this being repeatedly brought to BitChute's attention.  
Following the events at the US Capitol on 6 January, BitChute published a statement in which they claimed that "incitement to violence is not allowed on BitChute". They even went as far as saying they "encourage creators to use their influence in a way that reduces tensions at this time". Despite this, BitChute hosted dozens of videos promoting the protests in Washington D.C. and arguing that the US election had been stolen or was fraudulent. BitChute's statement totally misunderstands how the events at the Capitol unfolded. They didn't materialise out of nowhere: in fact, the apparent encouragement provided by President Trump was only the final step of the process. The individuals who stormed the Capitol and those who supported it were simply at the end of much longer process of radicalisation, much of which would have likely taken place online. Many would have been exposed to a steady stream of conspiracy theories, racism, antisemitism and anti-democratic messaging. This is where platforms like BitChute come in, because it is places like BitChute where this type of messaging and material is hosted. Tackling direct incitement is all well and good, but unless you tackle the material and content that leads people to be so easily incited to violence in the first place, then you will always be fighting a losing battle.  
CST conducted searches for material that had been uploaded to BitChute in the two months prior to 6 January, that featured antisemitism, US Election Conspiracy Theories, COVID-19/vaccine conspiracy theories and videos advertising events in Washington on the 6 January. This is what we found: 
Antisemitism 
"JEWISH RITUAL MURDER THE HIDDEN CULT HONEST MEDIA" 
"Jewish Propaganda" 
"DODGY JEWISH PFIZER-THE MASKS OF ZION 190" 
"JEWISH INFLUENCE ON THE ENGLISH CROWN" 
TMOGV, CHAPTER 3: THE JEWISH FACTOR IN THE WAR" 
"JEWISH RITUAL MURDER" 
"CHRISTIANITY & THE JEWISH AGENDA"  
"FREE BLACK FROM THE SLAVERY OF JEWISH LEFTISTS"  
"JEWISH INTERNATIONALISM WHICH IS COMMUNISM"  
"THE JEWISH SUBTEXT TO COVID AND U.S. ELECTION FRAUD" 
"JEWISH CONTROL OF CHINA COMMUNISM"  
"ANTICHRIST AND THE JEWISH THIRD TEMPLE" 
"WHITE NATIONALIST MIKE ENOCH ON JEWISH PEDOPHILE CARTOON "BIG MOUTH" OF NETFLIX" 
"THE ILLUMINATI, FREEMASONRY AND THE NEW WORLD ORDER JEWISH BANKERS BEHIND ALL WARS AND REVOLUTIONS" 
"ROWAN ATKINSON – JEWISH PROPAGANDA" 
"DAVID DUKE: FACTS OF JEWISH SUPREMACY AND JEWISH RACISM AGAINST WHITE PEOPLE" 
"MY EXPERIENCE WITH JEWISH POWER" 
"THE TREBLINKA ARCHAELOGY HOAX: MORE JEWISH-HOLOCAUST LIES EXPOSED!" 
"THE JEWISH GAS CHAMBER HOAX" 
"ADOLF HITLER'S AWAKENING TO THE JEWISH PROBLEM" 
"DR WILLIAM PIERCE: THE JEWISH PLAN FOR USA"  
"9/11 WAS JEWISH LIGHTENING" 
"DAVID DUKE: 2020 WAS THE YEAR OF THE JEW". THE JEWISH TAKEOVER OF EVERYTHING" 
"HOW THE JEW DR MONEY (SHEKEL) MANIPULATED A BOY INTO SUICIDE" 
"DAVID DUKE: HUMAN RIGHTS REPORT; JEWISH ESTABLISHMENT RIGGING OF ELECTION" 
"SECRET ROLE OF ZIONISM IN MAOS CHINA"  
"SYNAGOGUE OF SATAN"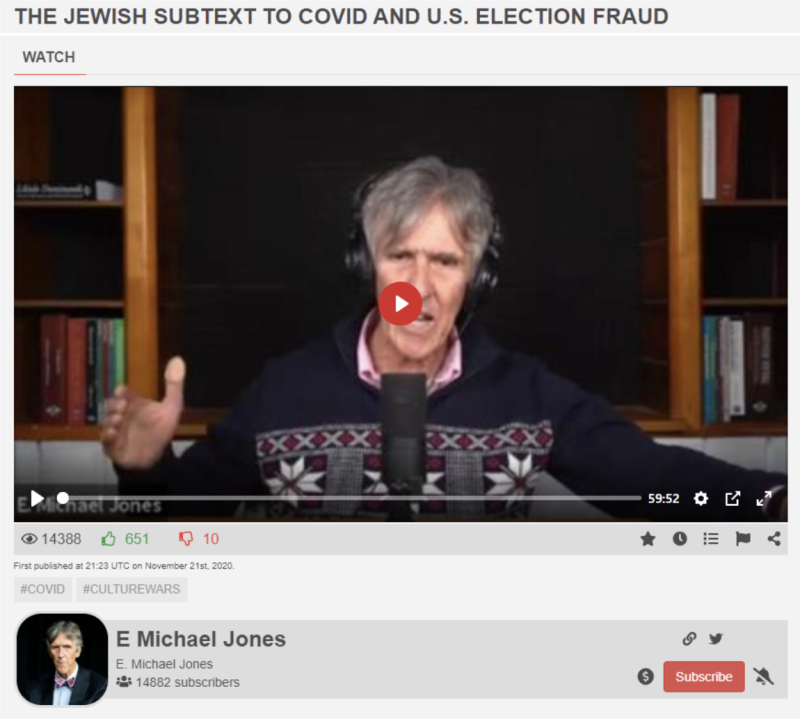 US Election Conspiracy Theories 
"THE PLOT TO STEAL AMERICA" 
"STOP THE STEAL"  
"THE STEAL" 
"ELECTION FRAUD – ARRESTS INCOMING" 
"QSNATCH MALWARE RESPONSIBLE FOR US ELECTION FRAUD" 
"REVEALING THE MECHANICS BEHIND THE ELECTRONIC VOTER FRAUD" 
"VOTER FRAUD 2020 AND THE ATTEMPTED COMMUNIST COUP" 
"ELECTRONIC VOTE FRAUD CAUGHT ON CNN LIVE TV" 
"TRUMP WON, BIDEN LOST: PROOF OF MASSIVE SYSTEMATIC ELECTION FRAUD" 
"DEMOCRATIC POLITICAL PARTY VOTER FRAUD 2.0" 
"SMOKING GUN: ELECTRONIC VOTE FRAUD CAUGHT LIVE ON CNN" 
"MICHIGAN VOTER FRAUD CAUGHT AND REPORTED" 
"VOTER FRAUD 2020 TEARING UP TRUMP BALLOT BLACK MAN" 
"ELECTION FRAUD EVIDENCE IN GEORGIA" 
"ELECTION FRAUD COMPILATION"  
"TRUMP SET A TRAP TO EXPOSE THE DEEP STATE WITH ELECTION FRAUD" 
"DONALD TRUMP VS THE DEEP STATE" 
"QANON, DEEP STATE, COVID WAR" 
"TOTAL DEEP STATE TREASON" 
"HOW THE DEEP STATE, RHINOS DEMOCRATS AND OLEGARD ELITE HAD STOLE THE ELECTION"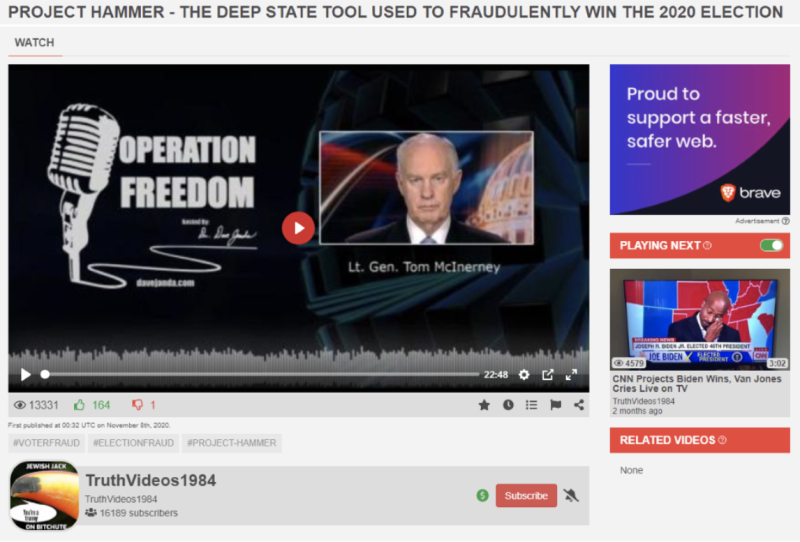 COVID-19/Vaccine conspiracy theories 
"PFIZER VACCINE CAPABLE OF DNA MODIFICATION AND INTODUCTION OF HYDROGEL CYBORG TECHNOLOGY" 
"BELLS PALSY COVID 19 VACCINE PFIZER" 
"EX PFIZER VP – STERILIZATION IN COVID VACCINE" 
"PFIZER COVID VACCINE FRENZY" 
"DOCTOR EXPERIENCES SEIZURES POST-INJECTION FROM PFIZER VACCINE" 
"PFIZER/MODERNA MRNA VACCINE: "YOUR OWN CELLS BECOME THE VIRUS" IMMUNOLOGIST" 
"EX PFIZER VP CONCERNED ABOUT EXPERIMENTAL COVID VACCINE" 
"PFIZER VACCINE CAPABLE OF DNA MODIFICATION" 
"HEAD OF PFIZER RESEARCH: COVID VACCINE IS FEMALE STERILIZATION" 
"EMERGENCY! AUTHOR OF US BIOWEAPONS LAW SAYS PFIZER MRNA VACCINE "IS A BIOWEAPON" 
"FDA ADMITS 2 PEOPLE DIED IN PFIZER TRIALS, VACCINES AND NANOPARTICLES & DEBUNKING ANOTHER MASK STUDY" 
"TIFFANY DOVER FRON LINE MEDICAL WORKER DEAD FROM PFIZER CORONAVIRUS VACCINE" 
"PFIZER VOLUNTEER CANNOT WALK (DISTURBING PHOTO) MAN FEELS "SUPERHUMAN" AFTER TAKING COVID VACCINE" 
"32 YEAR OLD MEXICAN DR HOSPITALIZED AFTER RECEIVING PFIZER-BIONTECH VACCINE *BRAIN SWELLING*" 
"FOUR PEOPLE DEVELOP BELL'S PALSY AFTER TAKING PFIZER COVID-19 VACCINE" 
"COVID-19 ASTRAZENECA VACCINE PACKAGING DISCOLSES ITS CONTENT" 
"THE COVID-19 VACCINE INGREDIENTS BY ASTRAZENECA" 
"CONFIRMED! ASTRAZENECA ABORTED MALE FETUS IN COVID-19 VACCINE" 
"U.K. APPROVES… OXFORD/GATES/ASTRAZENECA CHIMPANZEE COVID-19 VACCINE" 
"ASTRAZENECA COVID-19 VACCINE-ABORTED BABY CELLS-DNA CHANGING-LUCIFERIAN PLANDEMIC" 
"UK APPROVES THE CHIMPANZEE-ORGINATED OXFORD ASTRAZENECA'S COVID-19 VACCINE" 
"COVID-19 VACCINE CONTAINS LIVER TISSUE FROM ABORTED INFANT" 
"MUST SEE – VACCINE CONTAINS LIVER TISSUE FROM ABORTED BABIES" 
"YOU CAN STICK POISOIN VACCINE UP YOUR ARSE" 
"THE KILLER VACCINE AND THE COVER UP" 
"WARNING: DO NOT TAKE THE COVID VACCINE" 
"WHISTLEBLOWER ON THE COVID-19 VACCINE CAUSING STERILITY" 
"COVID VACCINE – PEOPLE WILL START DYING A FEW MONTHS AFTER THE FIRST MRNA VACCINATION" 
"REPORT FROM THE CDC EXPOSES SERIOUS VACCINE DAMAGE" 
"COVID-19 VACCINE IS NOT A VACCINE!"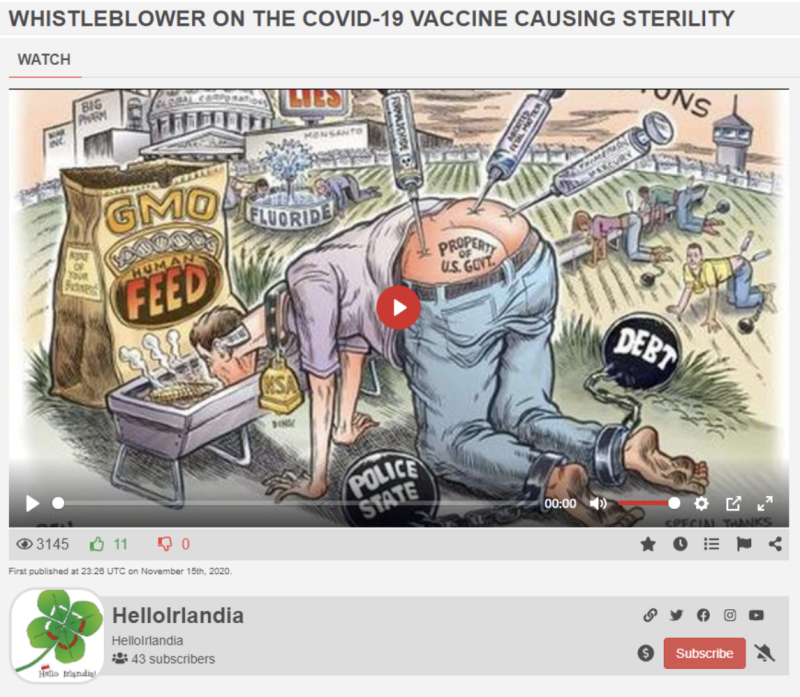 Advertising events in Washington on 6 January: 
"FINAL BATTLE – THE 6TH" 
"TRUMP'S REVOLUTION END RESULT" 
"TRUMP MARCH – 6TH JANUARY 2021" 
"JANUARY 6TH "WE WILL NEVER SURRENDER" 
"JANUARY 6TH APPROACHETH- GET READY" 
"MARCH FOR TRUMP JANUARY 6TH 2021" 
"MILLION MAGA MARCH PLANNED AS CONGRESS OFFICIALLY DECLARES ELECTION RESULT JANAURY 6TH" 
"THE GREAT AWAKENING JAN 6TH MOST IMPORTANT DAY IN OUR LIFETIME. HOW IT WILL PLAY OUT BIDEN NOT PRES" 
"JANUARY 6TH WILL BE A TURNING POINT IN AMERICAN HISTORY" 
"MAGA RALLY JANUARY 6TH 2021 AS CONGRESS DECLARE ELECTION RESULT WASHINGTON DC CONVOY" 
"MAGA MARCH JANUARY WASHINGTON – THE BIGGEST EVENT IN HISTORY 'WE ARE GOING TO TAKE OUR COUNTRY BACK'" 
"MAGA MARCH 'THE BIGGEST EVENT EVER' JANUARY 6TH 2021 WASHINGTON D.C." 
"WHAT TO EXPECT IF YOU GO TO WASHINGTON ON WEDNESDAY, JANUARY 6, 2021"  
"AMERICANS! JANUARY 6TH IN WASHINGTON1" 
"SHOULD YOU GO TO WASHINGTON, D.C. ON JANUARY 6TH? IF SO, HOT TO STAY SAFE?" 
"JANUARY 6TH, 2021 WASHINGTON D.C. [TRAILER]"  
"THE CALM BEFORE THE STORM: WASHINGTON DC BRACES FOR MORE THAN 3 MILLION PEOPLE INVADING THE SWAMP" 
"REMINDER: 45 USA POTUS DONALD J. TRUMP HAS REQUESTED YOUR ATTENDANCE TO WASHINGTON DC JANUARY 6TH 20" 
"JANUARY 6TH 2021 WASHINGTON D.C." 
"THE WILD PROTEST ON JANUARY 6, MIKE PENCE, WASHINGTON DC MAY MARK THE START OF CIVIL WAR IN AMERICA" 
"DONALD J TRUMP – JANAURY 6 – WASHINGTON D C" 
"TRUMP DECLARES NATIONAL EMERGENCY! CALLS FOR AMERICANS TO MARCH AGAINST THE SWAMP JANAURY 6, 2021" 
"PROTECT OUR FREEDOM! MARCH FOR TRUMP – JANUARY 6, THE SWAMP, D.C." 
BitChute say they are a free speech platform promoting a plurality of ideas, but when you spend any amount of time on the platform, you realise it is anything but that. BitChute is simply an echo chamber in which conspiracy theories, antisemitism, racism and extremism reverberate loudly and as such BitChute, a British company registered at Companies House and now regulated by Ofcom, does immeasurable damage to democracy, public health and societal cohesion.  
Read More