CST Blog
Swindon man admits terror offences after CST intervention
20 December 2021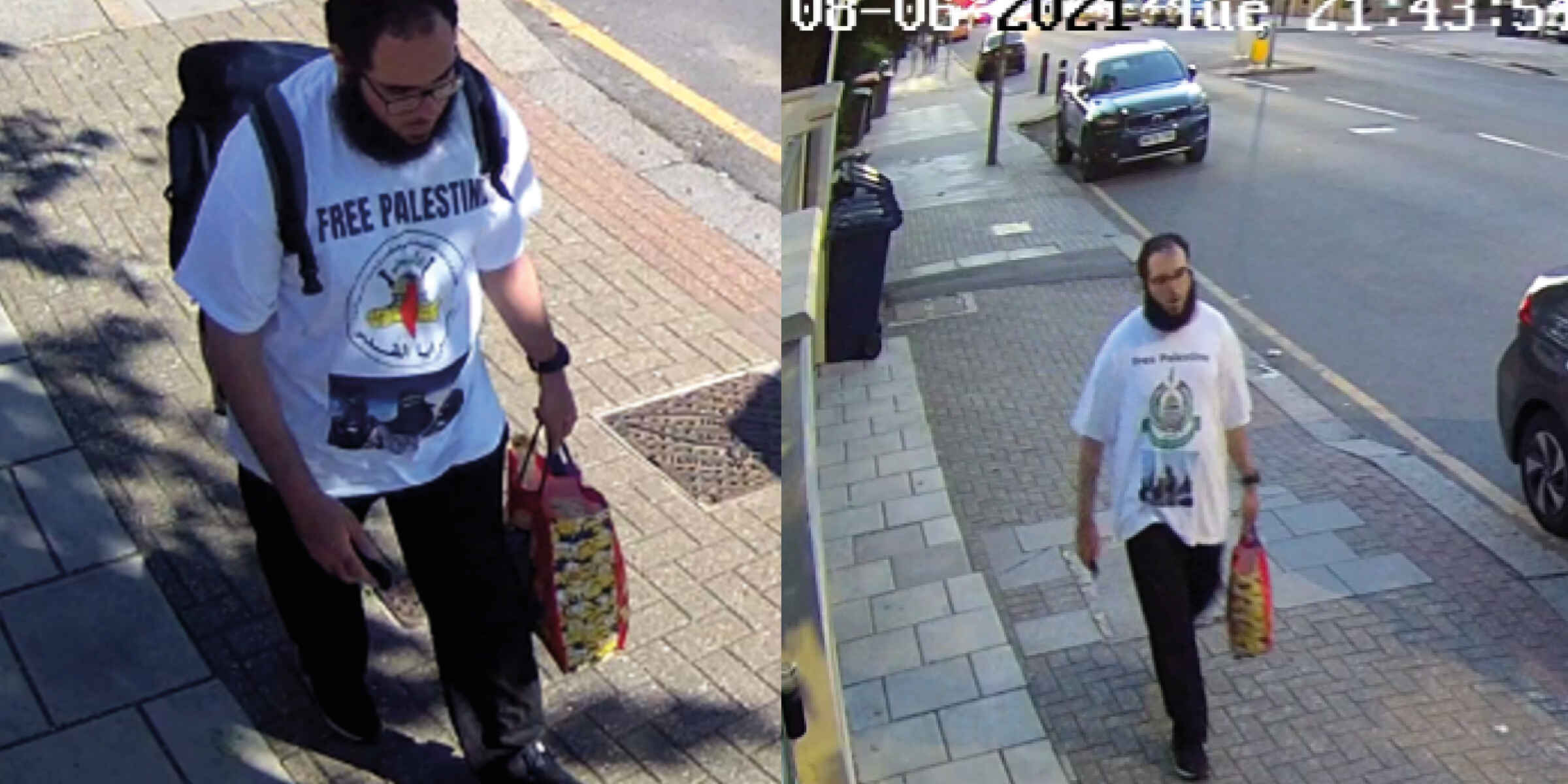 On 17 December 2021, Feras al-Jayoosi, a Hamas supporter from Swindon, was sentenced to 16 weeks' in prison, suspended for two years, after he was spotted walking around Golders Green wearing a t-shirt supporting a banned terrorist organisation. The identification, arrest and prosecution of al-Jayoosi is a textbook illustration of the value of the close partnership between CST, the Home Office, police and the Crown Prosecution Service.
On the morning of 9 June 2021, CST's National Security Control Centre received a call from a security guard at a Jewish building in Golders Green, in the heart of north west London's Jewish community. The guard had seen a man walking through the area wearing a t-shirt with the words "Free Palestine" and a logo underneath and wearing a large backpack.
CST Control Centre staff quickly found CCTV footage of the man and CST staff identified the logo as being that of Palestinian Islamic Jihad, which has been on the UK Government list of proscribed terrorist organisations since March 2001. Following a further report, CST's Control Centre also found footage of the same man walking around the same area of Golders Green on the previous day wearing a similar t-shirt, but this time with a Hamas logo.
Coming so soon after the huge increase in antisemitism and extremism directed at the Jewish community in May, during the recent conflict in Israel and Gaza, the presence of a supporter of terrorist organisations walking around a well-known Jewish neighbourhood while wearing a large backpack caused obvious alarm.
After CST reported all of this information to police and provided the relevant footage of the suspect, the Metropolitan Police's Counter Terror Command launched an investigation. The police quickly identified the suspect as Feras al-Jayoosi, a 34-year-old man from Swindon, and subsequently charged him with four counts of wearing an article, namely a t-shirt, in such a way or in such circumstances as to arouse reasonable suspicion that he is a supporter of a proscribed organisation (an offence under Section 13(1) and (3) of the Terrorism Act 2000).
On 28 October 2021, al-Jayoosi pleaded guilty at Westminster Magistrates' Court to the four charges. Al Jayoosi wore the t-shirts at Barbury Castle, Wiltshire, on 30 May and in Golders Green on 8 June and 9 June 2021. He was released on conditional bail and was sentenced on 17 December to 16 weeks imprisonment suspended for two years, 60 days rehabilitation, 100 hours of unpaid work, a two-year exclusion order in the NW11 postcode area and £288 in costs and court fees.
The security guards who spotted al-Jayoosi in Golders Green and then reported him to CST are paid for by the Home Office protective security grant that funds counterterrorism security guarding across the Jewish community. The fund is administered by CST on behalf of the Home Office and has become an essential part of the Jewish community's protection against terrorism.
Following Al Jayoosi's conviction, Commander Richard Smith, who leads the Metropolitan Police's Counter Terrorism Command, said as follows: "Al Jayoosi's actions caused a great deal of concern within local communities, and an investigation was quickly launched as a result of a call to police. This case further underlines how important information from communities is to our work, and how seriously we take reports of this nature."
CST is grateful to the police and CPS for securing this conviction and to all involved in helping to protect the Jewish community from terrorism, antisemitism and extremism.
Read More