CST Blog
Tahra Ahmed convicted of stirring up racial hatred for antisemitic posts
14 January 2022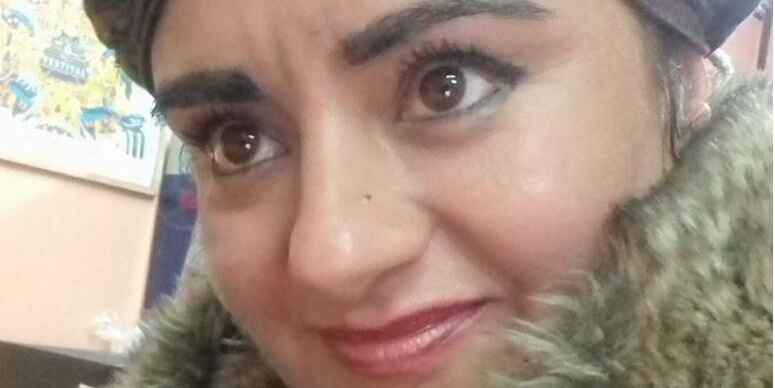 Antisemitic conspiracy theorist Tahra Ahmed, from Tottenham, north London, has been convicted of two charges of stirring up racial hatred today, following a complaint by CST to the police about a Facebook post in which she claimed that the Grenfell Tower fire was a "Jewish sacrifice."
Ahmed, a local activist involved in volunteer support activity for the victims and survivors of the Grenfell Tower fire, wrote on Facebook in June 2017, four days after the tragedy: "Watch the live footage of people trapped in the inferno with flames behind them. They were burnt alive in a Jewish sacrifice. Grenfell is owned by a private Jewish property developer just like the twin towers was owned by Jew Silverstein who collected trillions in insurance claims. I wonder how much Goldman is standing to make in the worlds most expensive real estate location." She then posted a link to a video titled 'London Tower Block Fire: Sinister Connections with Jewish Ritual Sacrifice Explored'.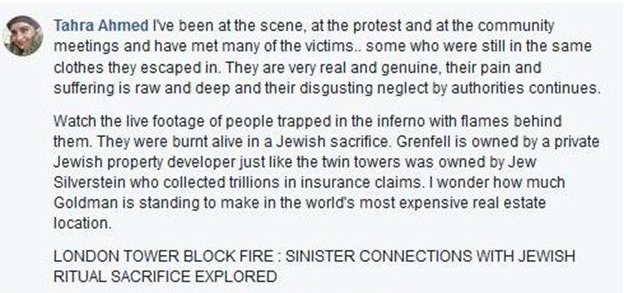 Ahmed's antisemitic Facebook post calling the Grenfell Tower tragedy "a Jewish sacrifice", June 2017
This Facebook post was the subject of an article in the Times in December 2017, which included a comment from CST spokesman (now Chief Executive) Mark Gardner, who said:
"To describe the appalling Grenfell Tower disaster as a Jewish sacrifice is to reach a new depth of grotesque antisemitic racism. Worse is that the traumatised survivors have to grapple with the reality that one of those who claims to stand up for them seems to be primarily motivated by a vile hatred of Jews."
Following the publication of the Times article, CST made a formal complaint to the police about Ahmed's post, and Mark Gardner subsequently provided a series of witness statements for the prosecution case, explaining the antisemitic and grossly offensive nature of Ahmed's comments.
Ahmed had previously come to CST's attention back in 2013, after she organised a conference in London called 'Seek Speak Spread Truth', which included the propagation of antisemitic conspiracy theories. Amongst the speakers at the conference was antisemite Gilad Atzmon. CST wrote about the conference at the time ('Truth Movement, 'The Truth Will Set You Free' and 'Antisemitic Discourse Report in Britain 2013') and we noted that Ahmed had posted Holocaust denial on her Facebook, in a comment that read: "the number of Jews who died during WWII is greatly exaggerated."
The second post for which Ahmed was prosecuted, apparently written in January 2018, said: "Jews have always been the ones behind ritual torture, crucifixion and murder of children, especially young boys, as a way of atoning for their sins in order to be allowed back into Palestine. Here is a very brief history of these crimes they committed in Britain over the centuries."
According to the prosecution, the posts on Ahmed's Facebook account "revealed a history of antisemitic comments and propagation of a number of conspiracy theories."
We are grateful to the police and Crown Prosecution Service for their efforts that led to Ahmed's conviction and we will continue to work with the authorities to identify and help to prosecute anybody who posts antisemitic material online.
Read More