CST Blog
CST holds first cyber security conference for the UK Jewish community in London
7 September 2017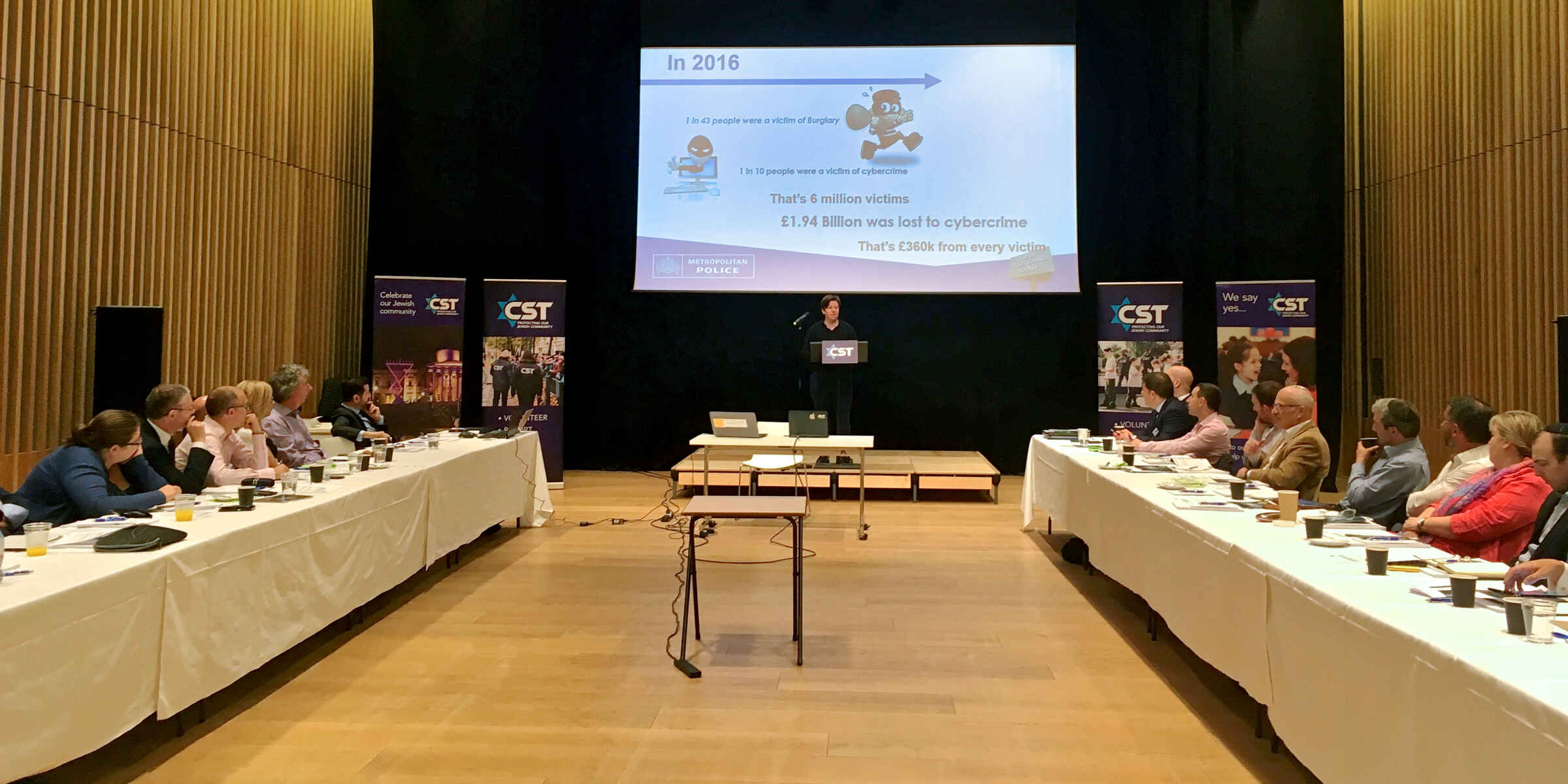 Following several high profile cyber attacks that have affected businesses, charities, and government services alike, CST facilitated a one-day cyber security conference for the Chief Executives of the UK Jewish community in London. 
Over 40 people attended the event that took place at JW3 in North London. The aim of the conference was to provide the professional leadership of Jewish community organisations witha greater understanding of the threat and risks of cyber attacks and crucially what sort of policies and practices these organisations should be adopting to best protect themselves. 
The conference was opened with a short address from David S Delew, CST Chief Executive, who discussed the significant financial and reputational impacts of a cyber attack on any organisation as well as the impact on the people who rely upon their services. David also underlined the importance of Jewish community organisations having to have effective cyber security measures in place.
The first presentation was delivered by the Metropolitan Police Service's Operation Falcon, a unit that was specifically created in 2014 to tackle the challenge of fraud and cybercrime. This session offered a brief analysis of the cyber threat landscape, explaining where the cyber threat comes from and typically how it the various types of attacks are delivered. 
Following this, CST's Research Department presented a session on social media security. Through a live demonstration, CST's Social Media Research Manager showed how easy it is to find significant personal and private information on an individual, or organisation, through various commonly used social media platforms.  
David Samuel, General Manager of ADACOM Cyber Security then presented a session on what can be done to mitigate the threat of a cyber attacks. He offered a 'top ten' list of best practices and protocols, and explained how the risk of a cyber security attack can be significantly lowered, even before the introduction of relevant technology. 
CST's National Head of Training delivered a session on the risk of more traditional security threats faced by our community organisations. He offered a timely reminder of how Jewish charities and organisations can best protect both their buildings and their events and what staff should do in the event of an attack.
During the conference, the attendees had a short discussion on how to strike the right balance between using the numerous communications platforms that have become so vital to charities, and protecting Jewish communal organisations, as well as the public faces of those organisations, by limiting the information that exists online.
CST wishes to thank those who attended the conference, as well as those who delivered presentations. CST would also like to thank JW3 for hosting this timely event.
CST are planning to hold additional cyber security conferences in the future in other UK locations.
If you would like to find out more about cyber security, please read CST's guide to computer and IT security.
Read More