CST Blog
CST security officers graduate, following another successful year for the CST Training Department
29 December 2016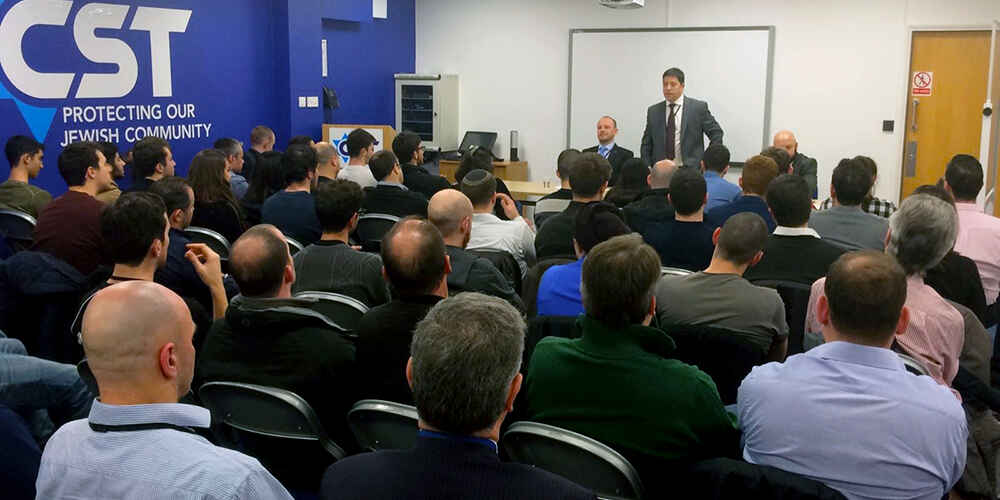 CST's security volunteers are crucial for CST's work keeping the Jewish community in the United Kingdom safe. With a wave of terror attacks across Europe in 2015 and 2016, the Jewish community has often been a secondary or tertiary target for attacks, such as in Copenhagen and Paris in early 2015. In light of this, CST relies on its security volunteers more than ever to protect the Jewish community.
CST offers a wide range of courses catered to various people and various ages. Throughout 2016, CST ran several security officer training courses, including intensive residential courses to challenge and equip volunteers with the skills required to help secure and protect our Jewish community. Last week CST hosted the final graduation of the year for security officers who have recently completed the CST basic security course. The new security officers received their badges, and CST Chief Executive David Delew, alongside both the CST Head of Security for the London and Southern Regions and the National Head of Training addressed the attendees. 
2016 also saw the introduction of the CST Level One Course, which aims to equip members of the community who already assist with security, or who are interested in assisting with security, with the basics of security to ensure the protection of our Jewish community. Over 750 volunteers have taken part in, and completed, the Level One course in 2016. 
CST could not function without its volunteers, and ensuring a duty of care and support is of paramount importance to CST. This year CST was accredited with adhering to good practice in volunteering management by the Jewish Volunteer Network. In order to achieve the accreditation, CST had to demonstrate proficiency in recruiting and supporting its volunteers. CST is now one of 10 organisations to have received this accreditation and will continue to invest in its volunteers and uphold this standard. 
If you want to learn new skills, defend yourself and contribute to protecting our community, you too can become a CST security officer. CST is especially looking to recruit those from the Northern Regions of the United Kingdom but welcomes all applications to join our growing pool of security volunteers.
If you are interested in becoming a CST security officer or taking part in the CST Level One course you can contact the CST Training Department here.
Read More